World Boxing Council list their Top 10 168lbs world title fights
The super-middleweight division was introduced by the WBC in 1988 with the intention to bridge middle and light heavyweight as there was a 15lbs gap between them.
Some very great fights have taken place in this division over the years. A number of them are included in the "WBC OPUS 100 greatest fights."
The divisional debut fight was a trailblazing classic between Sugar Ray Leonard and reigning light-heavyweight champion Donny Lalonde. Both titles were disputed in this fight.
Sugar Ray Leonard Vs Donny Lalonde
Las Vegas, November 11, 1988.
Sugar Ray Leonard was knocked down in the fourth round and hurt several times during the fight. Donny Lalonde was much taller and stronger. He seemed to be in control and en route to a sensational, suprise victory. Lalonde hurt Leonard in the ninth and as he was trying to finish the fight, Sugar magnificently rallied back with an explosive attack, flooring Lalonde and then dramatically knocking him out to capture the light-heavyweight title and first ever super-middleweight championship in boxing history.
Sugar Ray Leonard vs Tommy Hearns II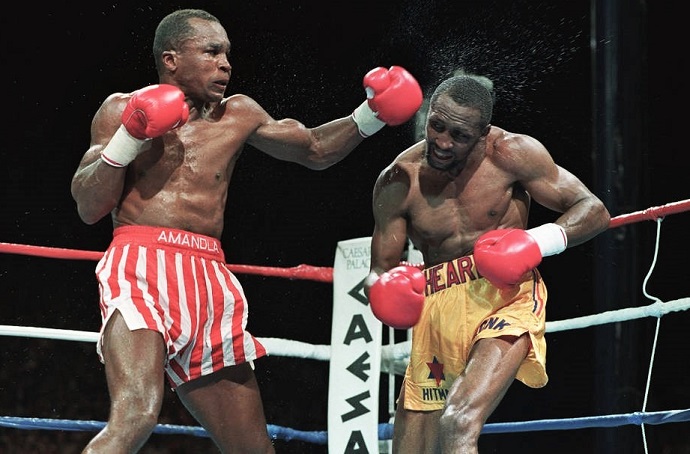 Las Vegas, June 12 1989.
This highly anticipated rematch was a thriller. Leonard was the champion and Hearns seemed to have faded from the stellar form he had enjoyed when they first met at the lower welterweight limit. However, 'Hitman' Hearns surprised the world, giving Leonard one of the toughest and most intense fights of his career, knocking him down in the fourth and the 11th round. Leonard also had great moments with 10-8 rounds in the fifth and 10th. The fight resulted in a draw.
Nigel Benn vs Chris Eubank
Manchester, England, October 9, 1993.
A brave battle between two Great Britons. This rematch more than lived up to the expectations and resulted in a dramatic action packed 12-round draw.
Nigel Benn vs Gerald McLellan
London, England, February 25, 1995.
Gerald McLellan, who was WBC reigning middleweight champion and considered one of the best in the world after he had dethroned Julian Jackson, moved up in weight to challenger 'The Dark Destroyer' Nigel Benn. The fight was both dramatic and tragic. Benn was down and almost out in the very first round. But he fought back with ferocity, toe to toe tenacity for 10 savage rounds ensued, eventually knocking down McLellan, who was unable to continue as he was critically injured. A very unfortunate accident had occurred, which has since affected and afflicted Gerald's life ever since. It has caused him serious long term and permanent health problems.
Thulane Malinga vs Nigel Benn
Newcastle England, March 2, 1996.
Benn was a heavy favorite making his 10th title defense, but Malinga, inspired by the dissolution of Apartheid South Africa, as Nelson Mandela was freed from jail, pulled out one of the biggest upsets in boxing history, defeating Briton Benn by unanimous decision and becoming the first WBC South African champion in the Mandela era (WBC had previously banned south Africa from boxing for 17 years until Apartheid was destroyed).
Joe Calzaghe vs Mikkel Kessler
Cardiff, Wales, November 3, 2007.
A fight between champions cheered on by a sell out crowd at the Millenium Stadium turned to be a wonderful demonstration of Calzaghe's comprehensive domination of Kessler, culminating in a 12-round decision. Joe retired as one of the best pound for pound champions in the division and sport of boxing.
Andre Ward vs Carl Froch
Atlantic City, USA, December 17, 2011
'S.O.G' Andre Ward unified titles with this masterfully skillful performance, dominating Nottingham's 'Cobra' Carl Froch to win a 12-round unanimous decision. The American, who retired undefeated, has just been inducted into the International Boxing Hall of Fame.
Badou Jack vs James DeGale
Brooklyn, USA, January 14, 2017.
Jack and DeGale fought to a 12 rd draw in an action packed fight, which many believed 'Jack the Ripper' won, as he dominated the unification fight against the history-making British star.
Anthony Dirrell vs Avni Yildirim
Minneapolis, USA, February 23, 2019.
The WBC title was vacant and Dirrell was the heavy favorite over the relatively unknown Turkish fighter. The fight resulted in an outright war which unfortunately ended by a cut caused by an accidental clash of heads in the 10th round. Yildirim was coming on strong, decisively winning the previous two rounds as Dirrell seemed to be fading. The cut caused the fight to be stopped and Dirrell was awarded a split technical decision.
David Benavidez vs Anthony Direll
Los Angeles, USA, September 28, 2019.
Benavidez was returning to the ring trying to recapture his WBC Green and Gold Belt against champion Dirrell. It was a very good fight with alternating dominance until Benavidez took control, hurting Dirrell who bravely fought back, in spite of a deep cut above his left eye. The Ring Doctor recommended that the Referee stop the fight during the ninth round and Benavidez became champion of the division, all over again!
HÖRFA are proud sponsors of British Boxing News