The EastEnders follows the journey of three boxing prospects from East London - Peckham's Johnny Garton, Bethnal Green's Jamie Arlain, and West Ham's Lucien Reid.
---
Peckham's Johnny 'The Pexican' Garton (19-1-1)
English Welterweight Champion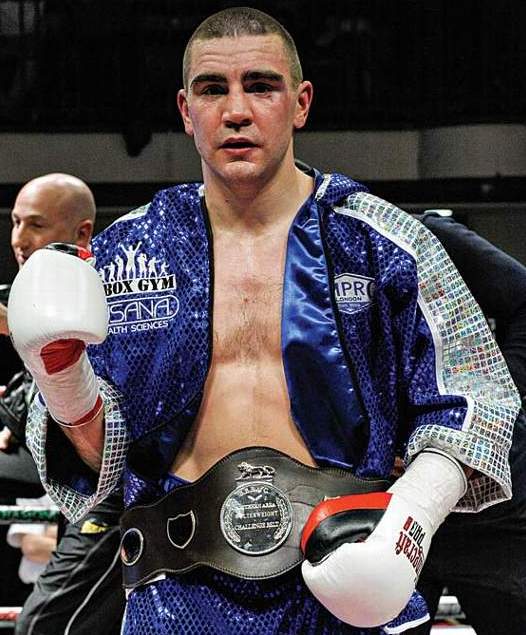 "I got the win against Geiboord Omier on November 18th at Wembley Arena but weren't too happy with my performance.
I felt flat and sluggish, and just couldn't get into a rhythm. He was awkward and I kept forcing the pace, and just didn't feel sharp enough. In the last round, I boxed on the back foot and didn't go forward, and got into a bit of a flow but I know I can do so much better than that.
I picked up a cut in the second round from his elbow, he just nicked my right eye, and then in the fifth a head clash caused a gash above my left eye that needed six stitches afterwards. He was a pain in the arse!
I took the fight because it was at Wembley and I've never boxed there before. It was live on Spike TV on the undercard of George Groves's last fight.
Had a week off after the fight and then watched Bradley Skeete in his fight the next weekend in Brentwood defending his British welterweight title against John Thain.
I got back in the gym last Monday just working on technical stuff. I can't spar until the cut heals so I'm just ticking over and plan to stay fit over Christmas; I always stay in shape between fights
Hopefully there will be more big shows next year to look forwards to. I've got the sponsors on board to allow me to train full-time now.
From our gym, it's just Ricky Boylan left to fight in a couple of weeks. It's enjoyable knowing that all the hard work has been done for the year for me, while others are still having to cut weight and graft!
Lerrone Richards is the latest boxer to join our team at the iBox Gym in Bromley. He had his first bout around two months ago and won via first round KO – he's one to watch out for!
I've had a good year this year. At the start of my career, I didn't believe I could ever even win the Southern Area title so to finish the year as the English welterweight champion is amazing!
For everyone asking what's next, I leave it to Alan Smith and Steve Goodwin to decide but I hope to push on for another title next year."
For tickets to the next show, please contact 07904 501 921
Follow Johnny Garton on Twitter @Johnny_Garton
Johnny would like to thank his sponsors PSD South East Ltd and Hadley Scaffolding and Masons Scaffolding
---
Bethnal Green's Jamie 'No Pain No Gain' Arlain (4-0)
British Challenge Belt Lightweight Champion
"I'm just days away from my next fight at the York Hall in Bethnal Green against Andrew Joicey (3-2) in a 10-round Southern Area lightweight title eliminator contest.
The fight also doubles up as a rematch, as I beat Andy on points last September for the British Challenge lightweight belt.
Everyone said it was really a close contest but that I landed the cleaner, more eye-catching shots.
My manager Steve Goodwin said that it was an 'edge of your seat battle' and 'a real pick 'em fight'.
He's the toughest opponent I've faced so far, but I don't think he's going to come with anything different on December 3rd.
I have been working hard with my trainer Matt Marsh – former British super-bantamweight champion – in his South London gym.
This will by my second fight with Matt, he's the best ever trainer I've been with. We've had a good camp with top sparring, and it helps a lot to be with someone that's been there and done it all.
I can see Ben Day winning the headlining fight on the Christmas Carnage event over Michael Devine; he's very awkward and clever with his shots.
The pair will battle it out for the vacant Southern Area lightweight strap, which means that the winner of that fight will face the winner of my fight!
I'm looking forward to fighting the winner because it'll be someone different that'll give me more of a challenge.
I'm 28 now so I'd rather take the risks and jump at the opportunities that are presented to me.
I've got great support again for this fight so thank you to everyone that has bought a ticket."
For tickets to the show, please contact 07528 663 629
Follow Jamie Arlain on Twitter @arlain_jamie88
Jamie Arlain would like to thank his sponsors Pro-Dec and Nu-Maintenance and Agent Tim Rickson
---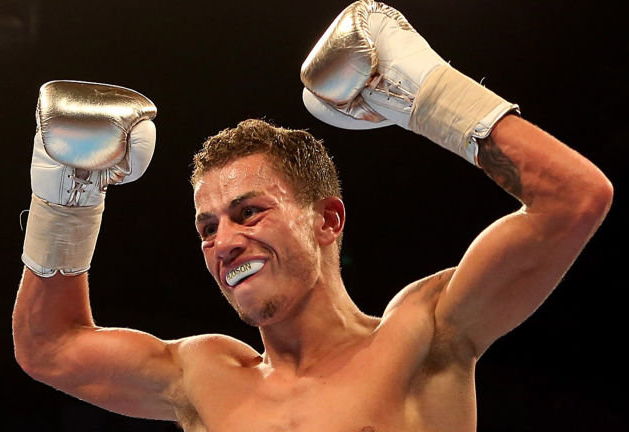 West Ham's 'Lethal' Lucien Reid (5-0)
Former ABA Elite Champion
"Since my last fight in October, I've been in the gym five days a week and a run on Saturdays.
Now that my son is in school, all I do is train all day, and I train like I'm in a fight camp – I love to train!
For everyone asking about my next fight, I still don't know yet but I've been told it could be the end of January.
With Frank Warren's latest deal, hopefully it'll be live on BT Sport. This is great news as I haven't boxed on a big stage for a while now; my last big fight was at The O2 last year.
For everyone that's been asking about when my first title fight will be, I can admit that I had an opportunity to fight in an English title eliminator which would have been over 10-rounds. However, with only just joining up with Adam Booth in his Surrey gym and never having had him in my corner for a fight yet, we turned it down, as it was too soon.
We need to have a learning fight together first and then we will take those opportunities with both hands.
Adam is a world class trainer and the sparring available to me now is brilliant. I regularly go round with Mitchell Smith and Ryan Burnett.
I had wanted to fight before the end of the year so my son Hudson Beau could watch me win a fight because he loves boxing now.
He's only just turned three-years-old but he's starting to understand what my job is. I've got all my amateur belts at home and he loves putting them on!
For now, I'm just looking forward to a nice Christmas."
For tickets to the next show, please contact 07577 716 330
Follow Lucian Reid on Twitter @LucienReidy
Lucien would like to thank his sponsors Powerday, R&A Haulage, L&O Meats, Train2Win and Elite Karate