Debut Corner with Irish light-heavyweight Taylor McGoldrick
It's a family affair on December 1 as the amateur champion from Belfast shares the bill with his cousin and WBO European middleweight champion, Conrad Cummings.
---
What made you want to start boxing?
"I always watched boxing growing up with my dad. First time going to a local boxing club – Clonoe ABC – was when I was nine. I loved it, from the first spar on that very first night. I knew from that age that's what I wanted to do when I was older. I was already known as a hard puncher even then."
---
Who was your boxing hero growing up and why?
"Mine would probably be Joe Calzaghe, he was a southpaw, similar to myself. I loved his style and his work rate, if he got knocked down in the first round, he always got back up and won. I followed his career, even went to the Millennium Stadium to watch him against Peter Manfredo, and I saw him fight Roy Jones Jr in Madison Square Garden."
---
How old were you when you had your first fight and how did you do?
"My first fight was when I was 11, I won it by first-round stoppage."
---
How well did you do in the amateurs?
"In the amateurs, I would have won probably eight Ulster and three Antrim titles. Recently been fighting at league level, been at the top but never got to the Elite finals. I've beaten some of the best in Ireland, got a lot of experience."
---
What made you decide to turn pro?
"I know I'll be suited to the pro game, I'm come forward fighter and a big hitter, so will bring the excitement. Known it's my calling for a while, my dad always helped with money, my uncle with training and pad work, kept me focused and told me I can do something with this boxing."
---
What team do you have around you?
"Gerard McManus, he's my coach; strength and conditioning is with Daniel Anderson; I train alongside [Celtic welterweight champion] Paddy Gallagher. My sponsors are Matt Berg at Enviro; J and B Engineering; Screenpod; AGS Promotions. Lastly, my dad is the most important member of my team. He always believed in me and knew I had it in me to be a great pro, without the support of my dad the whole way through my career making sure I could follow my dream, none of this would have been possible."
---
Are you full-time as a pro?
"Yeah I'm full-time. Schedule varies every day, some mornings we do the track work, we'll do a lot of drills, pad work and sparring in the mornings, would also strength and conditioning sessions, it's different things on different days. Could start at 8am and finish by 3pm"
---
What sort of fighting style do you have?
"Explosive, big puncher, in my debut I want to show I'm more than that, and how I can box and go the distance as well."
---
What ambitions do you have for your pro career?
"At this stage, I want to be as active as possible to build up, get up the rankings and start knocking on the door for domestic titles."
---
When is your first fight and who will be there in support?
"Friday 1st December at Devenish Complex, Belfast on the MTK show. Got a good following coming, good crowd, lots of family. [WBO European middleweight champion] Conrad Cummings is my cousin and he's fighting on the same bill, as well."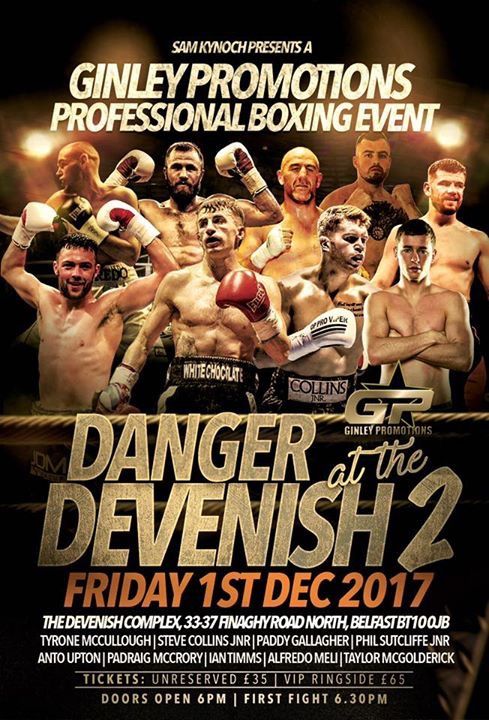 ---
For tickets to the debut fight please call: 07943 863 581
To follow Taylor on Twitter, click here @taylorgoldrick