Former amateur champion Danny Barrett gets off the mark with a debut points win
Welterweight debutant Danny Barrett (1-0), from Stoke in Kent, made his eagerly-awaited pro bow on May 12 on the JE Promotions' 'Young Guns' card at Mote Hall, Maidstone.
With a good following of fans cheering him on from ringside, the Haringey Box Cup gold medallist was eager to put on a good show.
His Slovakian opponent, Rudolf Durica (1-20), is a former kick-boxing champion and, bizarrely, Barrett began his combat journey as a kick-boxer, too.
Trained by Paul Wiffen, the 25-year-old instantly showed his amateur pedigree with his quick footwork and sharpness, shooting out swift jabs from his southpaw stance.
Looking lively, Barrett continued the pressure into the second segment, getting into his groove and having more success throwing punches in bunches, forcing the older 'Soldier Boy' to cover and tie up the Kent native when in range.
Moving into the second half of the fight, it was clear the work rate and aggression of the 25-year-old former Southern Counties champion was proving to much for the tiring 38-year-old, who was holding and spoiling persistently.
The Central European was frustratingly awkward for Barrett and the contest was very stop-start as a result of his negativity and evasiveness.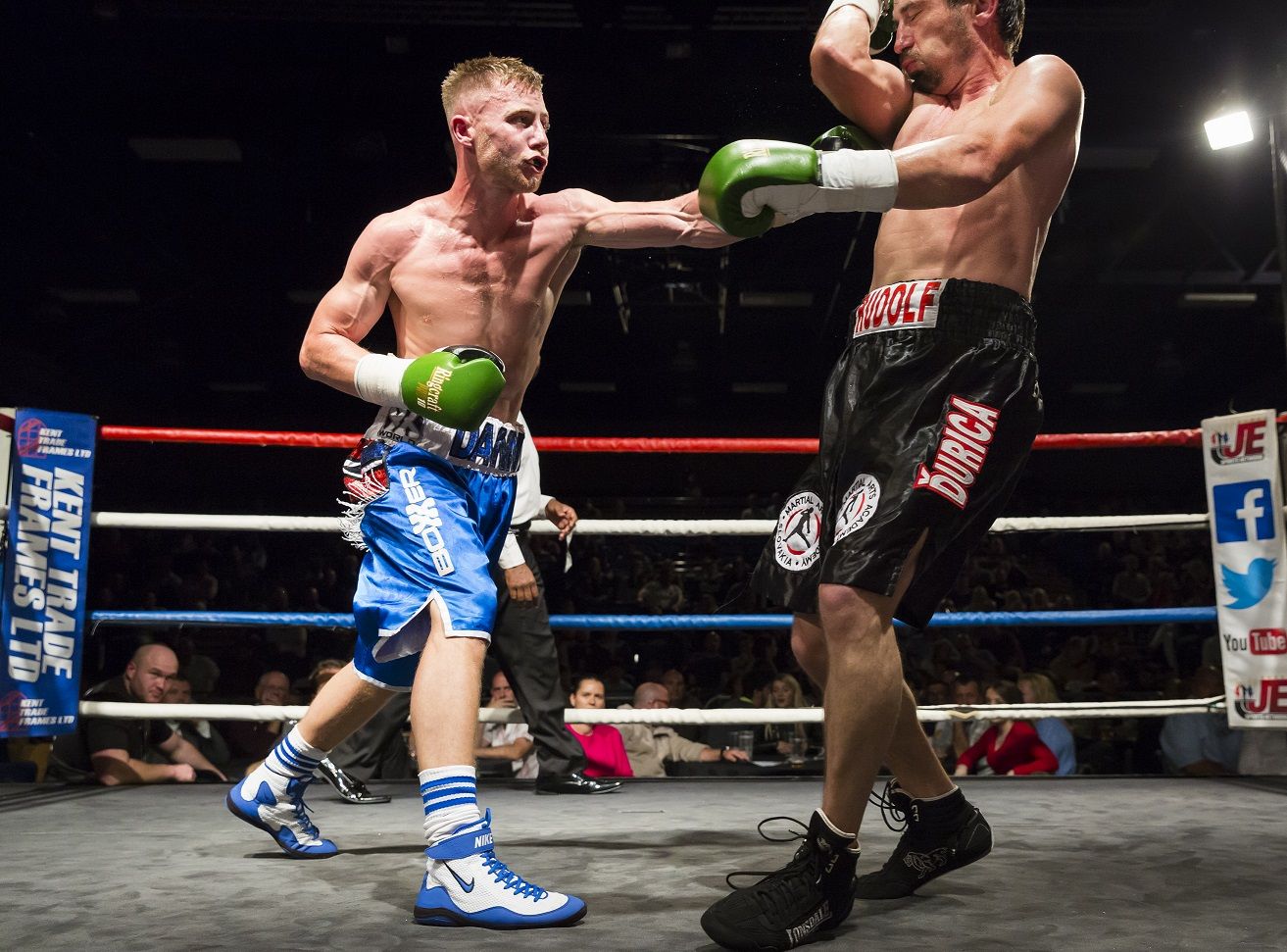 During the third-round, it was becoming apparent that the debutant wasn't going to get the job done within the distance as he had hoped but using his intelligence and instruction from the corner he got back to his boxing, working behind classy combinations and landing some testing body shots.
The fourth and final round was much of the same, numerous clashes, heads coming together due to opposing stances, with some lengthy clinches that meant the man from All Hallows Way was to see out the first fight in the paid ranks with a landslide points win.
The Thermal Engineer reflected on his inauguration, "I felt the debut went well, I was landing some good shots but getting tied up after and letting Rudolf spoil me a bit.
"My instructions in the last round was to just try and get back to my boxing and not get tied up as much, the next fight I think I will calm down a bit as I was trying too hard to finish the fight early.
"Overall, it felt great to be back in the ring for the first time in over a year and I will be bringing out the skills more in the next one."
Barrett, soon to be a father for the first time, will be straight back to action on the next JE Promotions show at Mote Hall on July 7. The 'Summer Showdown' card features the return of former Southern Area middleweight champion Grant Dennis (10-1).
---
Subscribe to JE Promotions' YouTube channel to see all the fights in full: https://www.youtube.com/channel/UCSxqeCbY2l6qDTEFmcMCuVQ
For tickets to the next show, visit https://www.facebook.com/JEsportsnetwork/ or call 07883 943994
JE Promotions would like to thank Kent Trade Frames - Campbell Nutrition - Swerve City - Basement159 - RoofDec - 1ClickPrint - Invicta Gym and PR Manager Tim Rickson