BBN preview JE Promotions' 'Summer Showdown' event at Mote Hall on July 7
Promoter Joe Elfidh, a former pro known as 'The Moroccan Machine', reignited professional boxing in Maidstone in 2016 when the last event prior to that was staged way back in October 2000.
In JE Promotions' eighth event at the Maidstone venue, former Southern Area middleweight champion and English title contender Grant Dennis (10-1) headlines the show as he makes his eagerly-awaited ring return against Islington's Jordan Grannum (3-27).
Dennis suffered his first career defeat as he stepped up to English title contention against unbeaten Elliot Matthews (19-0-1) and has since been kept out of the ring with an injury sustained in training.
The pair fought last December when the 34-year-old from Chatham went into the away corner at the York Hall on a British Warriors Boxing event only to be left reeling at scores of 96-95 and 97-94 twice in favour of the home fighter.
Dennis cried robbery, stating that he was 'was on the end of a bullsh*t boxing decision', and immediately demanded the rematch, which hasn't materialised still.
Following the minor injury, Dennis is now fit and ready to return to title contention and makes his start with a six-round tune-up against the Londoner known as 'The Brown Eagle'.
Grannum was only in the ring last weekend on another JE event in Worksop, taking unbeaten Doncaster puncher Kyle Fox (6-0) the distance in an eight-round British Challenge belt contest at the North Notts Arena.
The 25-year-old Londoner now has his hands full with the 'Go-Getter' who raced to four fights unbeaten in his debut year without giving away a single round. He then stepped up in levels to defeat gatekeeper Wayne Reed (12-13) in his fifth fight to lift the British Challenge belt conceding just one single round with scores of 79-74. In his next fight he grabbed the International Challenge belt against Jan Balog (10-28-1) but hit the deck for the first time in his career in the second-round.
Dennis progressed from the eight-round Challenge belt contests up to Southern Area level when he met the middleweight titleholder Nicky Jenman in November 2016 in the champion's hometown of Brighton, his first appearance in the away corner. Dennis upset the locals with a 97-95 points victory and took the belt back home to Chatham.
Three successful six-rounders later, reaching 10-0, and finally his long-awaited shot at the English title came against Matthews – all during 2017 – but ultimately ended in disappointment.
Now injury free, Dennis is planning to get back to championship level as soon as possible with his first fight of the year against Grannum, which will mark his four-year anniversary as a pro.
It will be a special occasion for Maidstone's Chris Matthews (9-1), who has appeared on all 11 of JE Promotions' Kent-based shows dating back to his debut in July 2015 at Medway Park, as he shares the bill with his brother Dave for the first time.
The super-featherweight bounced back from last February's defeat to Jules Phillips (2-17) with a 40-37 points win against a very ambitious opponent in Cheshire's Michael Horabin (0-2) on May 12.
The busy 23-year-old tackles Merseysider Ricky Starkey (2-8-2) who recently went the distance over four-rounds with Commonwealth silver medallist Qais Ashfaq (2-0).
Despite that achievement, Starkey, known as the 'Battalion Stallion', was stopped in his last fight in the second-round by Frank Warren prospect Louie Lynn (2-0) and has only managed to hear the final bell three times in his eight defeats. With five stoppages from eight losses, Matthews could be encouraged to achieve a career-first knockout against the 32-year-old travelling fighter.
Debutant Dave Matthews follows his older brother into the paid ranks and makes his pro bow at super-middleweight against Scott Hillman (0-29) but plans to campaign at middleweight thereafter.
Another debutant makes his pro bow on the show in the form of light-heavyweight Aidan Cassidy, 23 from Sittingbourne, up against Chessington's Richard Harrison (2-33).
The Haringey Box Cup silver medallist trains out of the Kent Gloves Boxing Gym under the tutelage of trainer Simon Gildea.
The talented youngster moved from Hackney to Kent, aged 14, but spent his spent his last three years as an amateur representing Repton ABC.
Cassidy has ambitions to win the Southern Area title but claims to want to concentrate on marking his professional debut with a good win first of all.
Future star Lenny Fuller (1-0), 23 from Chart Sutton, gets back out in another four-rounder after dazzling crowds on his debut in May.
'The Main Man', trained by Lee Page at Combat Sports Academy, scored a second-round knockdown en route to a landslide points win against Hyde's Dale Arrowsmith (1-15-1), and looked cool and composed in doing so.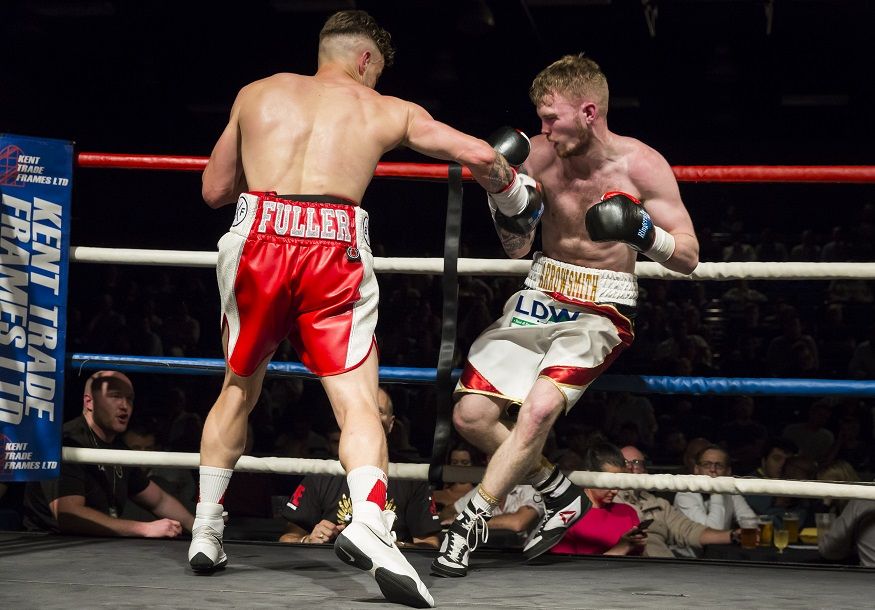 Fuller, of gypsy heritage, has winning fighter Luke Middleton (1-0) to contend with. The Langold resident kicked off his pro career only last weekend after experiencing just 15 amateur fights. Trained by Nick Staff at the Fighting fit Gym, the middleweight wanted to get a win on his record before fighting on the road. Also managed by Joe Elfidh, his first away corner experience will be against a stablemate who also had a limited amateur career.
Fuller, a former unlicensed champion, brings a big crowd with him, roared on by a 200-strong crowd of fans on his debut, and has plans to fight as often as possible with staunch ambitions to become a British champion eventually.
Welterweight Danny Barrett (1-0), 25 from Stoke in Kent, also kicked off his pro career with a one-sided victory on the same night as Fuller, defeating 38-year-old Slovakian Rudolf Durica (1-20).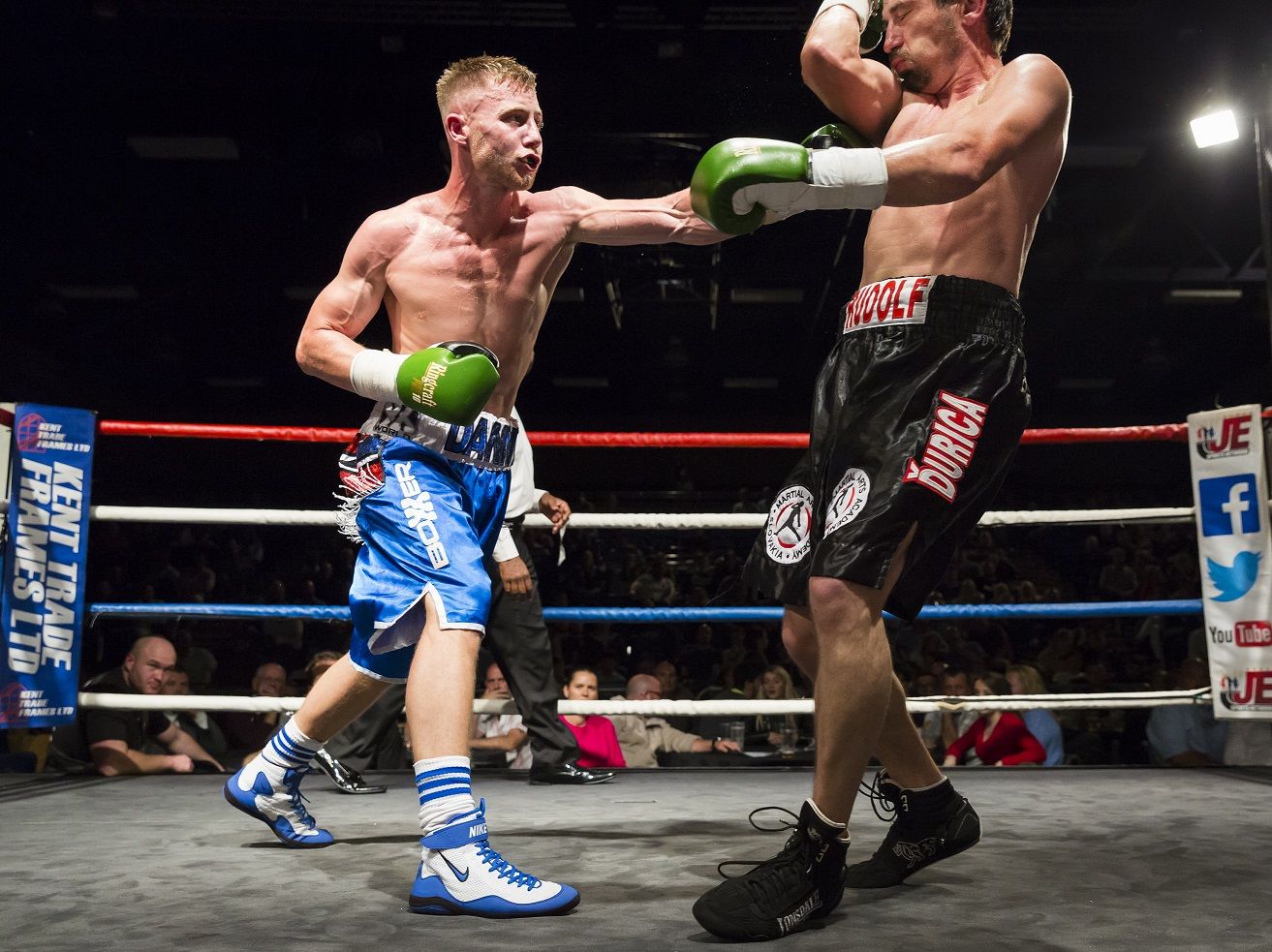 The southpaw, a former Haringey Box Cup champion, managed to deal with his tricky European opponent – a decorated kick-boxing champion – to win all four-rounds.
Sheffield's Qasim Hussain (4-78-2) is the man standing in the way of Barrett's second win.
The six-fight card has been subject to a few withdrawals with British Challenge belt champion Charlie Shane (6-0) suffering a last-minute injury and local heavyweight hero Dave Jones (8-2-1) being lured away by last weekend's IBO Continental heavyweight title challenge in Glasgow to Martin Bakole (11-0), which ended within the first-round for Jones.
Promoter Elfidh commented on the card, "We've had a few pullouts but the fighters appearing are all big draws – Grant Dennis has a big following, as does the new lads, Lenny Fuller and Danny Barrett.
"It's a special occasion for the Matthews brothers and I really think both will make a statement with their performances on the night. Everyone is looking forward to watching Aidan Cassidy, who was a top, top amateur."
---
Follow JE Promotions on Twitter: @JE_Promotions
For tickets to the next show, visit JE Promotions' FB Page or call 07883 943 994