Richard Harrison (1-12) has been announced this week as the opponent to face Steve Goodwin's light-heavyweight prospect 'Dazzling' Darrel Church (3-1-1) at London's York Hall on March 11th.
The 175-pounders will meet over four three-minute rounds on the Kevin Campion promoted show titled 'Knuckle 2 Knuckle'.
31-years-old from Chessington, Harrison is a busy journeyman that can move well, has a good technique, and can throw a variety of shots in numbers.
Harrison debuted back in December 2015 and crammed in all 13 of his pro fights in his first year punching for pay. Of his 12 losses he has only been stopped twice, and the approaching fight with Church will be his fifth appearance at the York Hall.
27-year-old Church said of his forthcoming foe, "I've watched quite a few fights of his and he has a decent technique and throws good combinations. He comes forward to fight and to have a go, and he lets his hands go well."
Darrel debuted back in July 2014 at Grays Civic Hall when originally signed to Carl Greaves Promotions and ended the inaugural year undefeated with two wins on his fledgling record.
In 2015, he suffered a shock defeat to Angelo Crowe (2-6), which, as a result of injuries and illnesses, turned out to be his only fight of the year.
Church returned to the ring in April 2016 at the York Hall against Mitch Mitchell (7-54-3), sharing the honours in a hard-fought draw.
The Essex boxer then secured his third win in his fifth pro bout against Croatian Toni Bilic (1-6) on December 3rd at the same East End venue to finally get back to winning ways.
Church is now backed by a full-time sponsor in MB Surfacing, allowing him to train around the clock.
"I'll be fighting Harrison at 12st 12lbs," explained Church. "I know he has fought up and down the weights but I'll concentrate on me and my training, and just carry on doing what I'm doing.
"I haven't put on much weight since my last fight so haven't got a lot to lose. It makes everything far more easier, in fact, I've never been this low in weight at this stage of a camp ever before!
After just five fights in two-and-a-half years, the six-footer plans to have four fights this year with ambitions to finish 2017 with a title, "I'd like to start doing six-rounders next and end 2017 with a Challenge Belt," he explained. "I want a big fight by the end of the year because I want to push on now in my career, I want to be in the mix for big titles soon."
---
Knuckle 2 Knuckle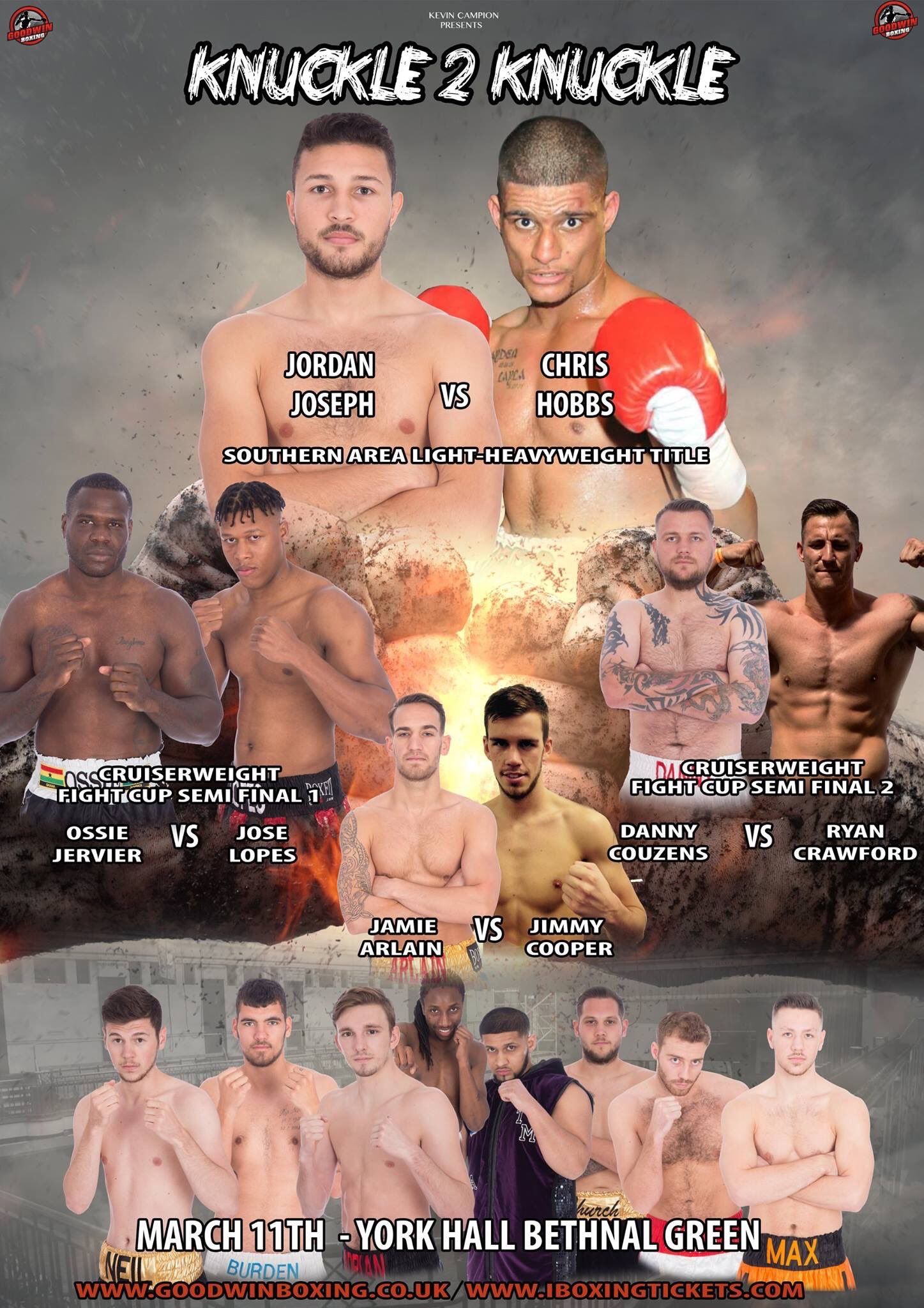 Topping the bill is the Southern Area light-heavyweight title clash between Jordan Joseph (6-0-1) and Chris Hobbs (5-1-1), an evenly-matched bout, each fighter with just a single loss in seven fights.
Someone's 'O' has got to go in the exciting match-up between unbeaten lightweights Jimmy Cooper (4-0-1) and Jamie Arlain (5-0).
Two Fight Cup semi-finals take place on the show with Ossie Jervier (3-2) and hard-hitting Jose Lopes (7-0) in the first; and current champion Ryan Crawford (2-2-1) against Portsmouth's Danny Couzens (8-10-2) in the other.
Derby's Arfan Iqbal (11-0); Aylesbury's Adi Burden (2-0); Essex's Adrian Martin (3-0); Mitcham's Jumanne Canero; and Peterborough's Sam Barron (4-0) all look to continue their respective unbeaten runs.
---
For tickets to the show contact Team Church on 07938 878 962
Follow Darrel 'The Baptist' Church on Twitter @Darrel_Church89
Team Church would like to thank sponsors MB Surfacing - Essex Ink - Tiptree Jam - David Islip Photography and Agent Tim Rickson