Jody Meikle tells Danny Flexen why he cannot let go of boxing just yet

Removed from the intense heat of the combat arena, many boxers appear remarkably unthreatening. Only when under the lights and confronted by an equally determined adversary do they morph from friendly sportspeople to ruthless predators.
As we chat amiably for almost an hour, Scunthorpe journeyman Jody Meikle remains comfortably in Dr Jekyll mode and, in a rare and counter-intuitive nuance, this happy-go-lucky attitude has endured throughout the majority of his prize fights. Whether poking his tongue out at a prospect's fans or aiming jibes and fists, often simultaneously, towards his opponent, Meikle is still the class clown of his school days and, by his own admission, sees "the funny side in everything."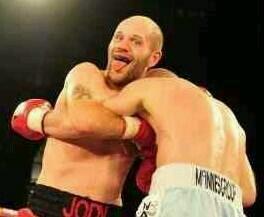 While the squared circle is infrequently able to elicit the latent aggression that bubbles away just beneath the surface, being challenged outside the ring usually does the trick. Unfortunately for Meikle, and prison staff up and down the country, he finds himself challenged outside the ring a disproportionate amount of time.

"I grew up on a really rough council estate," he recalls of the Riddings project. The recently turned 38-year-old describes the place with deceptively warm nostalgia. "Police wouldn't come there it was that rough, even the rats carried flick knives! I had scraps in the streets, it was normal really.
"Maybe I've got an anger issue. A guy got out of his van recently and squared up to me, so I chinned him before he chinned me. I just can't back down, I think it's me old dear [his mother], bless her, she was a bit of a lunatic. I just love fighting, when I was younger I'd be fighting doormen in the town centre. I thought boxing would be easy but it turned out a bit harder than I thought, although being centre of attention was great."

Meikle, the youngest of seven children, has mostly kept smiling through a tumultuous life. His father abandoned the family when Jody was a toddler and the fighter was an orphan before his 30th birthday. His older brother, Trevor, had been a decent welterweight with a losing record (21-40-6) in the '90s, but Jody only began boxing aged 27 to convince the latest in a long line of sceptical magistrates that he had a genuine desire to channel his aggression in a more appropriate manner. Meikle had no intention of actually competing but enjoyed scrapping, even with the inhibition of rules, and has waged gloved warfare ever since, turning pro after just three years as an amateur.

"I was eating what I wanted, doing what I wanted," he remembers of his days as an unpaid 6ft 2in super-heavyweight. "Then I went to the Ingles for a year, my weight come down, I stopped drinking as much and thought, 'Maybe I could earn a few quid out of it.' When I was a kid I looked up to Trevor and loved it when he won the Central Area title, but he used to get proper gutted when he got robbed by half a point, where losing never bothered me like it did him. I rung [trainer/manager] Carl Greaves up and asked if he could have me and I'd go on the road. I was too old to be anything other than a journeyman, I'm not stupid; I was never gonna be anything spectacular."


Boxing proved a revelation for Meikle, with a recorded 71-fight pro career encompassing a not-inconsiderable 56 losses overall, but only three by stoppage. Despite its famed socialising effects on so many others, however, the sport failed to truly save him. He's had more spells in jail than inside-schedule wins, hearing the news of both his absent father's death and the birth of his own first child from behind bars. Staying busy proved only an intermittent cure for a deeper issue. During his time as a BBBoC-licensed pro, he was mostly either in the gym or making a regular living as a full-time roofer, yet, like a stubborn debt collector, trouble has always, somehow, found him.

"I've probably been inside about six or seven times; a few times I was sentenced but had served the time on remand," he reveals, as matter-of-factly as if reciting a shopping list. "It's always been for violence. I'm worse in prison than out of prison, smacking prison officers, governors, barricading offices. The first time, I was 20, I bit a kid's ear off. He tried glassing me and they tried to do me for GBH with intent, but we got it dropped to just a wounding. I got 100 hours' community service and probation, and I was five months on remand.
"The longest, I got four years and three months. I went to a stag do in Scarborough, pulled some bird and the bouncer said, 'That's my mate's missus.' I headbutted him, but then his mate – a big f***er – started and I hit him with a bottle. I did about three-and-a-half years.
"I've been all over the place, I got moved 27 times to about 23 different prisons. My way of getting through prison was to cause as much trouble as possible."

His most recent stay at her majesty's pleasure lasted less than a year and only ended in 2015. Worse for Meikle was the resulting loss of his Board of Control license. He drifted into first the fringe BIBA circuit and then the unlicensed scene, ballooning from a relatively dedicated light-heavy to a lackadaisical heavyweight. As he explains, both the money on offer and the quality of opposition are significantly inferior to his best years, when he earned well while extending the likes of future British champions, Frank Buglioni and Callum Johnson.

"I loved it, it was the best time of my career," Meikle reflects and he pauses for a moment, lost in time. He boxed on a BBBoC license from February 2011 until May 2015. "It was unbelievable. I boxed in amazing places and met amazing people. Back then, I couldn't box at heavyweight, I would have got knocked out every week; it's not that BIBA s***. They let me box when no one else would but it's Mickey Mouse, it really is.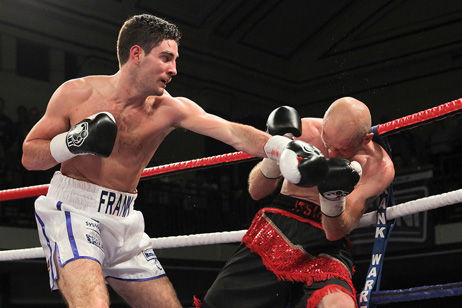 "When I got out of prison the last time, I had to wait 10 or 12 months to reapply for my Board license, then they wanted all this paperwork which I did try to find out but I couldn't be a***d, so I went on a BIBA license, earned a few quid. Then the fights dried up. I put a post on a white collar or unlicensed website, you could have no trainer but earn a few quid, and I thought, 'This is the game for me.'
"I'm fighting nearly every week. In a Board fight, for say a four-threes on the road, I'd get £750 after deductions. Unlicensed I get £300 or £400. But I'm not training so that puts it in perspective; I was training every day with the Board. I get to spend time with my kids, my five year-old daughter who doesn't live with me, I never used to see her. Now I see her every other week Friday-Monday, and the week in between, the Monday night. I've got no savings, any money I make I spend it on the kids. At least if anything happened to me they'd have memories; you can always get money, but not memories."

Faced with less taxing adversaries and over shorter rounds – usually two minutes in duration – Meikle has become complacent, rarely visiting the gym and allowing himself the enjoyment of alcohol on a more regular basis. The devil makes work for idle hands and one worries what could happen to Meikle – and those who foolishly choose to cross him – with too much time to waste. A father of five, three of whom live with him and wife Natalie, Jody says he does not want to return to prison but neither of us are convinced he can avoid that fate, especially once his active boxing career inevitably fades to black.

"As long as I'm not getting knocked out by idiots I'll carry on," he insists, typically jovial. "I did MMA at the weekend, stopped my mate in the third, so now I'm gonna do MMA too. If someone wants to give me a pound note for fighting, I'll do it, there's another few years in me I think. I never wanna let it go, just the fighting, I think I'm just an angry bastard. I just loved fighting every weekend. I'll go into coaching, I recently did a charity boxing show for a young kid who passed away, aged 20 with two kids. We raised 10k, and we're gonna do one every year in his memory, for different charities. I was training the boxers for eight weeks and put the show together.
"I've got no regrets on the boxing side; I'd have it all again if I could."
It's easy to root for Jody Meikle, about as far from a thug as anyone who has spent half his adult existence in prison can be. One only hopes the contentment of family life, combined with the satisfaction derived from cultivating the next generation of Scunthorpe boxers, can ultimately lead him willingly into retirement and, at long last, quell the "One-man Riot".