Former England International Luke Gibb defeated by Jordan Ellison
JE Promotions served up a seven-fight card at Mote Park on February 24, starting and ending with two cracking British Challenge belt contests.
Promoter, Joe Elfidh, purposely labelled the show 'Make or Break' and matched his prospects in 50-50 fights.
The opening bout kicked off the show in style, which saw unbeaten lightweight prospect Luke "Gibbo" Gibb (3-1) dropped in the first round of his British Challenge lightweight belt contest against Northern Area title contender Jordan "Baby J" Ellison (9-12).
The former England amateur from Bexleyheath recovered well from the knockdown to survive the opening round and rallied back to win the second round, however, the Seaham resident outworked the home fighter to stack up the rounds all the way to a 78-74 points win.
The 28-year-old never fully recovered from the knockdown and was looking worn towards the end of his first eight-round contest; Ellison had experienced four previous eight-rounders, all going the distance, all resulting in defeats.
In his previous bouts against Ibrar Riyaz (4-114-4) – a shared opponent with Ellison, who beat Riyaz in his second pro fight – Stockport's Jamie Quinn (2-37-2) and Fonz Alexander (5-64), Gibb claimed all 14 rounds against the trio of foes.
The former Nemesis ABC boxer, now trained by Ray Askew and Sam Latham at the Invicta Gym in Sheppey, had experienced over 80 amateur fights and was selected for the Team GB Development Squad in his early 20's but quit boxing for a number of years to concentrate on a career as a nightclub promoter.
His one and only victor also enjoyed a stellar amateur career, winning around 40 of 50 bouts and was crowned the Northern Area champion.
The 22-year-old travelling opponent, trained by Peter Cope in Hartlepool, entered the contest with Gibb off the back of an impressive points win over an undefeated prospect in Colin Day, who was 4-0 before their December meeting.
10-months prior to that upset, he stunned an undefeated 8-0 American prospect, Jacob Wooley, who boasted a 75% KO ratio, at the time.
His unsuccessful attempt at the Northern Area title in the paid ranks ended in a seventh-round KO at the hands of Lewis Ritson (13-0), who is now the current British lightweight champion. The up side to that defeat is that "Baby J" now counts him as a regular sparring partner, along with another British champion, at super-bantamweight, Tommy Ward.
Gibbo became the sixth unbeaten prospect to be scalped by Ellison, who have a combined record of 33-0-1 between them all.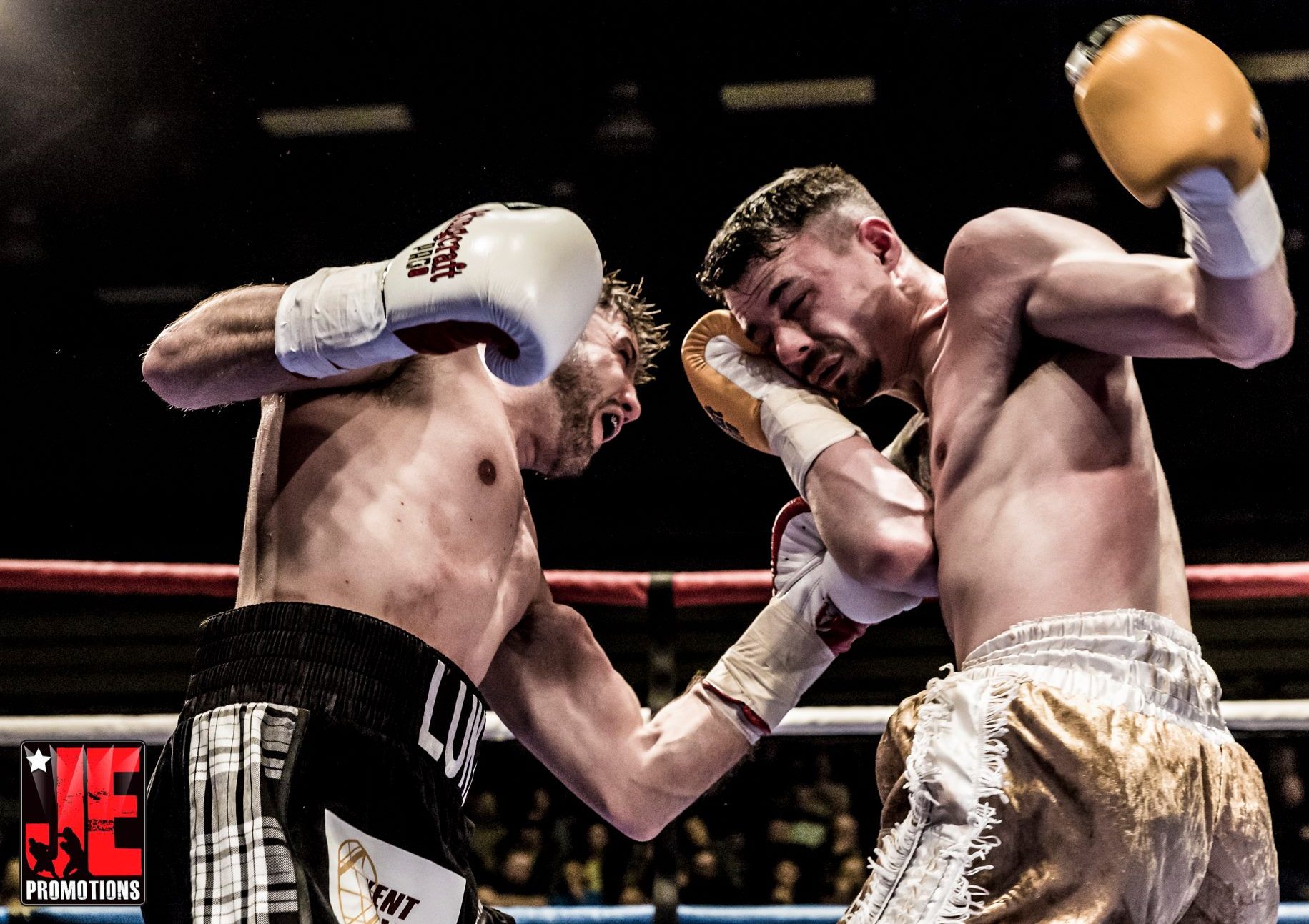 Post-fight, Gibb said, "It wasn't my night in there, I definitely wasn't myself, but no excuses, the better man won on the night.
"It was a great experience boxing in my first eight-rounder and a very tough fight where I had to bite down on my gumshield, but I will go back to the drawing board and definitely bounce back in no time."
Trainer, Ray Askew, had to then leave the venue to get to York Hall to corner his unbeaten heavyweight Dave Jones against Frank Warren's prospect, Daniel Dubois. He described the last few weeks for Luke Gibb as, "a terrible month".
Promoter, Joe Elfidh, added, "Luke wasn't himself in there, we have all seen him box better than that, but he has had a lot going on in his personal life. We made the fight because he wants to be tested and he will have gained a lot from that experience."
---
Make or Break
The was more British Challenge belt action on the night when Sidcup's Martin Hillman (10-5) and Chelmsford's Tom McGinley (5-1) treated fight fans to a thriller for the featherweight belt.
Both fighters operate under the JE Promotions banner and Sidcup's Hillman, 27, entered the bout as the favourite, having had triple the experience in the paid ranks, and previously bagging the International Challenge belt at featherweight when he beat David Hoppal at the Prince Regent Hotel in Essex in February 2016.
He was twice unsuccessful when challenging for the Southern Area title against Boy Jones Jr and Jamie Speight.
30-year-old McGinley, trained by Russ Smith at the Champions Gym, was the fitter, busier fighter, despite it being his first eight-rounder, and deservedly took the decision at 77-75.
Chatham's Jordan Dennis, 26, moved up to 4-0 with a routine points win against Callum Ide (0-9-2). The former England amateur captain holds the record for winning the most amount of amateur championships in the least amount of fights, winning around six championships in his first 10 fights.
Trained by Veron Quammie with his brother Grant, a Southern Area middleweight champion and English title contender, the two-time national amateur champion completely dominated the opening rounds with flashy combinations and skilful body shots, but his opponent bravely rallied back in the third segment and stood toe-to-toe with him, which resulted in the 39-37 score to the still unbeaten Dennis.
Sittingbourne's Jack Raines moved up to 5-0 with a shutout points win over Hull's Luke Fash (2-33-2).
The 25-year-old trained by John Cole in Longfield remains unbeaten in what was his first fight signed to JE Promotions, opting to play it safe and kept it long for the full 12 minutes.
Interestingly, his last loss as a boxer was to unbeaten Josh Leather in the finals of the NABC's in the amateurs, currently ranked 12th in the IBF world rankings and is unbeaten in 13 pro fights with two IBF titles.
Light-heavyweight debutant Paul Brown (1-0) kicked off his pro career with a shutout points win over Scott Hillman (0-25); southpaw Charlie Shane moved up to 6-0; Chris Matthews (8-1) slipped to a defeat for the first time in his two-and-a-half-year career to Jules Phillips (2-12), who doubled his win tally.
Promoter Joe Elfidh purposely labelled the show Make or Break, he explained why, "I've built the fighters up now and some of them are 8-0 and they are getting to a stage now where they need 50-50 fights. I matched them all with tough fights and it was make or break for a lot of them to be able to get on to the next level. These are the type of tests these fighters need to be having in this stage of their careers."