Liam Walsh – The forgotten, forsaken boxer
Liam Walsh was a world title challenger just 14 months ago and now can't get a fight. The boxer opens up to Danny Flexen about potentially leaving the sport he loves

We were supposed to speak at 9pm, but real life intervened. Blessed by conspicuously temperate weather, daylight extending long into the warm summer nights, Liam Walsh took advantage of the clement conditions and carried on building an annex that will soon house his widowed mother, Michelle, allowing her to live in harmony with her 30-year-old son, his twin Ryan and eldest brother Michael, on their neighbouring barn conversions in Holt, Norfolk. Oh, and their combined 15 kids, her beloved grandchildren. The definitive labour of love, this type of toil could soon become paid work for Liam. Fourteen months on from a failed world super-featherweight title challenge to streaking American, Gervonta Davis, a three-round drubbing as it transpired, the phone has long since stopped ringing and, with a considerable mortgage to pay and four young mouths to feed, Walsh will soon get a nine-to-five. Or perhaps, if this weather endures, a six-to-sunset.

When we belatedly catch up the following morning, a surprisingly fresh Walsh does not seem bitter or forlorn, rather philosophical in fact. He has given all he has to boxing. Who can forget the stirring main event with Paul Appleby that launched BoxNation almost seven years ago, not least because they repeat the captivating battle at least once a week? Convinced he still has plenty left in him, not least passion, after over a quarter-century in the sport and a decade as a pro, Liam equally accepts that giving up the pursuit to which he has dedicated his life may soon become a financial imperative.

Charlie Edwards, Liam Walsh and Michael McKinson to star in MTK show
Danny Dignum dazzles in WBO European middleweight fight
All the weights from Michael McKinson vs Luis Alberto Veron
>
"That's the problem, so I'm looking at getting a job," Walsh tells me, with something falling significantly short of infectious enthusiasm. "I'll change the mortgage plan so I can pay it off when I want. I've got a lot of friends in the building trade, so I think that's the way I'll go with it; I'm not a tradesman but I can help out with labouring and bits and bobs, I have a mate who's a plumber who will take me on. I've definitely got options.
"I've been hesitant because I didn't wanna go ahead and get stuck there. I've been trying to hang on to this career but I don't think it's gonna happen."
Honest work is nothing new to Liam Walsh. He took his first job aged 12, spending seven days a week hiring out trampoline sessions in his seaside hometown during the once-busy summer season. Twin Ryan was in charge of canoes. After leaving school early, at 15, Liam would find employment in a chip shop, a plastics factory and in a variety of other menial roles. He has been renovating the barns in Holt – only one neighbour within walking distance – while still training diligently as a fighter for years now. He sworks out in manager and trainer Graham Everett's Kickstop Gym twice a day for a minimum of five days a week, despite no fight date on the horizon. The desire and dedication remain but the last sniff of a fight came almost a year ago, when a match with Craig Evans, set for December, fell apart. It's a tough spot. When he asked Frank Warren for his contract back late last year, and the promoter graciously acquiesced, Walsh hoped it would mark a welcome fresh start. Instead the boxing world appears to have collectively forgotten the former British and Commonwealth champion.
"Frank was fair and said, 'Crack on'," Walsh reveals. "I don't regret the decision, but for my career it was maybe not the greatest move in hindsight. I didn't know what would have gone on after my next fight, there was not much communication what the plan or direction was, so I thought, rather than keep worrying what happens after this fight… what happens after this fight…
"I'm still training hard so I'm ready when someone does give me a three-weeks' notice call. I know there's more in me, I think it's a crime if I don't fight again, there are plenty of decent fights left in me, it's just getting the opportunity. I have offered my services to every super-feather and lightweight in this country and I'm getting no calls back. I've never ever swerved a fight or turned a fight down so I'm not gonna start now. Twelve months down the line I might get a call from Frank as an opponent, he's got some good fighters coming through – Zelfa Barrett, Archie Sharp, Lyon Woodstock - but are they ready now? I don't know.
"When I was younger I used to look through the British, European and world rankings, search for fighters on Boxrec, watch them on YouTube, find the styles I liked and tell Graham who I wanted. I'd only had four-five fights and Graham would think I was mad picking like a European champion or whatever, but I'd be like, 'Yeah, but he's 29 and on the slide.' That's what I hope fighters think of me now: 'He's been out the ring 14 months, got smashed in his last fight, beat Gary Sykes who was at death's door, Andrey Klimov who was well overrated, we think he's got a glass jaw and now's the time.'"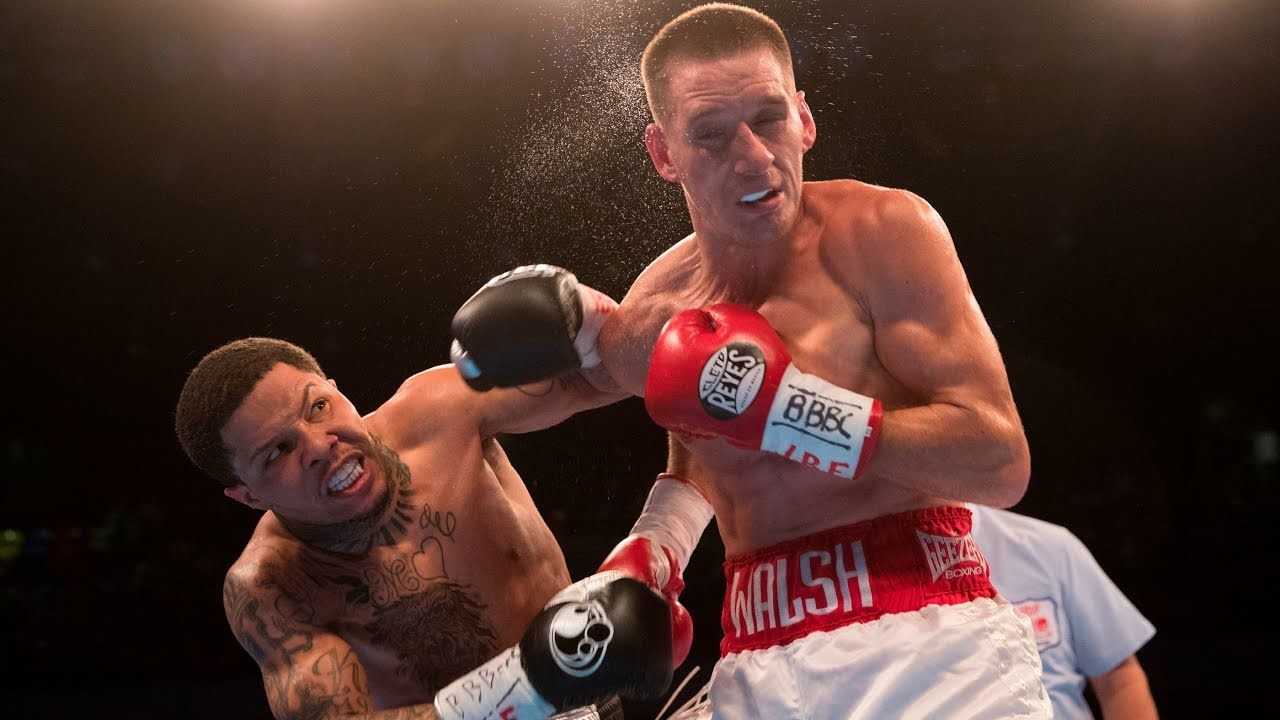 The defeat to Davis was not in itself a shock but the manner of the destruction surprised many seasoned observers. Walsh attempted to box his way into the May 2017 main event at east London's Copper Box, but was rapidly broken down and then wiped out in the third session. He never got the chance to implement his strategy and test the American out in the championship rounds, an environment to which Walsh is well accustomed. Full credit to Davis, then, and Walsh, as befits the character of the man, refuses to unleash a laundry list of excuses. That being said, after 10 contests in his first three years as a pro, he had just nine bouts in the five leading up to his big chance, his only world-level victory is the wide points triumph against Klimov and Liam was inactive for seven months immediately preceding the shot at Davis. Injuries played a role in that sporadic level of activity, but there is a nagging sense, for some on the outside at least, that he could have been afforded more rapid and sensible progression, that he lingered at domestic level for a little too long. Walsh scoffs at any suggestion his current or former teams should shoulder any blame, instead approaching his greatest disappointment with disarming and admirable honesty.

"I'm not bitter towards them at all, in an ideal world I would have fought more but that's just the way it is," he reasons, and sounds genuinely accepting. "They got me to a world title fight and it was me who didn't perform. I always wanted to win a world title and they gave me an opportunity to do that and that's why I can't knock 'em. In an ideal world I'd have fought more regularly, the opposition would have crept up and I'd have been in a better position but even with all that I probably still wouldn't have won.
"I weren't good enough, bottom line. I have still got time to blame me trainer, me conditioning team, dietician, but that would make me a wimp not a man. I made far too many mistakes, I got it wrong tactically. I felt going southpaw would benefit me 'coz he didn't have much of a lead hand, he was left-hand happy, and I thought I'd win the battle of the front hand, get him overreaching and being too aggressive. I knew he was fast, but you can't really account for how fast. We tried our best in preparation to get fast southpaws but we're talking about elite speed.
"In the second round, there weren't much in it but I felt I was starting to get comfortable and get into the fight – I probably still lost the round – but I let my guard down a little bit. The idea before was to stink the place out for four rounds, be smart early, make him swing and miss, take the sting out. Maximum five rounds, then I knew I'd got to change the game completely and start being really aggressive and just go for it, give my all. Whether that would have worked is irrelevant now but I would like to see someone pressing him in the later rounds."

Having long since come to terms with the past, Walsh is now struggling with the present and can only vaguely envisage a future in the sport that still surrounds him; haunts him. As twin brother Ryan carries the British featherweight title around and Michael reminisces about the roller-coaster boxing careers all three tight-knit siblings have experienced, Liam continues to shadow-box, belabour the heavy bag and pepper the speed ball, all in hope rather than expectation, casting envious glances at those closest to him. They are nearer to contentment than he, but Liam retains a small semblance of faith in the vocation that saw him through their father's untimely death in 2011 and has been a constant companion throughout their lives.

"We started at four or five round the front room in Rochdale, then going to Popeye's Gym [now Hamer ABC] at about seven," he recalls of his oldest friend. "I did an interview with Boxing News in February, one with iFL and talked to other outlets, Graham spoke to Eddie Hearn, but we can't seem to get much back. I've never called people out but I really want these fights and I'm a promotional free agent; anyone interested just needs to call Graham Everett.
"I really wanna fight Stephen Smith. I think the Smiths are f***in ace as a family, they need some serious credit and Stephen has every right to say he's the best super-feather in Britain through his era. I like to think I was, so I'd like to fight him simply to find out who's the best. James Tennyson, coz he's got the European belt, I'd love to fight him, he's obviously improved a lot since Ryan beat him [in 2016, at featherweight] and is at a better weight for him now. At lightweight I'd like to fight Ricky Burns, there's a little bit of history there [a car crash scuppered Walsh's tilt at Burns' WBO lightweight strap in 2012]. Tommy Coyle just knocked out Sean Dodd and looked really good, Ryan even DMd Eddie [Hearn] and said, 'If you need an opponent for [Lewis] Ritson…' No answer."

For all intents and purposes, Liam Walsh is now the forgotten man of British boxing. Just one defeat in 22 professional fights and relatively well maintained; undeniably hungry. One dream was accomplished with the completion of the family estate on tranquil Norfolk farmland, the other remains irritatingly unfulfilled. The Noble Art's loss may yet prove the construction industry's gain, but what a waste of talent, endeavour and ambition. And, ultimately, of love. Walsh cherishes the sport and, until recently, it returned that devotion. Call me a romantic (no one else does), but I hope boxing has not abandoned him when he may need it most of all.