As sparring partner to both Jason Welborn and Tommy Langford, Liam Smith reveals to Tim Rickson who he thinks wins the rematch
The local rivals from Birmingham reverse roles on September 8 as Jason Welborn (23-6) enters the Birmingham Arena as the defending British middleweight champion and Tommy Langford (20-2) returns as the challenger to his former crown.
In their first meeting at the Walsall Town Hall on May 4, underdog Welborn shocked the champion to win the Lord Lonsdale belt on his third attempt after two previous cracks at welterweight against Frankie Gavin and super-welterweight against Liam Smith both ended in stoppage defeats.
Former WBO world champion, 'Beefy', has sparred countless rounds with both Welborn, 32, and Langford, 29, so is perfectly positioned to give his unique insight into the eagerly-awaited 'Battle of the Baggies 2' showdown this weekend on the undercard of Amir Khan vs Samuel Vargas, live on Sky Sports.
---
Liam Smith on Jason Welborn
"When I fought him, I had already sparred with him, so I knew what he'd come with. What he does well is not so much the variety of his punches but just how he puts his punches together well. He throws 1-2-3-4-5-6 and some are unexpected; someone like that you can catch the shots and counter back but a couple of the volume he comes with… he throws 1-2-3-4 and then comes back with another 5-6. Welborn is unpredictable, there has to be a reason to stand there with him, so either catch and counter or step back. Early on in our fight I remember thinking after the left and right hook landing I'll catch him, but he just threw more. If he's stood in front of you, he'll let his hands go.
In our fight, I kept going to the right side, kind of going left hook side, but Joe [Gallagher] was screaming at me to go to the right side, which was the shot that finished him; I wouldn't have gone that way unless told to."
Below: Smith stopped Welborn with a rib-rippling right hook in the sixth round of their July 2014 fight, which was a second successful defence of his British super-welterweight belt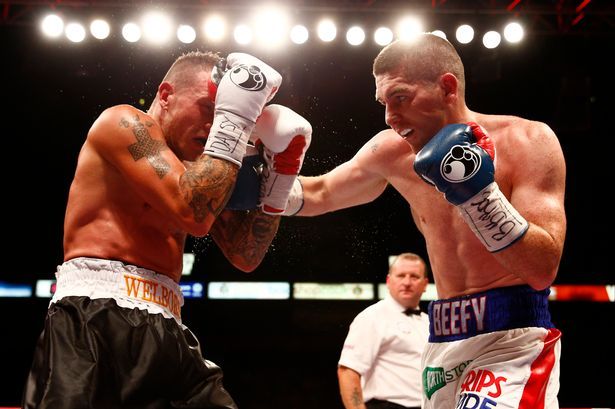 ---
Liam Smith on Tommy Langford
"Tommy is a 12-round fighter and should play to his strengths. Langford's size should come into play, he's always been known for his output and work rate, he should show Welborn that he's the natural middleweight in there. Welborn's not been a middleweight his whole career, I could count his fights at 160lbs on one hand, so Langford should stamp his authority and show he's the natural middleweight here, but I'm not saying he should walk Welborn down, he needs to be clever with his size and fitness.
Before that first fight, Tommy Langford shouldn't be struggling with someone like Jason Welborn, but he's got to get back to what he used to do and wear him down. No matter how tough and durable you are, if you keep taking shots then eventually you will go.
A lot of things will be a plus for Langford in this fight, it's a big local rivalry so losing has got to drive him on. Back to back camps for Langford must have drained him, but he's since had a nice long rest so should feel rejuvenated and will want to put that record straight.
He hasn't lost to no one like that before, so he's got a big point to prove. He stepped up to world level to fight that Russian and lost [Langford was stopped in five rounds against Avtandil Khurtsidze for the WBO interim world middleweight title in April 2017], Welborn loses at every level but Langford doesn't, so it's a must-win fight for Langford."
Below: Tommy Langford is a regular visitor to Joe Gallagher's Bolton-based gym to spar with both Callum (pictured below) and Liam Smith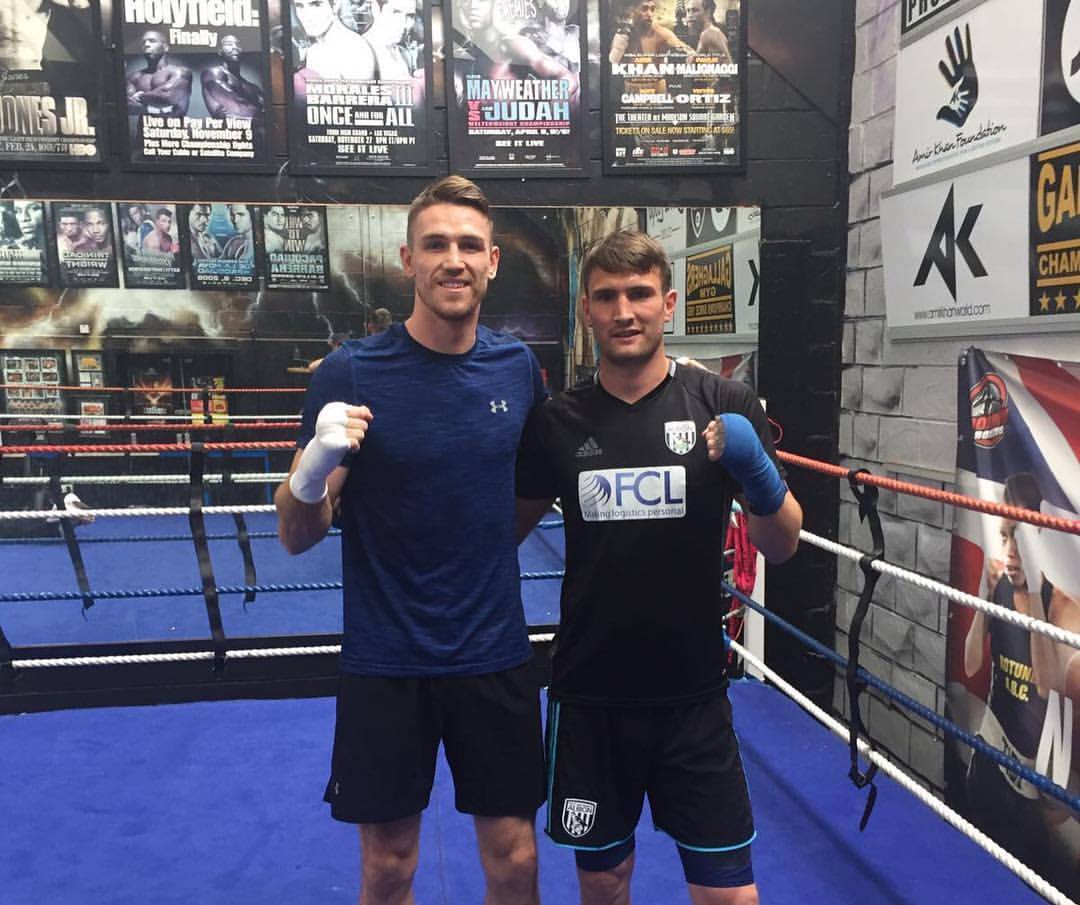 ---
'Beefy's' verdict
"I favour Langford on points. To be honest, I favour him to win quite widely on points. Tom Chaney is a good coach and he would have worked on the mistakes in that first fight and drummed it into him for however long his camp was."
---
Liam expects to be back in the ring in November.
You can follow 'Beefy' on Twitter here: @LiamBeefySmith
To follow Tim Rickson on Twitter, click here @TimRickson
Tim Rickson would like to thank his sponsors HÖRFA; Marsh's Gym; Sugar Cube Productions; Bartercard