Bideford-born Langford (17-0) retained his WBO Inter-Continental middleweight belt by defeating former Finnish national champion Timo Laine (15-7) in round seven of their scheduled 10-round title fight at the Ice Arena in Cardiff on Saturday 16
th
July. A late replacement opponent stepping in for former German national champion Ronny Gabel, Laine was completely outclassed, outworked, outboxed and outfoxed for the entire 19 ½ minutes, despite entering the contest off the back of an outstanding five-fight winning streak, four of those ending inside the distance. From the opening bell, Langford established his range and dominance early, and if there were any fears of the short notice switch having an effect on the unbeaten Devonian, they were soon dispelled. The Helsinki man started the fight by waving his left hand out in circular motions and looked to land a few jabs of his own; and actually had some success midway through the round with a double jab, right hook to the body and left to the head of Langford. He moved well as he was hunted down by the WBO titlist but was caught in the corner with a left hook followed by a big right hand in the final minute. From thereon, Langford had it all his way, swarming the 32-year-old challenger with an incredible variety of punches and setting a high work rate that the Finnish middleweight couldn't match. It was a perfectly polished performance from the titleholder, clearly pleasing the 300 travelling fans from Birmingham and Devon. Referee Phil Edwards kept a watchful eye on the Northern European, who kept glancing towards his corner from round three onwards, and arguably should have stopped the fight earlier. The Baggies Bomber displayed an assured, accurate busy display and pleased spectators with subtle tricks of the trade such as slight sidesteps designed to create enough space to whip in the body shots and clever Sugar Ray Robinson trademark tactics of pulling the opponent's gloves down to land shots. More recently, two-time Olympic gold medalist and two-weight World champion Vasyl Lomachenko has been seen mimicking the mischievous move to great effect. With the challenger covering up in survival mode, Langford intelligently used tippy-tappy punches on the gloves of his opponent to entice him into firing back to create further openings. It was extremely clever, mature, superior tactics from the 6ft tall middleweight. The relentless punching and non-stop stalking from the champion wore the travelling fighter down and the fatigue was visible in the second half of every single round. A little frustration and perhaps slight bewilderment as to how the challenger was still standing in the sixth round, Langford hurled Laine to the floor just as the bell sounded. Uncharacteristically, the Finn threw six jabs to kick off what was to be his final round, just one of those finding the target. With hands dropped low, seemingly from exhaustion, he was soon backed up onto the ropes where he spent the majority of the fight. Langford unleashed an avalanche of unanswered punches prompting the official to step in and finally stop the one-sided show. It was a double celebration for Langford, who had his 27
th
birthday on Tuesday, as he recorded his fourth stoppage victory in his last six fights and moved up to 17-0.
Full credit to the Baltic Boxing Union champion for taking the fight at such late notice but it was certainly a level too high and he wasn't nowhere near ambitious enough to stand any sort of chance against the impressive champion. Badly marked, he was sent back to Finland with multiple bruises, abrasions and two perforated ear drums. Post-fight, Langford stated, "He was there to survive and he didn't make it hard for me to find the openings. I did what I had to do in the end." The 160-pounder will not be away from the gym for long as the British Boxing Board of Control have ordered Chris Eubank Jr. to defend his British middleweight title against Langford, the mandatory challenger; purse bids to be agreed by September. [embed]https://www.youtube.com/watch?v=VwSINFDm-DQ[/embed]
---
Liam Williams v Gary Corcoran
Welshman Liam Williams (15-0-1) produced a dramatic 11
th
round stoppage of Londoner Gary Corcoran (15-1) to retain his British and Commonwealth super-welterweight belts. The pre-fight animosity between the pair resulted in an enthralling contest that swung back and forth, but Williams' vocal support were eventually rewarded after an emphatically-delivered right hand in the penultimate round that signalled the beginning of the end for the valiant Corcoran.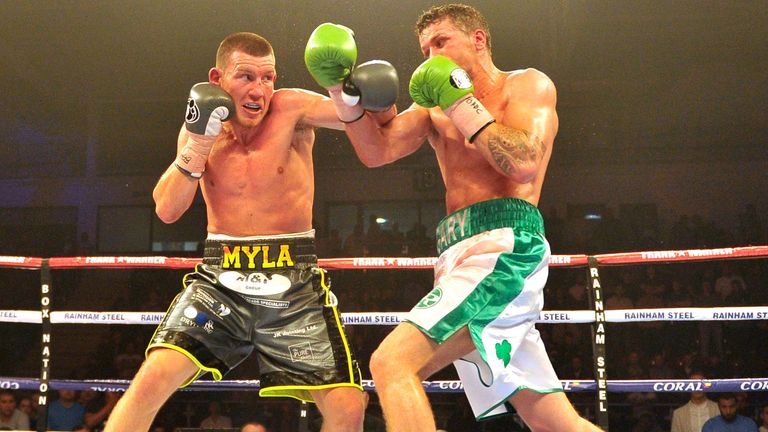 The bout was just seconds old when Williams picked up a cut on the bridge of his nose, but that didn't stop the Lonsdale belt-holder from reeling off jabs and then bringing the crowd to life with a huge overhand right that had Corcoran clinging to the ropes. There were harsh words exchanged on nearly every bell before the pair were meant to walk back to their opposite corners; referee Terry O'Connor was particularly scathing towards the challenger on those occasions, perhaps a little unfairly at times. By the fourth round, both fighters were bleeding, each wound opened up by head clashes, the Londoner coming off worse prompting the doctor to take a close inspection, fortunately confirming that Corcoran was fine to continue. The mid-rounds saw a lull in the home fighter's work-rate as he visibly took his foot of the gas, allowing his challenger to press forward and dominate. There was controversy in the eighth when Corcoran, who was frequently at odds with the official, was deducted a point for pushing his man down. Sensing he had an advantage on the scorecards, Williams was content to select shots from range and smother Corcoran up close. That left Corcoran looking for a stoppage but as he lunged in halfway through the penultimate round, he was felled by a thundering right-hook counter. The tough visitor wasn't going anywhere quietly and leapt to his feet for more but after slipping to the canvas again, rose to take one more crashing blow that brought in the referee to end the thrilling contest. After the result was officially announced, the two eventually embraced, although it was clear that the pair still harboured genuine dislike for each other. Post-fight, it emerged that that 25-year-old 'Hellraiser' from Wembley badly damaged his left hand midway through the contest, hampering his chances. The grudge match lived up to its hype and many pre-fight antics, and the door is firmly open for a rematch, perhaps this time in the English capital.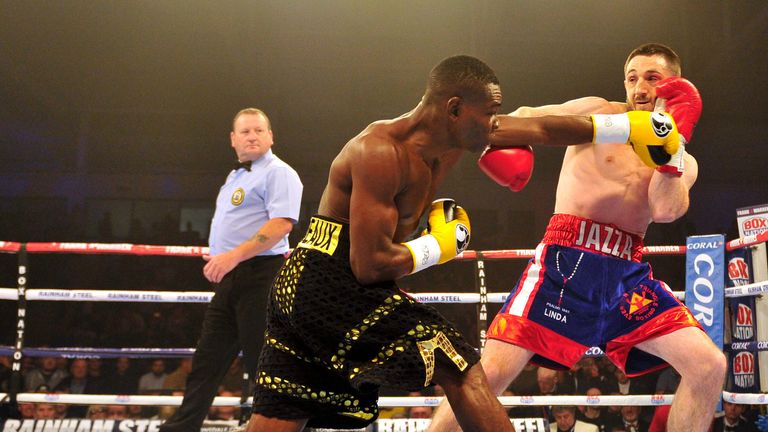 Pound-for-pound superstar Guillermo Rigondeaux (17-0) marked his UK debut with a second-round stoppage of Liverpool's Jazza Dickens (22-2), doubling the Merseyside man's loss ratio. The enigmatic Cuban retained the WBA Super World super-bantamweight title when Dickens' corner rightfully withdrew their man with what appeared to be a broken jaw after he sustained the cleanest of overhand lefts.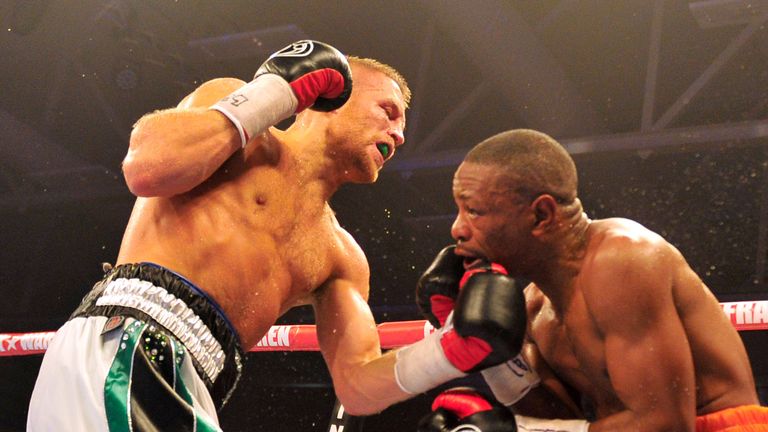 Terry Flanagan (31-0) kept hold of his WBO world lightweight title and unbeaten record but was taken the distance by 42-year-old veteran Mzonke Fana (38-10) who has clocked up over 400 rounds in his 22-year-long professional career. Flanagan had been favoured to dispatch his South African opponent inside the distance but found the former world champion an awkward and frustrating proposition even though earning scores of 120-106 on all three judges' cards.
Bradley 'Super' Skeete (24-1) produced a seventh-round stoppage of Frenchman Alexandre Lepelley (19-7-1) to retain his WBO European welterweight title. The Londoner was in typically patient form but pounced on his chance to end the contest having initially felled the challenger with a shot that may have strayed low.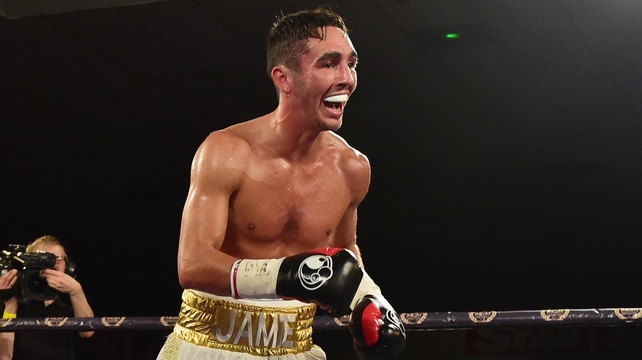 Earlier on in the evening, all-action Commonwealth super-flyweight champion Jamie Conlan (17-0) enjoyed a rare routine night as he dispatched Patrik Bartos (7-10) in two; and super-welterweight prospect Joe Pigford (11-0) took less than four to halt Sam Omidi (4-3-1). To follow Tommy Langford on Twitter, click here
@Tommy_Langford1
Tommy Langford would like to thank his sponsors
Bartercard UK
,
UK Display Stands
,
JS Wright & Co Ltd
,
MAN Commercial Protection
,
Strategy Plus Web Design
,
Atlas Pain Relief
and
Fighting Fit City Gym
,
Ringside UK
and PR Manager
Multiple national champion Ben Vaughan turns professional
Ricards Bolotniks to Hosea Burton: "I want a full gladiatorial battle"
Niall Kennedy looking for victory over Alen Babic as a pathway to bigger pay days