A half-Indian from the Fens, Jordan Gill was always destined to stand out but, he tells Danny Flexen, it will now be for his boxing
"It was tough because I was different but at the same time I could fight, so it was alright." – Jordan Gill.
In a 'United' Kingdom growing gradually more divided, there remain several outposts of near-ethnic homogeneity. Chatteris in Cambridgeshire is one such place, an otherwise unremarkable Fenland town where, according to the last census, in 2011, a massive 97.2% of its circa 10,000 population was white; they probably still are. I used to live in nearby Huntingdon, a beige commuter favourite best known, perhaps unjustly, for animal testing and John Major, making it a tough sell if it weren't for the direct train to London. On my fortnightly visits to Chatteris - my then-partner's parents lived there - I was invariably bemused by the lack of diversity, having grown up in an area of the capital that was its cosmopolitan antithesis. I cannot recall seeing a non-white person in the town and the way in which some of the locals talked about immigrants caused me to wonder if my time machine had finally worked. 71% of Fenland voters elected to leave the EU and the local parliamentary seat has been safely Tory for over 30 years. All of which makes the background of their most successful current boxer all the more significant.
Unbeaten featherweight Jordan Gill is Chatteris born and bred, the natural heir then, to "Fen Tiger" Dave "Boy" Green, although there is admittedly little competition for that label in a boxing backwater which has not hosted a pro show since the 1940s. Gill is half-Indian, one of only 107 people (1%) in Chatteris' "mixed" ethnic group, as per the aforementioned stats of seven years ago. His father, Paul, meanwhile, a former amateur fighter of some repute and erstwhile coach of the local boxing club, falls into an "Asian/Asian British" category that 'boasted' two more representatives. Paul's own dad was encouraged to enter Britain furtively… aged 15 and disguised as a woman. "He was promised the world then ended up washing dishes in Cambridge…"
Jordan spends his weeks training with Dave Coldwell, also his manager, in Rotherham, and completing his strength and condition drills in Sheffield. But the 23-year-old still returns home at weekends to a locale he jokingly describes as "Like Hot Fuzz" and reveals that learning to box from the age of four failed to prevent racial abuse in a place where his dark skin was as conspicuous as the data suggest.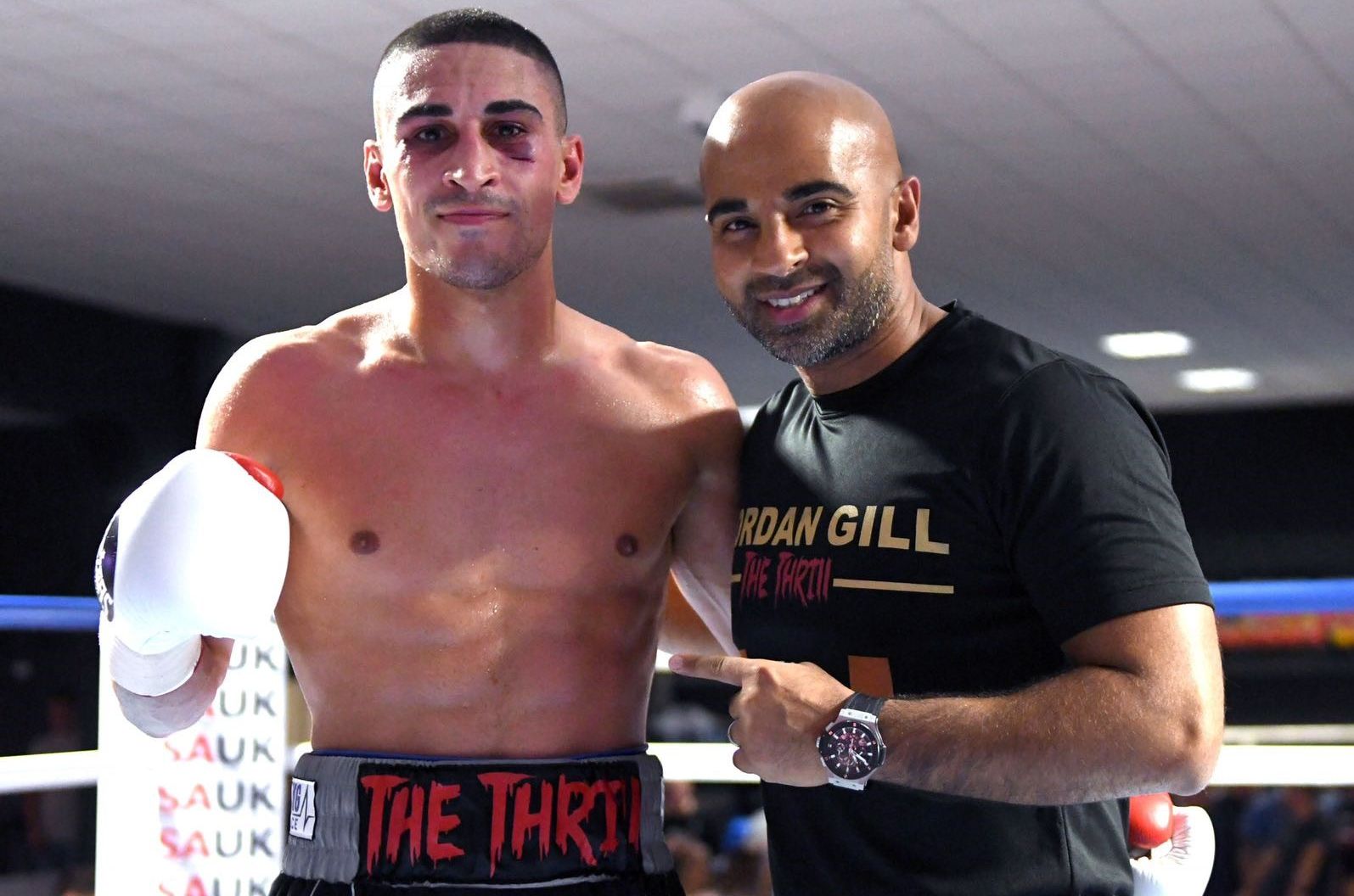 "I'd go to school, and there were 1,500 kids at Cromwell Community College, my secondary school, and I could count on one hand the kids that were not white; I was classed as one of them which was weird, as I think of myself as English," he muses regarding a sensitive subject he has likely never before been asked about. The son of a factory hand father who summarily worked 80-hour weeks, and a social worker mum, Gill's modest childhood ironically had plenty in common with those of the working-class kids who would mock him for his background. "There were a lot of travellers as well, so the fact that I was good at boxing but not a traveller never went down well; I had a few scraps. You'd get the odd macho white kid too.
"When I was in primary school… my mum tells this story all the time… I was seven or eight, I went home one day and asked, 'Mum, what's a nigger?'. I was playing football in the playground, and this kid started calling me a 'dirty nigger' but I didn't have a clue what it was; now it's funny. At secondary school, gypsies used to call me 'paki', 'Apu' after the Indian shopkeeper in The Simpsons, say [the character's catchphrase] 'Please come again' and all that, but I took it in my stride."


Many studies have shown that the populations most strongly opposed to immigration are those that have little first-hand experience of it. That certainly applies to Chatteris and members of its burgeoning travelling community perhaps saw in Gill a way of deflecting any prejudices away from themselves toward an even smaller minority. Jordan showed admirable restraint but, in the great leveller of the boxing gym, he soon found the acceptance and respect that eluded him elsewhere. His dad became the head trainer there around the same time as Jordan began visiting the club, Paul serving for 18 years, only stepping down when his predecessor and mentor, Matty Payne, latterly the club's matchmaker, passed away in 2016. Jordan quickly became the gym star and combined his home schooling with regular trips to the Ingle gym in Sheffield, where one of his idols, Naseem Hamed, had cultivated his own skills two decades previously.

"When my dad was amateur, he wanted to turn pro at 25, and, at that time, the Ingle gym was the biggest in the country," Gill recounts, showing a flair for storytelling all the more impressive given he was an infant during the time he describes. "They had Naz, they were flying. Dad had a session there and they said, 'We'll sign you', but he was 120 miles away, the pay was bad and he'd be fighting ABA champions. He turned it down but kept in contact with Brendan and, when the time came, dad brought me and other good amateurs up to him. Every school holiday or weekend I'd have the chance to learn from pros in the gym, from 11-12 years old until turning pro. I came up with decent-level fighters, but bit by bit they all flitted away ­– one got a missus, one went to Iraq, one got caught with a lunchbox of cocaine in his car and done five years – until I was the only one left."



I imagine Gill is glad he stuck with cheese and pickle. The sharp switch-hitter certainly benefitted from his frequent forays to the Steel City. Not only did he streak to seven national titles in 54 fights, including a Junior ABA tournament victory in 2012, but Jordan was able to sample a more diverse environment, one whose rapidly growing Asian population was reflected in the colour palette of the Ingle gym clientele. Finally distinguished only by his ability, the ambitious prospect turned pro a week after his 18th birthday, the same day as finishing his final A-Level exam.

Sixteen fights in less than four years ultimately gave way to a 17-month hiatus through, Gill insists, no fault of his own. The luckless prospect became frustrated, not only with the missed opportunities but also the meandering course of his career. Gill is 18-0 but, fed a diet of mostly heavier journeymen, he has only beaten one opponent with a winning record and scored just four inside-schedule triumphs. He deserves credit for filling the gaps in his education with high-level sparring, opposite, amongst others, world champions Ryan Burnett, Jorge Linares and Lee Selby. The fact remains, however, that after five-and-a-half years as a pro, Gill was only recently named the mandatory challenger for the English title. The saving grace is that he is still just 23 and, having joined Coldwell last summer, has the scope to make up for lost time.

"I was getting promised a lot of fights, getting put on dates and them falling through and I don't wanna be fighting journeymen," he insists, ruefully. "They [the Ingles] didn't seem to realise that, and when I wasn't fighting, it was a terrible time; I fell out of love with boxing, I didn't wanna quit but felt like I was being forced to.
"I thought I'd try something else. I had been up sparring Gavin McDonnell for his world title fight [in February 2017], so I knew how Dave Coldwell operated, and I could carry on doing my great S&C with Boxing Science at Sheffield Hallam. Dave is a nit-picker, a perfectionist and that's what I needed. We're very similar people, it's friendly, but he puts you in your place and doesn't take any shit. We record all my spars, to identify mistakes I've made and I think I've already improved my balance, defence, variety.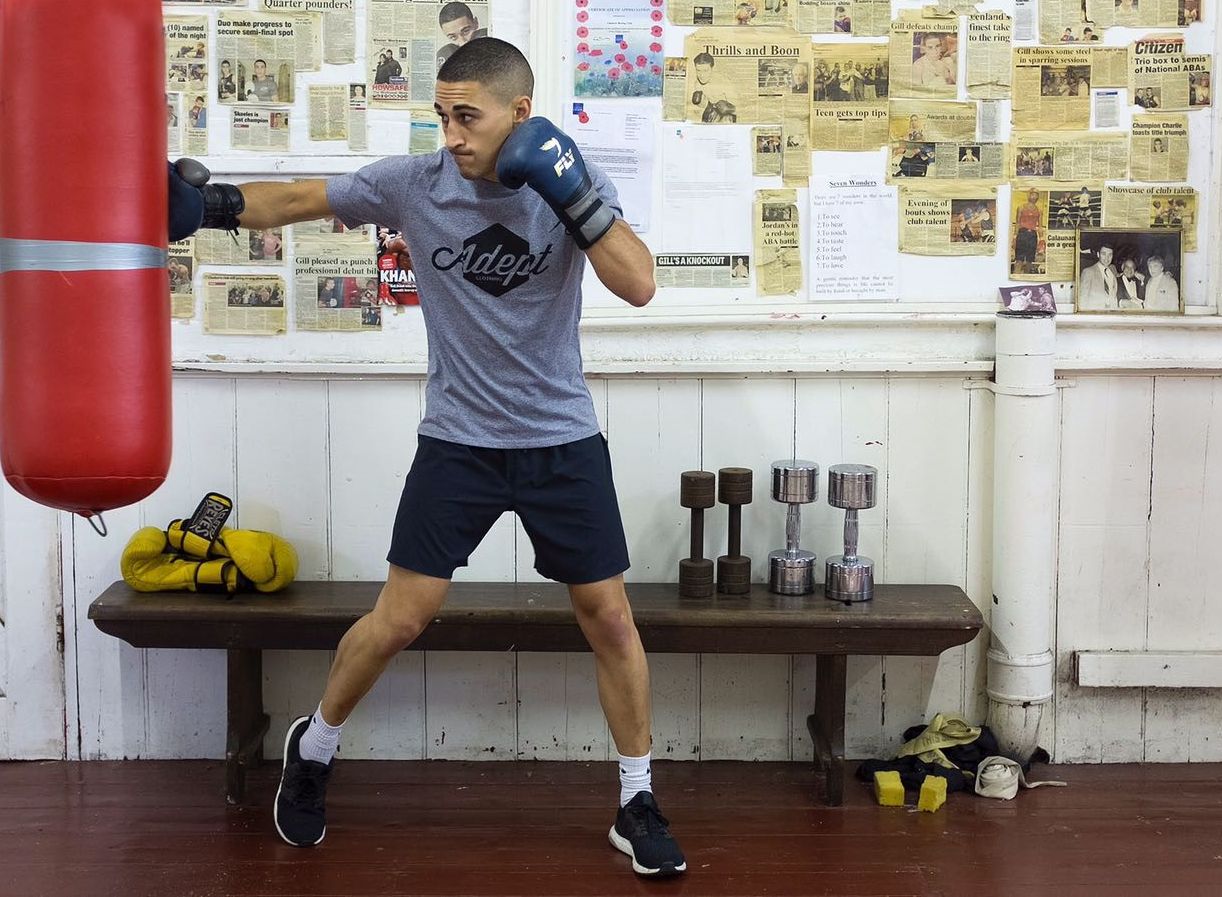 "I'm an aggressive counter-puncher with underrated power so, to an extent, I'm embarrassed by my record. I'm not proud coz I haven't achieved anything yet; I want step-ups, tests. Non-boxing people think 18-0 is amazing but it's not really at all; I want it to be 18-0 against good fighters."
His honesty and self-awareness are refreshing. The move to Coldwell appears sensible and not solely because the former pro flyweight is also half-Indian (born in Calcutta) and similarly battled bigotry in his younger days. While the perennially successful Ingle gym is riding its latest wave, this time courtesy of Billy Joe Saunders, the well-documented nature of their achievements makes the facility a hot ticket. This can be detrimental to contenders like Gill who require ample individual attention. Coldwell has a shorter but highly impressive track record and, with less boxers on his premises, is perhaps better able to provide the focus Jordan needs.
Gill's life outside the ring is split between his two homes – the parental, weekend retreat, where his older sister also resides, and the Sheffield flat he shares with super-featherweight Leo D'Erlanger and 19-1 feather, Leigh Wood. Gill agrees that a flatshare between three fighters on strict diets and training regimes would make for fallow sitcom material, but is comfortable with an arrangement that has already lasted three years.
"I spent the first 11 months on the floor," he laughs. "I was doing 12-hour weekend shifts at a farm, shifting 40 tonnes of potatoes but I knocked that on the head. I live in Sheffield every week of the year, I need to stay ready, ticking over in case opportunities come up."
It certainly feels more crowded back home. "Dad always says it's English culture, that as soon as the kids are 16 it's time to boot them out," Jordan adds. "Whereas in India, they sort of just build another storey on top of the house and all live together. It's nice, but when your beautician sister is in the bathroom for a couple of hours and you need to brush your teeth it's not so good."
Having shown he can prevail against unfavourable odds, given his rise from relative poverty, racism and a moribund local boxing scene, Gill's next herculean task could be to bring the professional code back to Chatteris, a feat that proved beyond even the legendary "Boy" Green.
"Boxing is dead in that area, kids now seem more interested in Playstation," he notes of an issue not confined to the Fens. "I'd love to headline, win a big title and defend it in Chatteris. It might help me that no one else is doing anything here, when I was an amateur I got good coverage, the local papers reported on me all the time. One time we had a dinner show, I sold 230 tickets at £30 each. There is a lot of support in the area, I'm very thankful for it… although I'd probably have a few more if I was white…"
The closing statement is delivered with tongue partially in cheek, its effect no less poignant as a result. Some people naturally gravitate to the familiar; it's one reason why many working-class white people, priced out of thriving cities, have moved further afield, to places like Chatteris, where the march of time and pace of change have been slowed and the incumbent residents resemble what their new neighbours see in the mirror. Gill's progress illustrates if not a widespread attitude adjustment in the area, then at least the seeds of a gradual evolution. Perhaps most importantly, the town's next generation - whether white, black, Asian, mixed race or "other" – once again have a sporting role model to emulate. And, if Gill does happen to look like them, his accomplishments may feel all the more attainable.