JE Boxing is the only professional boxing platform in Kent, owned by Joe 'The Moroccan Machine' Elfidh – a two-weight Central Area title contender who shared the ring with English, British, Commonwealth and World champions.
As a promoter, he is single-handedly bringing big-time boxing back to the Garden of England and his hometown of Worksop.
Welcome to his weekly column – exclusive to BBN.
---
No Retreat No Surrender
Three of my fighters will be appearing on Dennis Hobson's 'No Retreat No Surrender' show at Ponds Forge Arena in Sheffield on July 29.
There's Sheffield's Rod Smith (7-1), Doncaster's Kyle Fox (1-0) and Staffordshire's Chris Reyes (0-0) - all looking to finish off the season in style with another win their record.
It'll be the first fight back for middleweight Rod Smith in 20-months and first appearance as a JE Promotions fighter after leaving Richard Poxon's stable.
'Razor' is now training with Robbie Sivyer at the Fighting Fit Gym in Dinnington.
Yorkshire amateur boxing champion Kyle Fox (1-0) will be looking to double his win tally against 36-year-old Scott Hillman (0-19) from Eastbourne.
Staffordshire's Chris Reyes (0-0) makes his eagerly-awaited pro bow.
The Filipino super-bantamweight will make his mark in the paid ranks against another of my fighters Ricky Leach (3-20-1) from Margate.
The 10-fight No Retreat No Surrender card was originally due to be headlined by Commonwealth middleweight champion Sam Sheedy in his first title defence against Sheffield compatriot Liam Cameron.
However, an injury to 'Speedy' has delayed the derby for later on in the year so Sam O'Maison will fight for a belt, as will Loua Nassa, so those two now be top of the bill.
---
New signings Sam Stone and Kurt Johnson
There were two exciting new signings last month for JE Promotions in light-heavyweight prospect Sam Stone and heavyweight Kurt Johnson.
I've listed their profiles below for fans to get to know them a bit better. Expect to see lots of articles about these guys in the build-up to their debuts as they are promising prospects who are going to make waves in their divisions.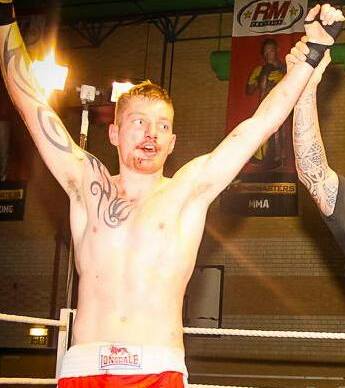 Name: Sam Stone
Division: Light-heavyweight
Age: 27
Location: Medway
Occupation: Security
Background: 30 unlicensed fights, winning Kent and National titles
Trainer: John Harper
Gym: Bromptons in Chatham and Kent Gloves
Goals: "British title level will make my kids proud"
Debut: February 2018
Name: Kurt Johnson
Division: Heavyweight
Age: 30
Location: Greenhithe
Occupation: Fire-fighter
Background: Won one amateur boxing fight in ABA Novices, won national tournaments in taekwondo, gold medals in grappling, won all three MMA semi-pro fights, won one MMA pro fight, won one pro Thai-boxing fight in Ringmasters Tournament, professional in K1, Novice Strongman champion.
Trainer: Simon Gildea and Charlie Rumbol
Gym: Kent Gloves
Goals: "To destroy everyone in front of me"
Debut: October 7th 2017
---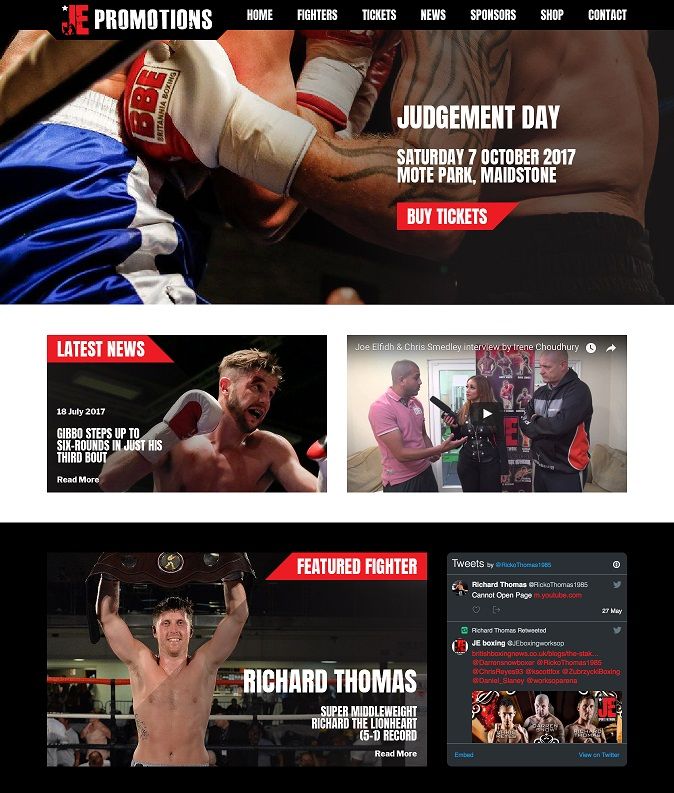 New Website Underway
I've been working with JE Promotions' Media Officer Tim Rickson and top media company Sugar Cube Productions on our brand new website.
The site will feature up-to-date news on all JE Promotions' fighters and shows, and will allow fans to purchase tickets directly online.
It's another step in the right direction to allow fight fans to get closer to the fighters and to make their experience that much better, closer and more convenient.
It will be launched sometime in August in time for the new season so keep an eye out!
---
For tickets to the next show, visit https://www.facebook.com/JEsportsnetwork/ or call 07883 943994
JE Promotions would like to thank Kent Trade Frames - Campbell Nutrition - Invicta Gym - Fighting Fit Gym - Roofdec - 1ClickPrint and Media Officer Tim Rickson