JE Boxing is the only professional boxing platform in Kent, owned by Joe 'The Moroccan Machine' Elfidh.
As a fighter, Joe was a two-weight Central Area title contender, defeated a future England champion, and shared the ring with British, Commonwealth and World champions.
As a promoter, he is single-handedly bringing big-time boxing back to The Garden of England and his hometown of Worksop.
Welcome to his weekly column – exclusive to BBN.
---
Tom McGinley grabs another win
My super-featherweight prospect Tom McGinley (3-1) notched up another win on his record at the York Hall on April 8th.
He won on points over Jules Phillips (1-4) and clearly out-boxed him for the full four rounds. The kid kept coming back with shots so it was close but he won by two clear points.
Tom is a good prospect but has been injured so had to pull out of a few of my shows, which has meant he hasn't been as active as we would have liked.
Russ Smith trains him over in Essex and is doing a good job with him, so I'll be looking to keep him busy, to build him up then look at six-rounders soon to start climbing the rankings towards titles.
---
Darren Snow v Anthony Yarde
Darren got in with unbeaten prospect Yarde (10-0) last weekend on the Frank Warren-promoted BT Sport show in Leicester Arena.
He's a road warrior so he gave it a go against the odds but got hit with a body shot and received a hairline fracture to his ribs.
Yarde is definitely the talent that everyone claims him to be, and as his record suggests - 10 wins and 9 KO's! He's sharp and looks like the part, plus he's grounded not up his own arse. Like some others at his level.
Watch out for him in his Southern Area title fight with the champion Chris Hobbs on May 20th at the Copper Box Arena.
It was brilliant show, the venue was good and it was completely packed out. But, more than anything, it was a wicked bill and all of the fights were entertaining.
---

I watched the first BT Sport boxing event on April 8th and that was also an excellent show with lots of drama and talking points. Definitely the best choice of fights between Liam Smith v Liam Williams to kick off the landmark TV deal. It was a cracking fight and I hope they sort a rematch because it didn't end conclusively.
It's great that BT Sport are finally giving Sky Sports a rivalry, it's good for boxing all round.
The BT Sport deal with Frank Warren helps out everybody because it's a good advertisement for boxing in general. The bigger and wider the audience, the better for all involved in the sport.
Small hall shows are good for boxers when learning your apprenticeship but then you can outgrow that scene. Small hall promoters have got good fighters that deserve the same type of exposure on TV, and if BT Sport, Sky Sports, ITV have got all the big names then it would be great for a channel to tap into the smaller shows and showcase the rising prospects coming through.
There should be more TV exposure for small hall shows to be able to make them work better, take pressure off the promoter, and allow more money for the fighters.
It's good to get a few more prospects on there like Grant Dennis, a Southern Area middleweight champion that's unbeaten in nine fights, or my undefeated light-heavyweight prospect Spiros Demetriou from London.
I have a tantalizing Southern Area title fight coming up on my next show in Maidstone on May 27th which would be great for TV. There's unbeaten prospects on the show, an ex-England international, and the Southern Area title clash between a former contender and a former champion.
---
Grant Dennis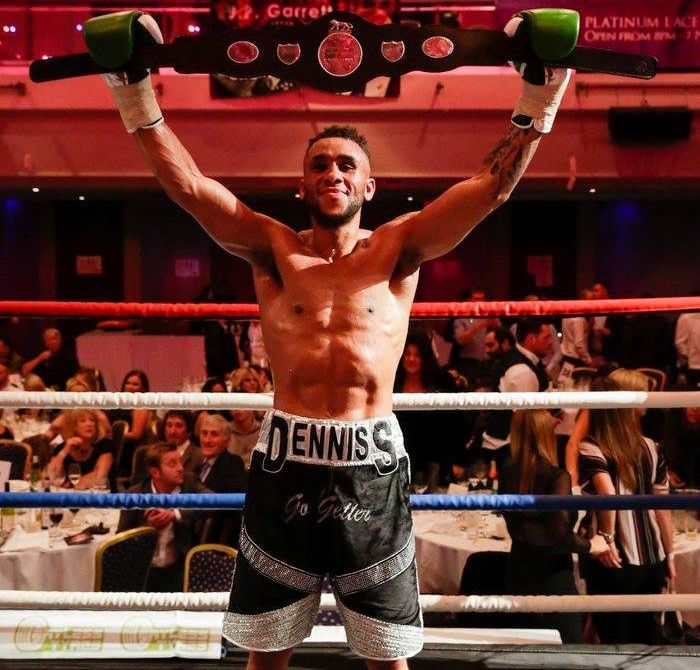 I spoke to Frank Warren recently and I can confirm that something is in the pipeline for Grant to soon be boxing on a BT Sport show.
It shows for the rest of my fighters that I manage that if you can do your apprenticeship on the small hall shows, train hard, live right and dedicate yourself then that's what you can get from it.
Luke Gibbo is one of the only lads I've got that has a good amateur pedigree. With that, he'll move on quickly and be fast-tracked to titles because he's already experienced that higher level when boxing for Team GB and Internationally. He's already triumphed over Southern area champions when in the amateurs.
Unless you're an Olympian, Team GB boxer or multiple ABA champion, you've got to start out on the small hall shows to get recognised and push on.
That's what Grant has done. He fought well in his fights, learnt lots and then took on the Southern Area champion after just seven bouts and beat him in his own backyard.
Then, Nicky Jenman went on to defeat an unbeaten prospect in Tey Lynn Jones, stopping him in the fifth round, which just shows you how good the win over him was for Grant.
He's a top boy and performs well and is a handful for anyone at his weight. I sparred WBO World middleweight champion Billy Joe Saunders and Frankie Gavin before they competed in the Beijing Olympics and I've also sparred Grant Dennis before and I can say that he's just as good as them.
---
Matching for Mayhem on May 27th in Maidstone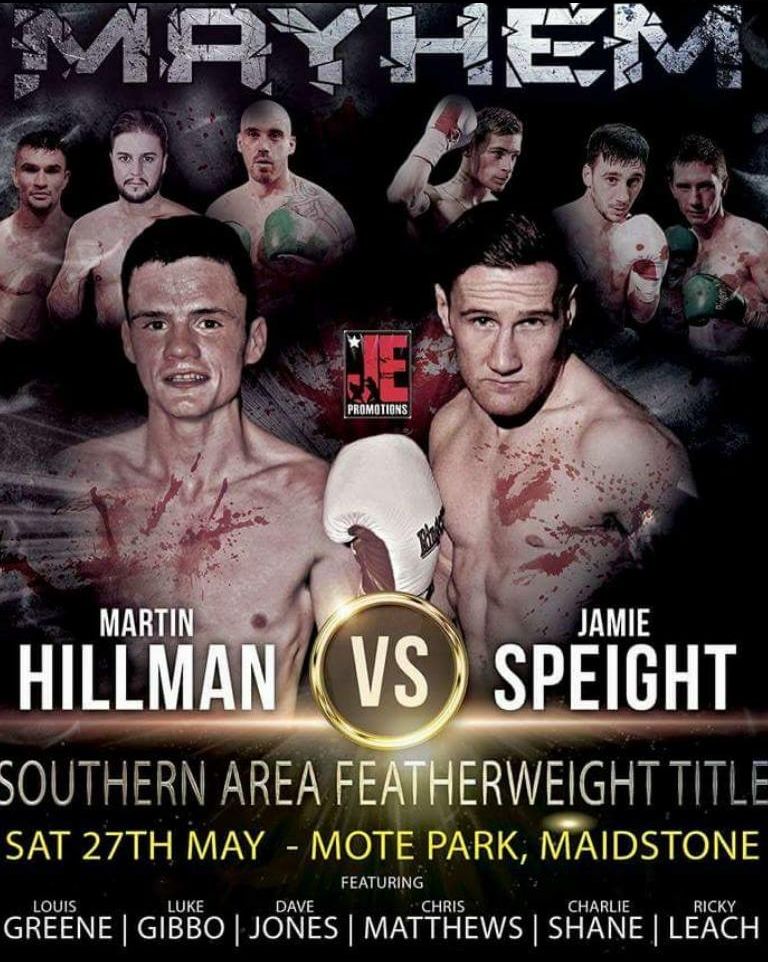 Martin Hillman (9-3) is deep into his training camp for his Southern Area featherweight title fight against former champion Jamie Speight (14-11) from Devon.
Unbeaten heavyweight Dave Jones (7-0) has now been matched with Tomas Mrazek (10-61-6) from Prague.
The Czech Republic fighter has had 77 bouts and fought for the Czech heavyweight title in 2006. He has shared the ring with long-term WBO World cruiserweight champion Marco Huck; undisputed World heavyweight champion Tyson Fury; Mariusz Wach – the last person to hurt Wladimir Klitschko; Commonwealth champion Gary Cornish; British Champion Dillian Whyte; and unbeaten prospects Nathan Gorman and Nick Webb.
Luke Gibbo (1-0) will face Jack Green (0-12) from Newton Abbot, Devon. Jacko trains with the headliner Jamie Speight.
Margate's Ricky Leach (2-18-1) rematches with Jules Phillips (1-6) to try to settle the score after losing to him in March this year.
Unbeaten prospects Louis Greene (6-0); Chris Matthews (6-0); and Charlie Shane (3-0) are all back in action as well.
---
Back in Worksop on July 1st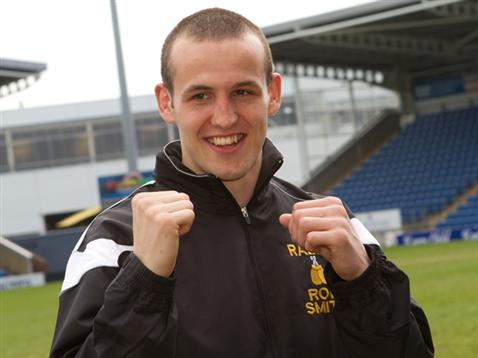 Rod Smith (7-1) will be headlining my next Worksop show at the North Notts Arena.
I recently signed contracts with Sheffield's Smith after leaving Richard Poxon's stable.
The middleweight prospect, nicknamed 'Razor', has had a good year-and-a-half out but is now back training with Michael White at the Fighting Fit Gym in Dinnington.
He's a six-foot middleweight from Yorkshire with seven wins and one loss. The solitary defeat was to Tom Doran, who came in half a stone heavier at the weigh-in.
Smith's best scalp so far is a points win over two-time Commonwealth title contender Liam Cameron in his fifth fight in December 2013.
He's only 26 and been involved in two 10-rounders already so I've got high hopes for him but we'll only move him on at the right time towards titles.
---
For tickets to the next show, visit https://www.facebook.com/JEsportsnetwork/ or call 07883 943994
JE Promotions would like to thank Kent Trade Frames - Campbell Nutrition - Invicta Gym - Fighting Fit Gym - Roofdec - 1ClickPrint and Media Officer Tim Rickson