JE Promotions have announced their next event will take place at Mote Hall on October 6
For the first time in their history, JE Promotions was forced to cancel their July 7 'Summer Showdown' event at Mote Hall following a multitude of last-minute withdrawals.
In what was to be their eighth event at the Maidstone venue, too many pullouts hampered the show and the difficult decision was made to cancel the event for the first time in the promotional outfit's history.
Promoter Joe Elfidh, a former pro known as 'The Moroccan Machine', is responsible for reigniting professional boxing in Maidstone, with the first event in 2016 when the last one prior to that was staged way back in October 2000. Their next Mote Hall event now takes place on October 6 and features former Southern Area middleweight champion and English title contender Grant Dennis (10-1) in the headliner.
Dennis returns to the ring following his sole career defeat after he stepped up to English title contention against unbeaten Elliot Matthews (19-0-1) last December and has since been kept on the side-lines with an injury sustained in training.
The unbeaten rivals fought last year when the 34-year-old from Chatham went into the away corner at the York Hall on a British Warriors Boxing event only to be left reeling at scores of 96-95 and 97-94 twice in favour of the home fighter. Dennis cried robbery, stating that he was 'was on the end of a bullsh*t boxing decision', and immediately demanded the rematch, which hasn't materialised still.
Following the minor injury, the 'Go-Getter' is now fit and ready to return to title contention and, despite the phone not ringing for the English title rematch, he has had other offers coming through recently accepting an eleventh-hour request to face Indian megastar Vijender Singh for the vacant super-middleweight title but was left further frustrated when that fight also didn't happen.
An ABA semi-finalist in 2002, Dennis raced to four fights unbeaten in his maiden year as a pro and quickly progressed to an eight-round British Challenge belt contest against gatekeeper Wayne Reed (12-13) in just his fifth fight, which he won on points. He then stepped up to Southern Area level when he met the middleweight titleholder Nicky Jenman in November 2016 in the champion's hometown of Brighton, his first appearance in the away corner, and soon upset the locals with a 97-95 points victory and took the belt back home to Kent.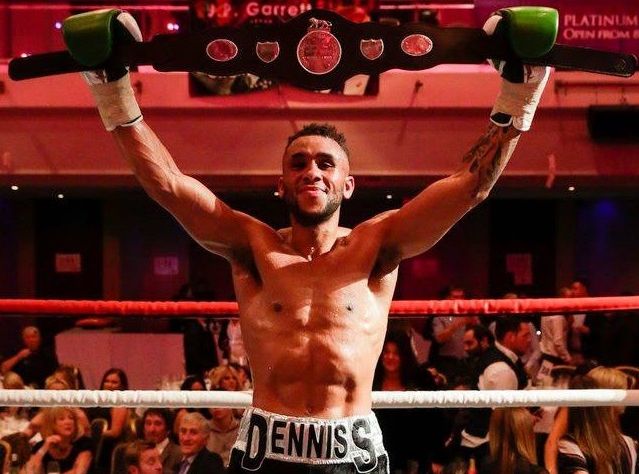 Three successful six-rounders later, reaching 10-0, and finally his long-awaited shot at the English title came against Matthews – all during 2017 – but ultimately ended in disappointment.
Dennis is now slated to headline the Maidstone card on October 6 but will still be keeping a close eye on his phone in case another big fight presents itself in the meantime.
Three-time Southern Area title contender Martin Hillman (10-6) returns following his latest heartbreak on July 6 when he lost by one single point against Bristol's Duane Winters (10-1) for the vacant Southern Area super-bantamweight title at the UWE Exhibition and Conference Centre.
Sidcup's 'Pie and Mash Kid' previously challenged for the Southern Area title at super-featherweight in 2016 against Boy Jones Jr, losing widely on points, and then to Jamie Speight at featherweight in 2017, stopped in the final round due to a dangerous looking head swelling.
Trainer Ray Askew from the Invicta Gym publicly declared that his 122-pound charge should have won the championship contest by one point instead but was ultimately proud of his performance from the away corner.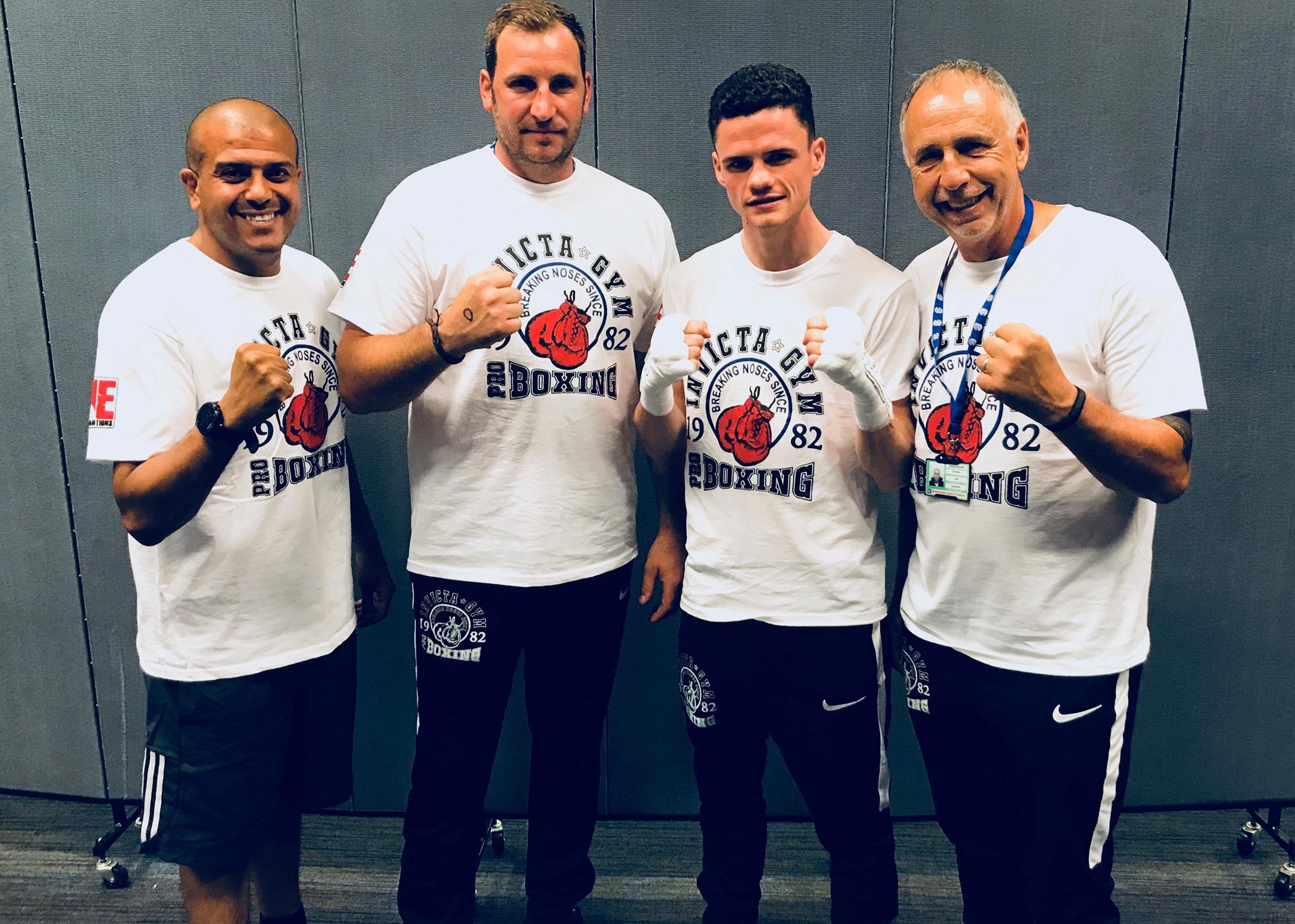 It's the first time that Hillman has suffered back to back losses, but his determination is unwavering and fans can expect to see him bouncing back on the first weekend of October.
British Challenge belt super-middleweight champion Charlie Shane (6-0) was one of the many unfortunate fighters to pick up an injury shortly before the last show was due to take place. Now injury-free, the 27-year-old southpaw is keen to have his first fight with his new team in the corner from the Kent Gloves gym.
Debutant Aidan Cassidy, 23 from Sittingbourne, will finally get to make his pro bow. The light-heavyweight talent was all set to make his inauguration into the pro ranks against Chessington's Richard Harrison (2-33) on July 7 but was left devastated at the last-minute cancellation just one day before fight night.
The Haringey Box Cup silver medallist, like Shane, also trains out of the Kent Gloves Boxing Gym under the tutelage of trainer Simon Gildea. He moved from Hackney to Kent, aged 14, but spent his spent his last three years as an amateur representing Repton ABC.
Cassidy has ambitions to win the Southern Area title but claims to want to concentrate on marking his professional debut with a good win first.
Margates's Paul Brown (2-0), 27, kicked off the last show with a very comfortable points win over Dinnington's Darren Snow (5-24-1), who is also signed to JE Promotions. The former Southern Counties ABA champion chalked up his second shutout points win and takes part in another four-rounder, hoping to make it a hattrick of wins.
Future star Lenny Fuller (1-0), 23 from Chart Sutton, gets back out in another four-rounder after dazzling crowds on his debut in May.
'The Main Man', trained by Lee Page at Combat Sports Academy, was also all set to fight on the last show against stablemate Luke Middleton (1-0) from Langold.
In his pro debut, the Maidstone man scored a second-round knockdown en route to a landslide points win against Hyde's Dale Arrowsmith (1-15-1).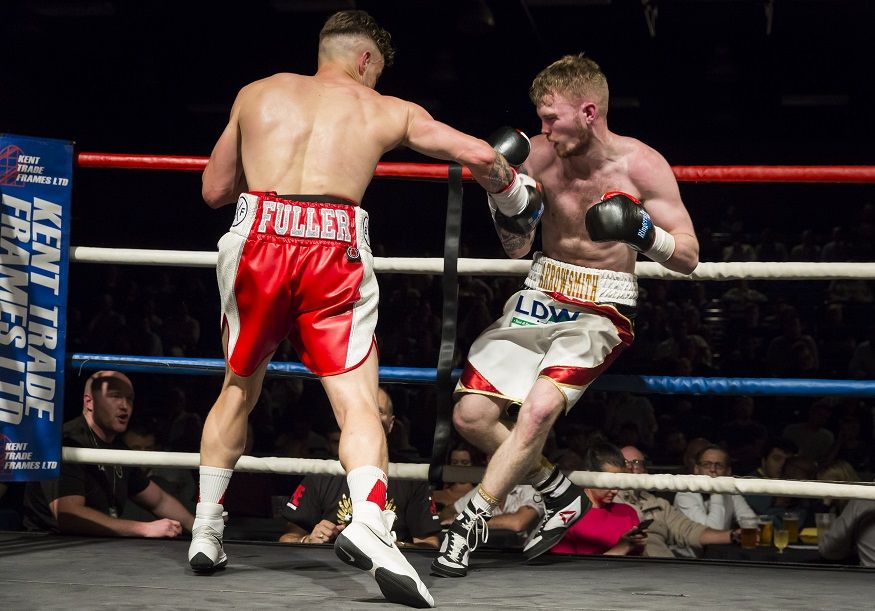 The former unlicensed champion, who had a limited amateur career with Westry ABC, boasts a big following of fans and has plans to fight as often as possible with staunch ambitions to become a British champion.
Welterweight Danny Barrett (1-0), 25 from Stoke in Kent, also kicked off his pro career with a one-sided victory on the same night as Fuller, defeating 38-year-old Slovakian Rudolf Durica (1-20).
The southpaw, a former Haringey Box Cup champion, managed to deal with his tricky European opponent – a decorated kick-boxing champion – to win all four-rounds and will continue his education in his next four-rounder.
Lightweight Zeki Hussein (0-1), 32 from Gillingham, looks to reignite his career with manager Joe Elfidh at the helm, having previously been signed to Left Jab Promotions in 2014.
Two Jacks in pack - Jack Raines (5-0) and Jack Budge (2-0) - each make their second appearance under the JE Promotions banner.
Budge, 23 from High Halstow, was an ABA champion in 2012 and originally kicked off his pro career in Berkshire signed to Chris Sanigar in April 2016 but moved back to Kent once his apprenticeship as a jockey came to a close following an injury sustained when falling from his horse.
Raines, 26 from Sittingbourne, also signed with Joe Elfidh to fight closer to home after previously competing in Essex and London. The super-featherweight won 40 of 50 amateur contests and counts IBF no.12 Josh Leather as the last man to beat him.
Promoter Elfidh commented on the stacked card, "It was unfortunate that we had to pull the plug on the last show but JE Promotions always have quality at the forefront of our priorities and we wouldn't have been able to provide that if we had gone ahead with a reduced number of fights available.
"This next show is set to be stellar! Fuller and Barrett are both fresh young pros with big followings and their crowds raise the roof! Both Dennis and Hillman are seasoned pros, both champions knocking on the door for bigger and better things. Cassidy is the latest top amateur to sign with JE and he will be raring to go by October!"
---
Follow JE Promotions on Twitter: @JE_Promotions
For tickets to the next show, visit JE Promotions' FB Page or call 07883 943 994
JE Promotions would like to thank Kent Trade Frames - Campbell Nutrition - Swerve City - Basement159 - RoofDec - 1ClickPrint - Shiatsu Shane - Tierney Photography - Laking Painting & Decorating - Invicta Gym and PR Manager Tim Rickson