Mandatory challenger to the now vacant Southern Area lightweight title Jamie Arlain (5-0) has seen his opponent switched from the former champion Michael Devine (15-5-1) to a new challenger in Adam Dingsdale (16-3-1) on April 22nd at York Hall.
The switch came when two-weight Area champion Devine pulled out of the fight with Arlain and relinquished his Southern Area lightweight title to pursue a bigger opportunity.
Medway's Dingsdale has since stepped in to fill the void in an attempt to regain the title that he once held during 2014 – 2015.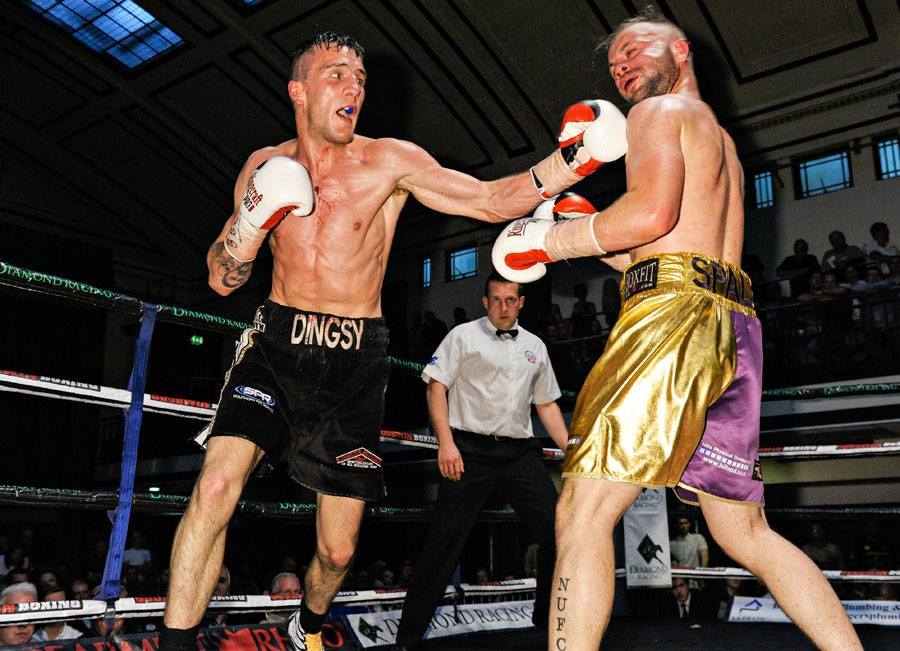 The Arlain v Dingsdale Southern Area lightweight title clash will still take place on the St. George's Day weekend at the iconic E2 postcode.
Former champion Dingsdale is the hot favourite having operated at a higher level than fledgling pro Arlain and experiencing four times as many fights.
"I know he's experienced and boxed for the English and WBO European titles before, and I know that he went the distance with Derry Mathews once as well, so I know all about what he's capable of," said 29-year-old Arlain of his forthcoming foe.
"He's got a similar record to Michael Devine and I'll be a massive underdog but I'm confident."
Dingsdale will be eager to win back the Southern Area lightweight title that he previously surrendered in order to challenge Kevin Hooper (19-5) for his English lightweight championship in March 2016, losing via unanimous decision to the champion from Grimsby.
The Kent puncher, originally born in Merseyside, also suffered two other losses in title fights at 135lbs at the hands of the recently retired Derry Mathews for the WBA Continental, as well as Stephen Ormond for the WBO European.
Arlain agrees with Dingsdale's philosophy of taking the shots when presented, "You've got to take these opportunities to see what level you're at," he enthused. "Who dares wins and I've got to take the risks to get somewhere."
Despite Dingsdale falling short on all three occasions when stepping up a level, his experience greatly outweighs Arlain's, who fully accepts he is the underdog going into this fight.
"It takes a bit more pressure off but gives you more motivation," the Bethnal Green boxer said. "The crowd loves an underdog, especially one that can cause an upset."
Arlain's inexperience is evident in his record having only been involved in five professional contests so far, although he has completed the full eight-rounds when he defeated Joicey on points in their first meeting in September 2016 for the British Challenge Belt.
The pair met again three months later, this time in a scheduled 10-round eliminator contest, which Arlain ended in the second-round after landing several heavy right hooks to the head of Joicey, causing referee Reece Carter to jump in and save the Middlesex man from any further punishment.
"I've been sparring those championship rounds and, even though it won't be the same, I'm excited for it," Arlain enthused. "I'm really looking forward to going into those championship rounds and I personally think that Al Smith and Adam Dingsdale have jumped at the chance to fight me as they think it's an easy win for the Southern Area.
"Because of my experience compared to theirs, I think they're both looking past me.
"I take inspiration from Isaac Chamberlain who beat Wadi Camacho for the Southern Area after only six fights as a pro, and Wadi had had over 20 fights."
The change in opponents hasn't upset the Bethnal Green boxer's routine or preparation in any way, he explained, "I'm sticking to the same game plan that I've been working on in the gym. Been working on my work rate with my trainer Matt Marsh, he had a good engine and good work rate when he was a pro and he's training me in the same way.
"I spar with Martin Ward [unbeaten British and WBC International super-featherweight champion] and he's great experience for me. I'm a counter-puncher but I've been working on coming forward and being on the front foot more, so I'll be able to switch it up.
"I think that where I'm quite laid back as a person, I'll accept any challenge, but I'm also ambitious and confident so I don't care who's in front of me on the night, especially knowing the work I've already put in for this."
The East-Ender has already backed this statement up as he originally agreed to face unbeaten prospect Jimmy Cooper (4-0-1) on March 11th whilst he awaited his mandated title shot but when the date for the championship contest was fixed for the following month in April, it made sense to pull out of the bout billed as 'Battle of the Unbeaten' to concentrate solely on the bigger opportunity.
The southpaw confirmed, "My trainer Matt [Marsh] said to wait until April 22nd for the bigger opportunity. I was happy to box in both fights but I always listen to his advice.
"It would mean a lot to hold that title as its famous and been around for years, and especially beating someone like Dingsdale to get it.
"If I win, I'll have a few defences to show people the level I belong at and then look for the bigger fights like the English. The British title would be my ultimate goal in boxing."
---

'Nemesis'
Arlain v Dingsdale headlines the packed event titled 'Nemesis' with a whole host of unbeaten prospects appearing on the undercard – Duane Sinclair (4-0); Ricky Heavens (1-0-1); Jordan Dennis (2-0); Miles Darby (1-0); Christos Ioannou (2-0); Mark Little (3-0); Brad Pauls (5-0); Ryan Walker (1-0); and Mikey Sakyi (2-0); and Jack Mulowayi (2-0) will all be in action looking to extend their respective unbeaten records.
Debutants Liam Dillon; Connor Gorham; Lewis Syrett; Mitchell Preedy; and Mikael Lawal will all make their pro bow on the same night.
---
For tickets to the show, please contact 07528 663 629
Follow Jamie Arlain on Twitter @arlain_jamie88
Jamie Arlain would like to thank his sponsors Pro-Dec and Nu-Maintenance and Arches Café and Agent Tim Rickson