Billy Nelson, trainer of main Anthony Joshua sparring partner, Martin Bakole, speaks to Danny Flexen about camp at the EIS in Sheffield

Eighty rounds. Sounds like a lot, especially if completed all in one go, but spread across several sessions and four weeks, eighty rounds of sparring is standard stuff, for world-class boxers that is.
Anthony Joshua, preparing for this Saturday's unified world heavyweight title defence against formidable Russian Alexander Povetkin, has sparred around 80 rounds with Martin Bakole, the Scotland-based Congolese who will headline a Channel 5 show on October 13, against US Olympian Michael Hunter. The pair have duelled before but this has been the longest sustained period.

Bakole's trainer, the vastly experienced Billy Nelson, a man who once took Ricky Burns to world titles at two weights, provides an insight into AJ's environment at the English Institute of Sport in Sheffield – where the GB amateur squad also prepare, under AJ's head coach Robert McCracken – having been there for around a third of the Watford superstar's training camp for Povetkin.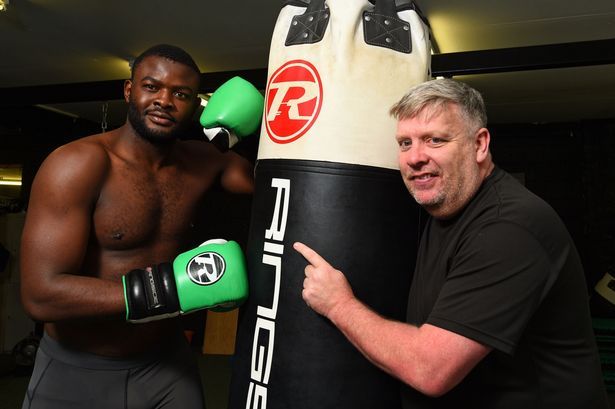 "For a boxing man, it's the best set-up you can imagine," Nelson explains. "They have four boxing rings, fantastic modern facilities and you are surrounded by the top amateurs in Britain. If you can take even two small things away that you think might benefit your fighter, then it's worth it. They have weights, a running track, a CV area, but the most important thing is it gets Joshua away from London; it must be madness down there for him.
"Rob is a very level-headed man who speaks a lot of sense; he has a great boxing brain. I can't speak highly enough of him. He talks to Joshua between every round, identifies his strengths and weaknesses. AJ listens to every word, he realises he's got one of the best trainers in the world."


Bakole, at 6ft 6ins, was not brought in as a size or style match for Povetkin – that was the purpose of Joshua's other sparring partners, like European champion Agit Kabayel of Germany and 9-0 Turkish prospect Ali Eren Demirezen. No, Bakole was there to get Joshua thinking and improve his sharpness. According to Nelson, the mission proved successful.

"I was very impressed with Joshua's speed and his ring generalship is a lot better," Nelson reveals. "The sparring got better as it went on, they were both very respectful of each other's abilities, and the work was very technical and clever. You need to be mentally fit as well as physical. Both had their spells. Each man would capitalise on wee traps they set, as they are both world-class fighters; these were very, very competitive spars. They got AJ's boxing brain sharp as a tack and likewise him with Martin, we'll definitely spar him again."

Bakole, 11-0 (8), will now spend a week or two working with Hughie Fury, who meets Kubrat Pulev in an IBF final eliminator on October 27, and undefeated UK hopeful Nathan Gorman, before finishing camp back in Glasgow. As for Anthony Joshua, the real Povetkin awaits this Saturday, for most if not all of the marbles.