Name: Tom McGinley
Record: (4-1)
Weight: Featherweight
Born: Chelmsford, Essex
Residence: Chelmsford, Essex
DOB: 06/05/1987
Nickname? "I haven't, not earned one yet!"
Favourite all-time boxer? "That's a hard one because I've got about four but I'll go with Manny Pacquiao."
Favourite current boxer? "I'm gonna' go with Gennady Golovkin."
Favourite fight? "Ali v Frazier – Rumble in the Jungle."
Boxing clubs? "Fight Club Essex and Champions Gym in Colchester."
Amateur honours? "I boxed unlicensed and did well. I had 14 fights, 13 wins and 1 draw. I won the IBA British lightweight title."
Biggest achievement in boxing? "I beat a guy in the unlicensed circuit called Danny Costello, who was a three-time ABA champion and think he won a few pro fights as well. Apparantly, he's one of only around six in history to win the ABA's three times and I knew he would be a hard fight and one that I had to knuckle down for. When I beat him, it gave me the confidence to want to take it further.
He said to me afterwards that I'm wasted in the unlicensed game and need to turn pro. He was the draw on my record, funnily enough, but then we had a rematch over six rounds which I won and he got three standing eight-counts, so I came close to stopping him."
Toughest ever opponent? "My pro debut against Damian Lawniczak. I got cut on my right eye just one minute into the first round, and in the second round, we clashed heads again and I got cut on the other side, so I was gushing out blood, then I caught him with a good right hand and cut his eye so there was claret coming from everywhere! The ref had to put a stop to the contest and I lost by a point.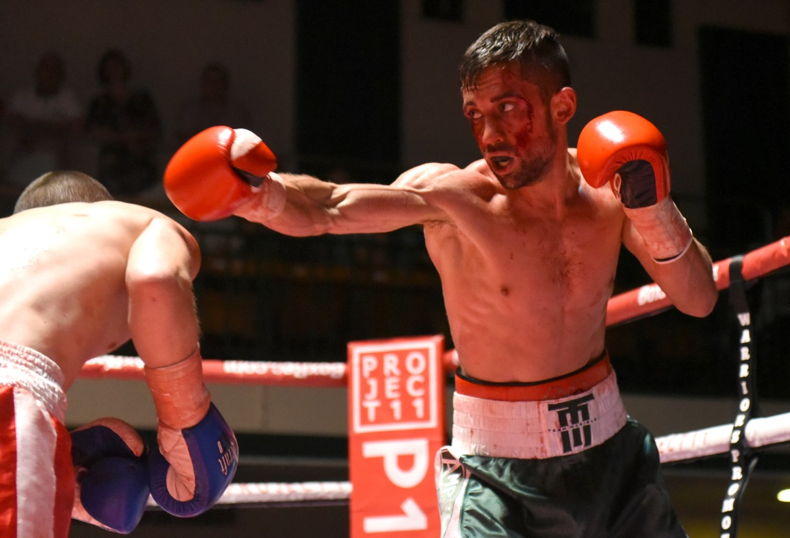 I was nervous on the night and it didn't help that I didn't get in the ring until about 1am! I weighed in at 2pm that day so I felt a bit let down, to be honest, I don't think a debutant should have been made to wait all night to fight. I was backstage trying to chill out but hours of nervous energy drained me.
Still, Roy Jones Jr. lost on his debut and look what he went on to achieve!"
Goals in boxing? "I'd love to win a Southern Area title. I'm 30 now so I know I've left it late and I'm a realist as well, I know I'm not getting world titles. Having started boxing at 24 and coming through the unlicensed, that's as much as I can ask for."
Retirement age? "No, I think one day I'll wake up and know that I'm done. When my body gives up on me, basically! You're only as young as you feel, but the trouble is in my weight class, you get real speedy lads!"
Team? "Russ Smith is my trainer, Joe Elfidh is my manager, Zaiphan Morris and I have done some good rounds together so be nice to give him a mention. My sponsors are Juice Kitchen Chelmsford, they do my food prep, Pembroke Clothing, Ampro Boxing, Cobra Steel and Electrogear."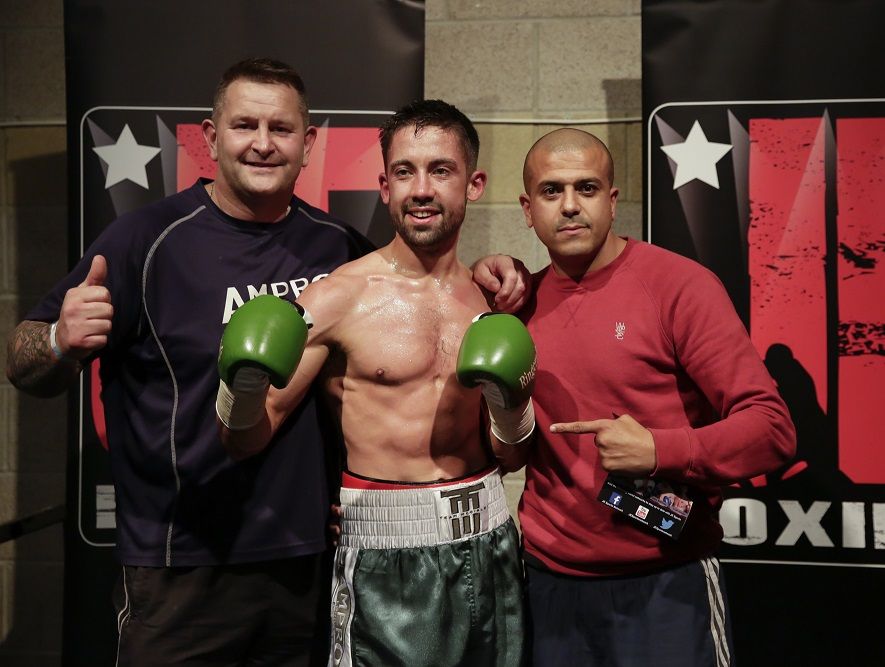 Boxing style? "Counter-puncher, I would say."
Ring walk song? "Dizzee Rascal – Fix Up Look Sharp. Always had it since day one, gets everyone up."
Pre-fight rituals? "I always wear green boxing shorts to fight in, got a bit of a superstition with that I suppose."
Favourite brand of gloves? "Winnings."
Best venue? "York Hall."
Favourite football team? "Man United, although you might want to leave that out!"
Other sports? "Football fan."
Favourite holiday destination? "Florida, went there last year."
Favourite TV programme? "Game of Thrones."
Favourite film? "Shaun of the Dead."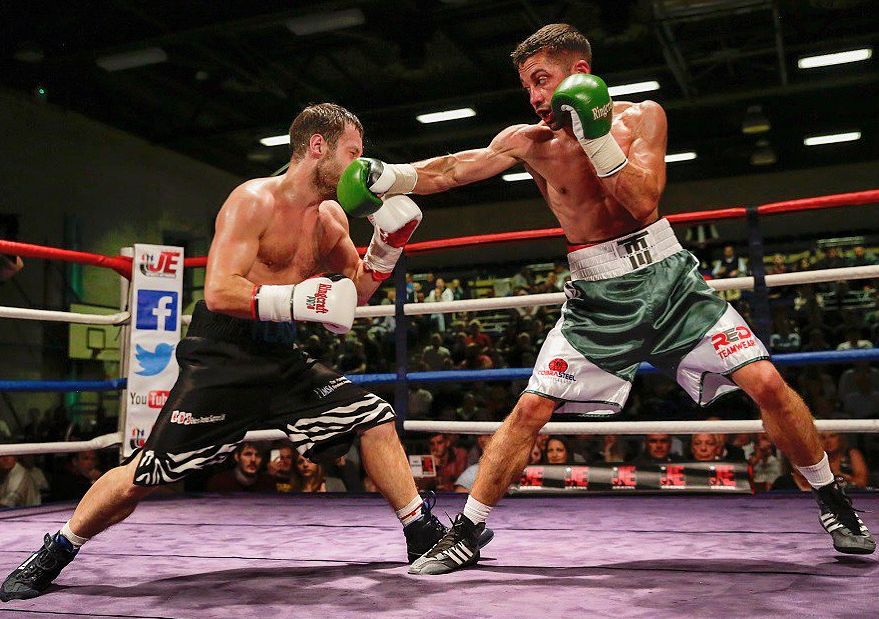 What actor would play you in a film of your life? "Danny Devito!"
Favourite music? "I'm still a UK garage fan; you can tell I'm in my 30's!"
Favourite food? "Indian."
Favourite restaurant? "The Sitar in Chelmsford."
Favourite brands? "Ted Baker."
Favourite superhero? "The Hulk."
Phobias? "Drowning."
Motto? "Get rich or die trying."
Next fight? "February 24th in Maidstone against Martin Hillman for the British Challenge belt."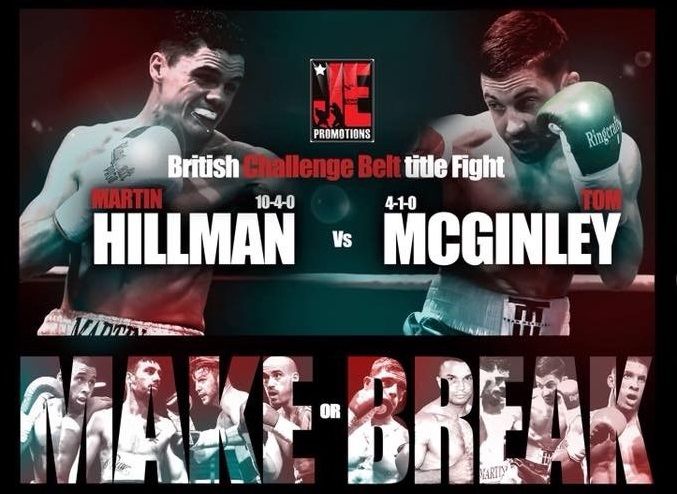 What fight do you want to see happen this year? "GGG v Canelo rematch."
If you could fight anyone, past or present, who would it be? "Ricky Hatton."
Tell us something that not many people know about you? "I got my nipple pierced when I was drunk at V Festival!"
Facebook? https://www.facebook.com/tom.mcginley.79
Twitter? @TomMcGinley9