Get to know… light-heavyweight star John McCallum as BBN throw a series of unrelenting quickfire questions his way
Edinburgh boxer 'Johnboy' talks exclusively to BBN:
Name: John McCallum
Record: (11-1)
Weight: Light-heavyweight
Born: Dublin,Ireland
Residence: Edinburgh, Scotland
DOB: 05/07/1989
Debut: 19/10/2011
Nickname? "Johnboy."
Favourite all-time boxer? "Sugar Ray Robinson, his style was similar to mine as a box-fighter and he fought everyone all over the world."
Favourite current boxer? "Saul 'Canelo' Alvarez."
Favourite fight? "It's got to be the Barrera-Morales trilogy."
Why made you first start boxing? "I started when I was about four-years-old, my granddad took me to the boxing gym and he was my inspiration. Boxing is a family tradition, my grandad boxed, my uncle Tommy McCallum was a pro and two-time Scottish Area champ - he fought Terry Marsh, Lloyd Honeyghan and Clinton McKenzie."
Boxing clubs? "Edinburgh clubs – The Barn; Leith Victoria; The Old Portobello; Meadowbank; Sparta Gym; now spend my time between Glenrothes and Galashiels."
Amateur honours? "I was a seven-time Scottish national champion; seven-time Eastern District champion; two-time schoolboys champion; Western District title; Junior All-Irish title."
Biggest achievement in boxing? "I think the Challenge belt and Masters titles I won as a pro."
Toughest ever opponent? "I'd say Leon McKenzie, purely for the fact I was in a fight where I couldn't see out of one eye due to a head clash in the first round. Leon was fit and strong and it was a hard fight, but more of a learning curve for me."
Goals in boxing? "Win as much as possible and make as much money as I can."
Retirement age? "Take it fight by fight, depends on my health and body, but I would love to be retired before 35."
Team? "Manager Steve Goodwin; coach is Steve Maguire Sr; recently linked up with Leon McKenzie; Brian Fernie does my strength and conditioning; physio Naomi Watford."
Boxing style? "Aggressive counter-puncher, come-forward box-fighter."
Ring walk song? "Braveheart remix, I change it all the time."
Pre-fight rituals? "Nothing like that, but I always treat myself to a new tracksuit or trainers to look fresh."
Favourite brand of gloves? "Winning for sparring but do like Rivals training in."
Best venue? "Probably the York Hall cos most historic."
Favourite belt? "Got to be the WBC."
Favourite football team? "Celtic."
Other sports? "Rugby and football."
Favourite sportsman? "Floyd Mayweather Jr."
Hobbies: "Spending time with my daughter."
Last TV programme you watched? "Love Island."
Last film you watched? "Blood Diamond."
Favourite music? "I like everything to be honest, dance and club music."
Favourite food? "Jack Daniels chicken."
Favourite restaurant? "TGI Fridays."
Favourite brand? "Nike, Louis Vuitton, Montclai, Armani, Hugo Boss."
Favourite superhero? "Teenage Mutant Ninja Turtles."
Phobias? "Don't like snakes."
Motto? "Keep motivated and work hard, don't cut corners because you're only cheating yourself."
Next fight? "November 2nd in the Ultimate Boxxer II light-heavyweight tournament at The Indigo at The O2 in London."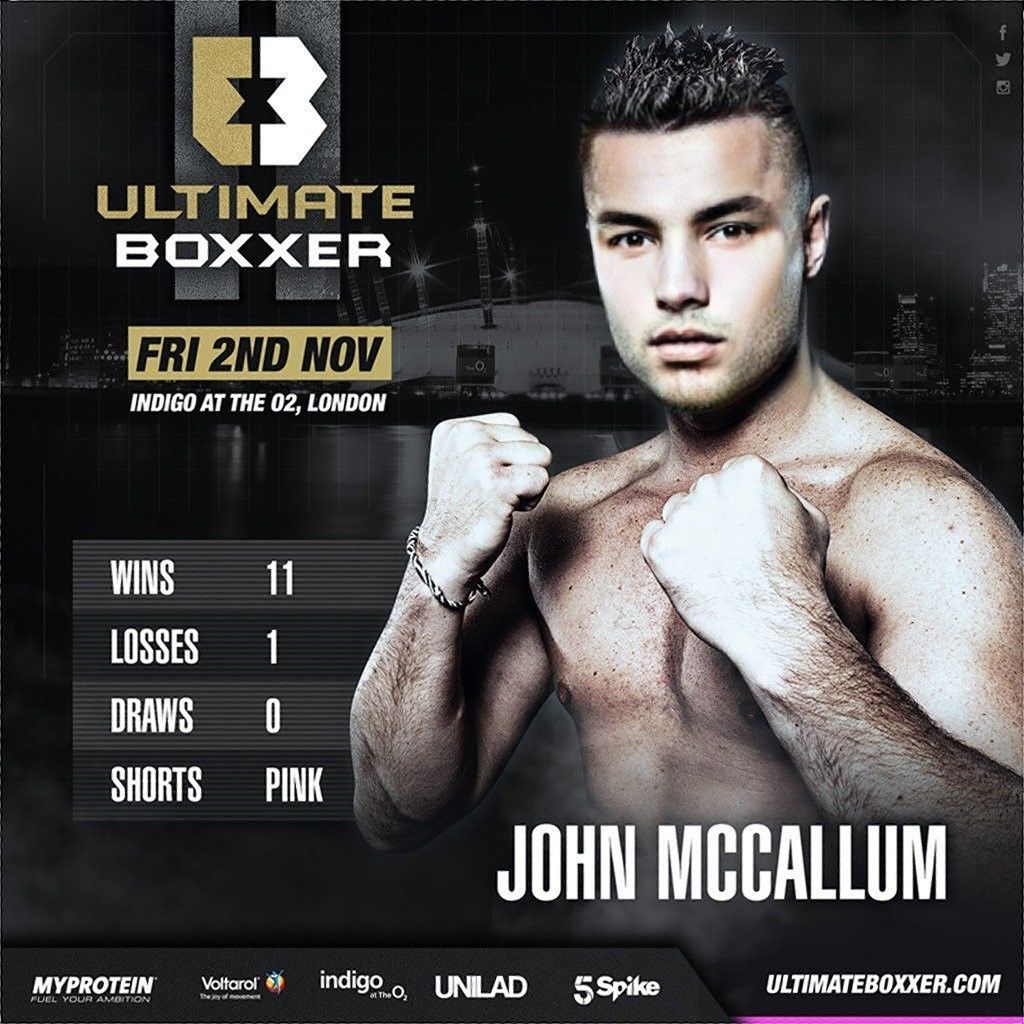 What fight do you want to see happen this year? "I want to see Fury vs Joshua in the near future, I think Fury wins on points."
What is the best division in boxing to watch? "Welterweights because they've got the speed and the power to knock people out."
If you could fight anyone, past or present, who would it be? "Got to say Sugar Ray Robinson, just so I could share the ring with a legend."
What would you most like to be remembered for? "Just somebody that gave it 100 per cent when the opportunities came."
If you weren't a professional boxer, what would you be? "Probably be in the army."
Twitter? @JohnMcCallumBox
For tickets to Ultimate Boxxer, contact Team McCallum on Instagram @johnmccallumjr