Carl Frampton helps Danny Flexen to understand how a working-class Northern Irishman became an accidental hero
At first glance, North Belfast's Duncairn Gardens appears much like any other main road – traffic moves at a leisurely pace, shops jostle for consumer attention and commuters wait impatiently at bus stops, muttering their familiar complaints. Take a closer look, however, and the everyday is rendered forebodingly distinct. High walls and sheet metal fences permeate the landscape on both sides of the busy street, plugging gaps between fresh buildings and those in terminal decay. It's all a bit desultory, responding presumably to evolving need, ebbing and flowing with the tide of current affairs. A few of these barricades host imposing pedestrian gates, ostensibly designed to encourage peaceful coexistence, though the majority of which stay locked throughout the weekend. Once bastions of security, these evocative barriers now stand testament both to a tumultuous history of urban warfare and the scale of progress still to be made regarding de facto segregation in parts of the Northern Irish capital.
Two decades since the signing of the landmark Good Friday Agreement, designed to finally end The Troubles, there remain 108 peace lines or walls throughout Northern Ireland, more in fact than when the historic deal was ratified. Duncairn Gardens is an example of an Interface, a mixed zone of sorts that functions independently but also serves to separate communities that are diametrically opposed. This particular example is a buffer between the Catholic and nationalist New Lodge in the south and its protestant, unionist counterpart, Tigers Bay, to the north – thus bisecting two communities already long since divided by religion, politics and centuries of antipathy and bloodshed.
One of the closest routes to the interface on the Tigers Bay side is through Upper Canning Street, making it something of a front line in the recent, lengthy civil war. While sectarian violence has dissipated significantly from a 2007 high that brought 66 consecutive nights of violence to the area, the most famous product of Upper Canning Street, and indeed Tigers Bay, remembers all too well the darker times that claimed the lives of over 600 victims. Former two-weight world champion Carl Frampton grew up in the 1990s, one of three children born to working-class Protestants, Craig and Flo, and the product of a unique childhood on the interface. While it is not something he often talks about, the 31-year-old retains vivid recollections of a childhood set against this combative, but, for a testosterone-fuelled adolescent, exhilarating backdrop.
"The territory is still marked out, so a random going across, they would know what side they were on, especially in the summer months when the flags go up," Frampton tells me, in his languorous Belfast brogue. If taken aback by the challenging subject, he does not betray any apprehension. "You always expect a little trouble but nowadays it's mainly kids out of boredom. It was a normal housing estate and very much so a working-class upbringing. You were very lucky if you got to go away once a year, they were never foreign trips, a weekend at Butlin's maybe. My parents never drove, we used to get buses everywhere.
"Growing up, you had people all around you telling you every single one in New Lodge was the enemy. We were quite close to central Belfast if you walked through New Lodge but we'd always walk the long way around. I've seen a lot of trouble: rioting breaking out, fights, 100 men on each side of the divide fighting, guns getting pulled out, petrol bombs thrown. To be honest, it was an adrenaline rush when I was a kid, it was exciting; it didn't frighten me, it's just the way it was."
Carl would later be mentored by the legendary Barry McGuigan who, during his 1980s prime, became synonymous with the push for peace in Northern Ireland. Frampton has often been viewed as the "Clones Cyclone's" natural successor, a perception no doubt fuelled by McGuigan's 2014 description of his then-protégé: "He's a beacon for peace and reconciliation and represents the future of Northern Ireland." No pressure there, then.
While Frampton has emulated, perhaps even surpassed, the in-ring achievements of his former manager, his approach to consolidating communities is rather more muted. Like diverse styles of football captains, McGuigan was the proactive leader, prodding and cajoling all who surround him, while Carl is less ostentatious, content to simply lead by example. Despite the partisan fervour of combatants in North Belfast, it was never in Frampton's nature to avoid an association with those from a different background. When he sometimes toiled in 'Catholic' gyms as an amateur he did so out of necessity, just as he married a Catholic girl from a nationalist area only for love; there has never been a grand plan to bridge the sectarian gap or unite his fanbase. Instead, Frampton's liberal outlook and essential humanity have transcended party lines and made him the biggest boxing attraction in his country for many years. By destiny, rather than design, Frampton has come to represent the modern Ulster: tolerant, accepting, focused on the future. He is, in his own way, breaking down barriers.
"I wasn't doing anything different than I would have if I'd had a normal 9-5 job of working on a building site," Frampton insists. He remains resolutely working class in tone and lexicon; as a result, everything he says carries a certain authenticity. "I never felt there was a real difference, I didn't feel like I was trying to bring communities together, I was just being myself, and people on both sides seemed to like that. They're sensitive subjects, religion and political views, but I just keep it all out of it. If someone has a different view than me it doesn't bother me, I can still be friends with them. I don't want to sound like some kind of peacekeeper, but people do see me as someone who represents the new Northern Ireland. If people wanna look at me as if being myself is good for Northern Ireland then it's nice, but I'm genuinely just being myself."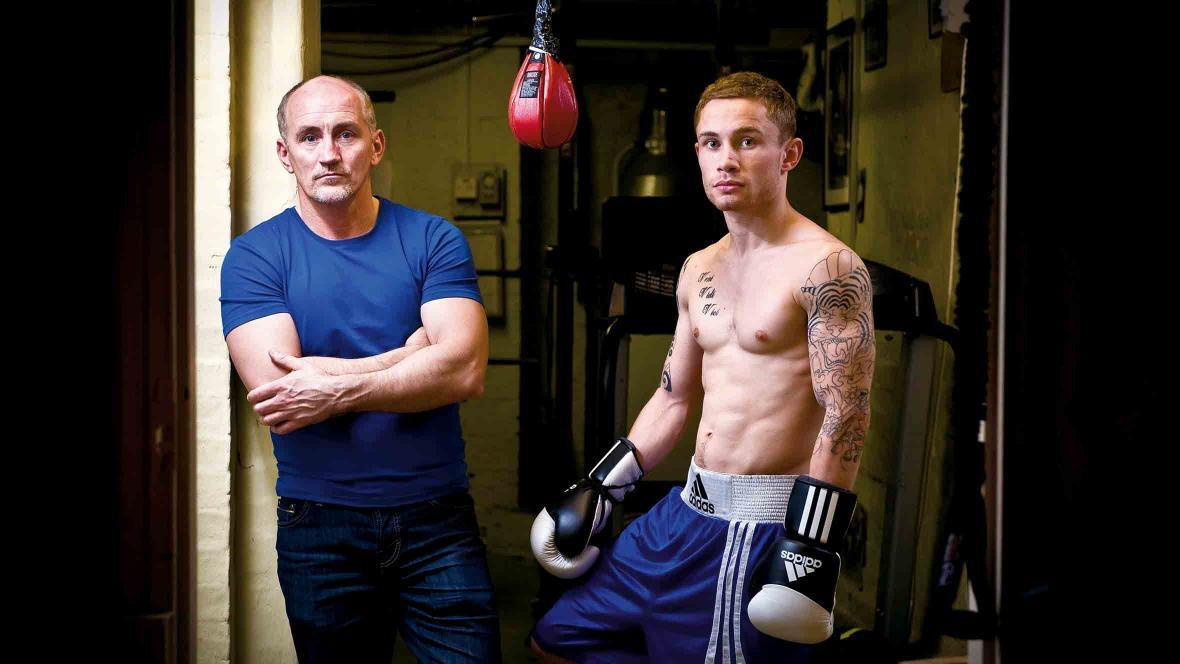 The inevitable comparisons with McGuigan have become rather less frequent since the pair's bitter split in 2017, some of the fallout from which is heading to the Belfast High Court. While only so much can be reported regarding an ongoing case, what cannot be underestimated is the courage shown by Frampton in severing ties. Not only did he break away from a team that had guided the majority of his highly successful career, the boxer also broke an intimate bond with McGuigan - a hero of Irish boxing, still revered by a huge number of fans - and his family. Frampton also lost his trainer in Barry's son Shane, with whom he had become sufficiently close to employ as one of the groomsmen at his wedding, along with another McGuigan boy, Jake. Frampton did not demur from making a tough decision, even though it meant, in many ways, starting over. The court case, he insists, has not been a distraction.
"It's all kinda been going on in the background," he reveals, as unsure regarding what he can safely say as I am about what I can write. At least he can afford to get sued. "I just need answers and I'm glad there will be answers. The solicitors only call me when they need to talk to me.
"There was sadness there, but not anymore, I'm over it. I feel I've moved on now. I'm not sad at all now."
New beginnings can often soothe a broken heart. Current head trainer Jamie Moore came on board, along with his able assistant Nigel Travis, as new voices in the corner and within their Greater Manchester gym, MTK confidently assumed the managerial reins and veteran promoter Frank Warren wisely snapped up a huge draw who is still around his athletic peak. Theirs is a three-fight deal, two of which have seemingly flown by with victories over Horatio Garcia and Nonito Donaire. The final fixture, at least of the initial contract, will take place on August 18 as Frampton fulfils a long-held dream by boxing at Windsor Park, home of his beloved national football team and, this summer, a WBO Interim featherweight title defence against, most likely, Australia's unheralded Luke Jackson. In fairness, it could be Luke Goss; such is Frampton's renown back home, the opponent is largely irrelevant.
Frampton has been reinvigorated by the dedicated team around him but last year marked a period of change management on a vast scale. The one constant amid the chaos has been his wife, Christine. She proved a rock when Carl suffered the only defeat of his career in the Leo Santa Cruz rematch early last year and has been similarly steadfast during his recent legal issues. Providing support as unwavering as it is significant, the formidable criminology graduate from Poleglass has been a huge asset, as well as a loving partner, since a chance meeting in Kelly's nightclub in Portrush some 12 years ago.
"I was out with my mates, you'd get buses up there, an hour-and-a-half up the road, big DJs would come - it may have been [German trance spinner] Scot Project that night," he recalls, pretty vividly considering the night he describes was back in 2006 and he claims both parties were rather well-oiled! "You'd go up and go mad for a night, then come home… or hope to come back home! I think I was 19, she was 18. She approached me for a kiss, a bit of a 'lumber' - which is what we call a kiss back home. The birds I'd had weren't normally lookers so when one had showed interest who was very good looking, I dug my nails in and latched onto her. We'd spoken to each other on [early social networking site] Bebo, I think a few times before we actually met, but it was a coincidence she was there, we didn't plan it."
Like an endearing limpet, Frampton refused to let go of Christine Dorrian (as she was then). Her background, so different from his own, was never a consideration for Carl, but he does admit to a few concerns about how other people may have received news of Belfast's answer to Romeo and Juliet reaching across the aisle.
"I thought it may have been an issue but I didn't question whether I should be with Christine or not because of what other people might think," Frampton declares, effusively. "At the very start I was a wee bit concerned about the reaction people would have, my mum was concerned too. Poleglass is a completely nationalist area, the other side of the fence. My mum used to say 'She's from [the more mixed] Glengormley', not because she didn't like it that Christine was Catholic, but she was cautious with who she was telling, and thought about how it'd be bringing a Catholic into Tigers Bay. Christine didn't care, she's from a nationalist area but there is no interface, west Belfast is 90 per cent Catholic anyway. Tigers Bay, there was always fighting."
Frampton is thoughtful and considered throughout our hour-long talk, but really comes alive when we discuss his wife and their two children, Carla (7) and Rossa (3).


"She's funny, she's a good girl, more than anything else she's an amazing mother," he affirms as I try to detect if he has one eye on the coveted brownie points. Even Carl Frampton is not immune from self-interest. "The kids love her but they also respect and listen to her; with me, they love me and have fun with me but they don't listen to me. We're completely different characters, but she gets things done.
"I'm not at all political or particularly religious," he adds, as if there are few topics he could find more tedious. "We don't go to church, our kids never got christened, we only go church when someone gets married or dies. Christine and I had a humanist ceremony. We'll let our kids decide what they believe. We're not religious so we're not gonna force it down anyone else's throats, least of all our kids.
"But I love to bring my kids into Tigers Bay, they play with our friends, Rab and Stacey's kids, and I think it's good for them coz its what I did and they have a real sense of community there."
The Framptons' commitment to self-determination for their children is admirable; if only Northern Ireland's future could be managed along similarly practical lines. The devolved government has been 'dormant at Stormont' for 17 months – a longer period of inactivity than any Carl has endured as a pro - its fragile union having collapsed amid recriminations from both the DUP and Sinn Fein. Against this backdrop of stagnation, and the everpresent threat of direct rule from Westminster, the ballyhooed 2013 promise, to demolish all peace walls within 10 years, looks increasingly fanciful. Loath as he is to position himself as a thought-leader on anything remotely political, Frampton cannot so easily put aside the love and empathy he has for his countrymen. Modesty should not be mistaken for disinterest or, worse, ignorance.
"It is affecting people that Stormont isn't operating, whatever your beliefs, they need to do something to get things working again and the last thing we want is direct rule again," Frampton passionately opines. "Since the Good Friday Agreement came in 1998, we've been in a good place, the last thing we wanna see is direct rule, due to the potential for violence; it won't ever get back to how it was during The Troubles but if we get direct rule I think there will be trouble. The 'Shinners' [Sinn Fein] and DUP need to start working together. "Right now, there's a bit more tension with the state of Stormont than there has been in the last 10 years, but it's still a good place to come to. I don't think there is a need for the barriers at all anymore."
Just as Frampton has unwittingly come to represent unity, the peace lines more visibly project its polar opposite. Frampton has never demanded his voice be heard but hopefully, on this one emotive issue, those who wield influence are listening to this reluctant spokesman.