BBN spoke to debutant-survivor-rapper and all-round interesting character Prince Brady - aka Dreamhills - ahead of his pro bow in September in London.
The 23-year-old bantamweight has had an eventful life already and it's sure to get even more lively as he embarks on his pro career with former British champion Matt Marsh in his corner.
Here's what he had to say...
---
What made you want to start boxing?
"Well, I originally came from a small, posh town in North Dublin called Skerries and, growing up there, the majority of the kids would have played chess, tennis, badminton, Gaelic football, Camogie and the most physical sport would probably have been rugby, and did a little bit of swimming and some other activities I never even heard of!
I was in suspense because none of them actually challenged me the way I wanted to be challenged.
Then, I moved to a slightly bigger town called Balbriggan where all the children knew how to fight and they stuck it on me, not that I was bullied but this mouth got me into a lot of trouble to be honest, it just happened there was a boxing gym not too far away from my house called Bracken boxing club and my friends always spent their time there and I just followed, and within time I became really good, although I wasn't really taking it too serious but then I overheard my amateur coach say something, which was Kieran O'Neal at the time, you know you're a good boxer when you're not at your best and you win a fight, and that stuck with me and I feel it's time to take it serious now."


---
Who was your boxing hero growing up and why?
"That's a rhetorical question because I'm from the 21st century so, for me, it would have to be Floyd Mayweather Jr. I'm from the Mayweather era so Floyd would have to be my favourite childhood hero.
For me, it would have to be the genius behind the boxing, Floyd simplified a lot of things in and outside of boxing and that's why I relate to him.
Love him or hate him, half of his career was managed by himself and that says a lot about his character and I'm pretty sure every fighter would agree with me that it's not easy managing yourself in anything when you're in camp because you're always drained and tired and don't have the energy to do most things other people do.
I had the pleasure to meet with the 'Great' recently at York Hall at the Davis v Walsh presser. He mentioned that I looked like a good boxer as I was approaching him, so he's already speaking something into existence."
---
How old were you when you had your first fight and how did you do?
"I had my first fight when I was 12 years old.
I didn't really know what to expect, everything just happened so fast and I remember thinking to myself, I'm never fighting again after the third round, but the bell went and the referee raised my arm up.
I just kept going after that because a boy who lived around the corner from me kept bringing me and his dad to the boxing gym and his name is Gerard 'Crank' Whitehouse, who's a good friend of mine, who's now 6-0 in the pros and will be fighting for a title soon, and I wish him nothing but the best in his boxing career."
---
What made you decide to turn pro?
"Like Drake said, the game needs changing because I'm the MF cashier, ha ha!
Honestly, I think it was about time, I've been wanting to turn pro since I left Dublin but I was under bad management for a very long time so I couldn't progress but we thank God because that's in the past and we are now focused on the future.
I felt it's time to move on and progress so that's why I made the decision."
---
What team do you have around you?
"Dreamhills is my team, set of strong, intelligent, hard-working individuals, working to make me a better fighter every day so I could progress in my career, but as from right now they are in the kitchen cooking up something good for September for my debut!"
---
What sort of fighting style do you have?
"Honestly, a lot of girls say I've got a sexy style! Joking, but I'm not really sure, I'm yet to find out, to be honest, because I could box, I could punch, I could dance…I suppose I'm a boxer-puncher-dancer! Everything rolled up in one."
---
What ambitions do you have for your pro career?
"I don't disclose my ambitions to the public because once they know where I'm planning on going, I'm sure certain individuals will be planning on blocking me so we don't really talk about future goals."
---
When is your first fight and who will be there in support?
"My first pro fight will be in September, date yet to be announced and mostly my family and friends will be over to show some love, and I'm forever grateful for them because without them this wouldn't be possible."
---
Are you full-time as a pro?
"You know, I train whenever I can, to be honest, so I wouldn't say I'm a full-time pro because I'm still working. I'm still in the streets pimping, it's all about the dollar, baby! Ha ha!"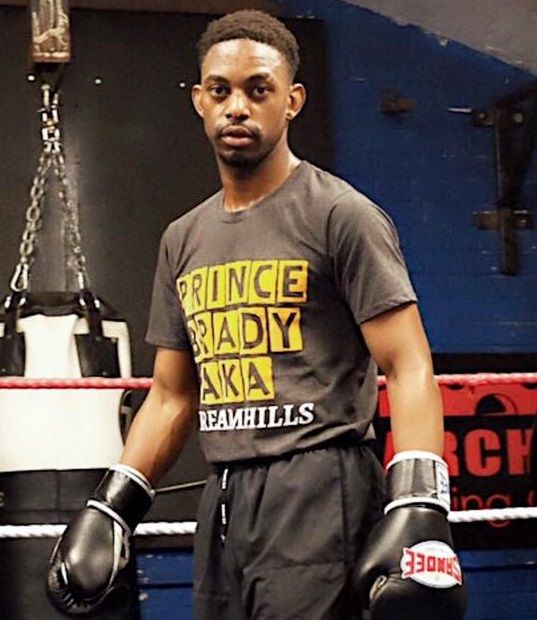 ---
Tell us something that not many people know about you?
"I was once nearly killed when I got stabbed in the neck and was in a coma for quite a while, in a bad way. When I finally came out of hospital, I was very determined to enjoy my life to the max and not to waste any of it."
---
If you could fight anyone – past or present – who would you choose and why?
"Outside of boxing, right now, I would fight R-Kelly because he's running an underage sex cult so I would slap the lips of his face!
In boxing, I would love to fight anyone who has a green belt from 119lbs to 127lbs, whoever that may be."
Prince added: "Also, I want to thank God because without him this wouldn't be possible and the fans that read these and get a buzz out of it, I do it for you guys – stay blessed."
---
To follow Prince Brady on Twitter, click here @dreamhills7
For tickets to the next fight, please call 07453 000 985
Prince Brady would like to thank his sponsors Marsh's Gym and Agent Tim Rickson