BBN took a trip down to Margate to shoot the breeze with 27-year-old super-middleweight Paul Brown ahead of his planned debut fight in July this year.
The former amateur and unlicensed star talked us through his path to the pros and ambitions for his career.
Here's what the 'Bomber' had to say...
---
What made you want to start boxing?
"The boxing gym was the best place for me as it gave me focus. There was a couple of lads from work that said they were going to start boxing and did I want to give it a go. I was 18 when I first started."
---
Who was your boxing hero growing up and why?
"Joe Calzaghe because I just liked his style and the way he used to fight."
---
How old were you when you had your first fight and how did you do?
"It was a year after I started boxing when I was 19. I lost my first fight on points."
---
How well did you do in the amateurs?
"I done quite well actually. I won the Kent, Sussex and Southern Counties in the ABAs and got through to the National quarter-finals and lost to an English lad at light-heavyweight."
---
What made you decide to turn pro?
"I went into the unlicensed boxing and had to give up the amateurs because I felt I got as far as I could with my coach at the time.
I've since worked hard with my new coach in the gym to put all my mistakes right and I've not lost a fight now in three years.
It was my goal to turn pro anyway and my coach I'm with now mentioned to me to turn pro as I had a lot of potential providing I put the hard work in. I was constantly improving in the gym and I've been sparring with all of Joe's [Elfidh] lads like Oli Edwards and Dave Jones, and they're both unbeaten pros.
I've got a really good relationship with Ray Askew at the Invicta Gym in Sheerness and its great sparring there for me."
Paul Brown with unbeaten middleweight Oli Edwards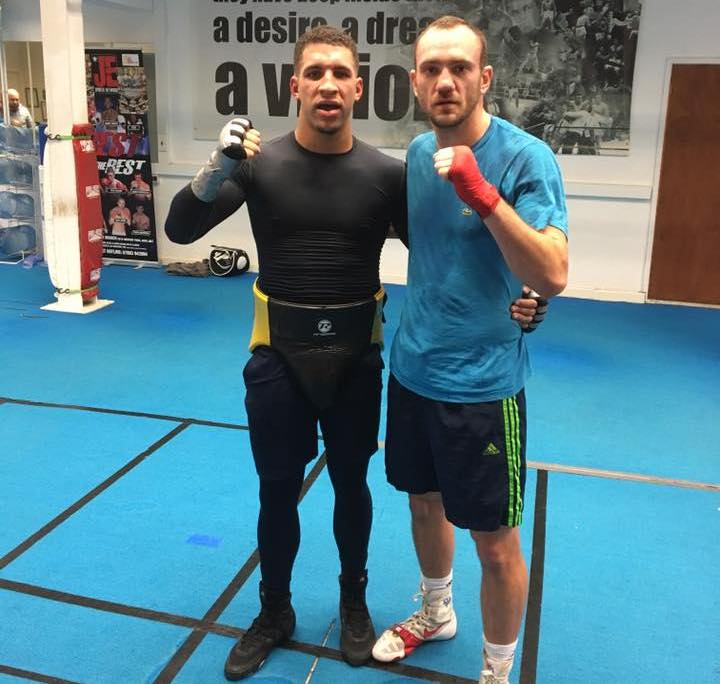 ---
What team do you have around you?
"I've got my head coach Mario Michael at Pej All Stars Gym in Margate and recently spoken to Ray Askew who gves me advice and has agreed to be in my corner, and my manager Joe Elfidh."
---
What sort of fighting style do you have?
"I like to sit on the back foot and let fighters come to me and to pick them off – bit of a counter-puncher. I can have a tear-up and go forward or I can box – a bit of whatever."
---
What ambitions do you have for your pro career?
"I set myself a goal in the unlicensed to become a pro, so now I set myself another goal of getting a Southern Area title. I'm going to take every fight as it comes."
---
Are you full-time as a pro?
"I will be full-time, yes."
Paul Brown with fellow debutant Connor Gorham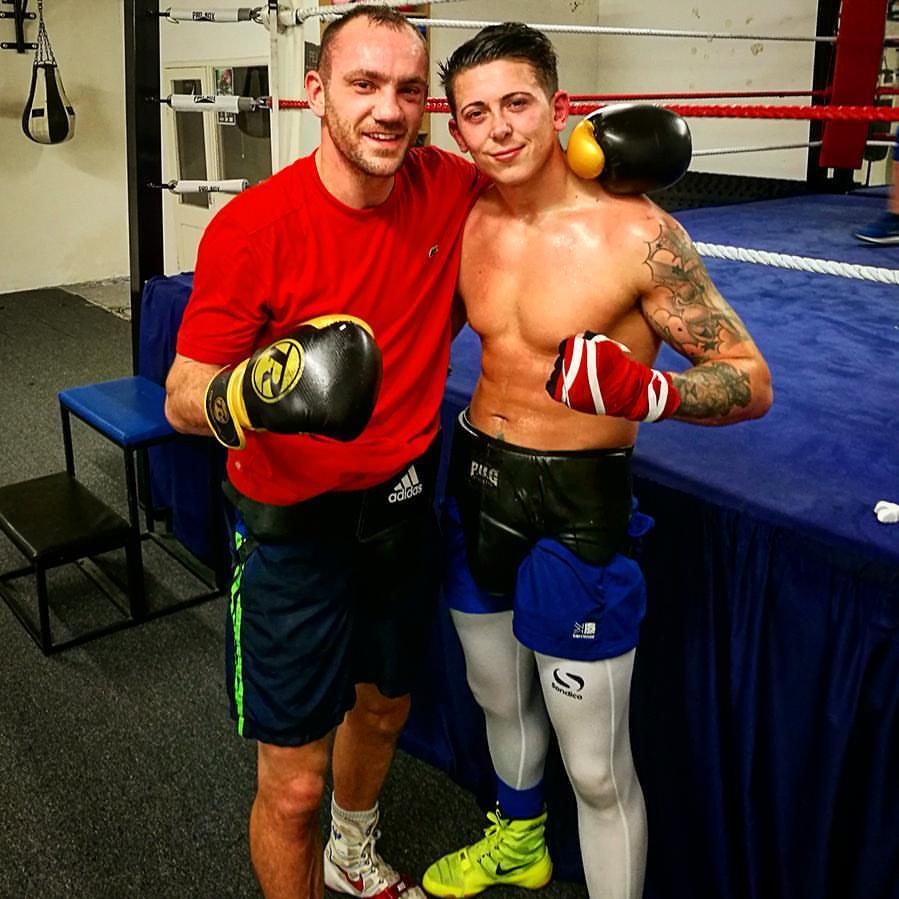 ---
When is your first fight and who will be there in support?
"Looking at July time, I believe Joe's got a show in July so we're getting ready for then."
---
Tell us something that not many people know about you?
"I'm a proud father of two children."
---
If you could fight anyone – past or present – who would you choose and why?
"I'd love to be in the ring with Carl Froch because I love the way he fights."
---
For tickets to the debut fight please call: 07701 298 718
To follow Paul Brown on Facebook, click here Paul Brown