BBN took a trip up to Doncaster to visit Yorkshire boxing champion Kyle Fox ahead of his pro bow on March 25th at North Notts Arena in Worksop.
Here's what the super-welterweight had to say...
---
What made you want to start boxing?
"To be fair, it's in my genes – my dad, granddad, great granddad. It were my granddad that took my uncle to the boxing gym, we were roughly the same age, so he dragged me along, too. I was nine when I first went to Doncaster Plantworks"
---
Who was your boxing hero growing up and why?
"My boxing hero growing up was Roy Jones Jr. I saw his last fight the other weekend, I think he needs to give it a rest now, like."
---
How old were you when you had your first fight and how did you do?
"I were 11 and I'm not sure how I got on it's that far ago now! I think I won on points."
---
How well did you do in the amateurs?
"I done well, I had 40-50 amateur bouts in total. All last year I boxed for the Yorkshire squad all over the world, I went to Holland and Spain, and against other counties.
When I went to Holland, I came away with a win and was presented with the best fighter of the night award.
As a schoolboy, I was Yorkshire champ four times - as a junior and senior. I was always injured for the ABA's after winnng the Yorkshire's a few times."
---
What made you decide to turn pro?
"I've been boxing 14 years now and feel like I've got enough experience especially with boxing abroad, so I feel like it's time to give it a go."
---
What team do you have around you?
"My main coach is Michael White at Fighting Fit Gym and Joe Elfidh is my manager. I go down to another gym once per week to work with Chris Smedley. My sponsors are Alan's Supercuts, 25 Customs, Edlington Motors, and Peters Footwear of York."
---
What sort of fighting style do you have?
"Pretty much a straight-forward boxer but quite aggressive on the front foot."
---
What ambitions do you have for your pro career?
"Right now, just to get as far as I can possibly get, I definitely want to make sure I'm British level but, for now, I want to keep busy and rack up the wins."
---
When is your first fight and who will be there in support?
"It's March 25th in Worksop. I have sold 80 tickets already and I'll be doing a lot more than that. I done 50 ringside in the first day I had them!"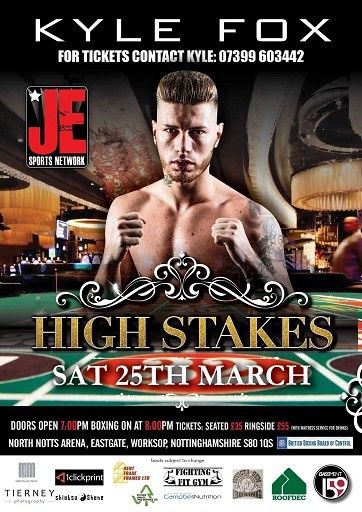 ---
Are you full-time as a pro?
"Yeah, I work as well though but training comes first in my mind."
---
What fight would you like to see soon?
"Garcia v Thurman. I'm a big Garcia fan and, to be fair, I don't think people respect him as much as they should, but Thurman is dangerous.
It's definitely a 50-50 fight, you won't be shocked which way it goes."
---
Who would you most like to fight - past or present?
"That's got to be Floyd Mayweather!
Not just for the money, not because i think I can beat him...purely just for the hype that the Mayweather fights attract. It would be something special to be a part of."
---
For tickets to the debut fight please call: 07399 603 442
To follow Kyle Fox on Twitter, click here @kscottfox
Kyle Fox vs Ryan Stevenson in the amateurs: