Essex light-heavyweight prospect 'Dazzling' Darrel Church (3-1-1) will face opponent Richard Harrison (2-13) at London's York Hall on March 11th.
It'll be the 27-year-old's sixth fight in his two-and-a-half year-long professional career, although the talented 175-pounder would have wished for a few more bouts under his belt by this stage of his boxing career.
He said, "I've not been active enough, I know that, but it's been hard to balance business with boxing.
"Everyone who knows me knows that I have had illnesses and injuries that have kept me out of the ring but that's hopefully all behind me now.
"I want to push on in my career and start fighting for titles by the end of this year; staying active will be the key to my success"
The Witham resident first debuted back in July 2014 at Grays Civic Hall, when originally signed to Carl Greaves Promotions, and ended the inaugural year undefeated with two wins on his ledger.
Those bouts were just four months apart but, since then, he has had inactive spells spanning over seven months between bouts, the longest hiatus was over 10 months, and fought just once during 2015.
It was that year that he suffered a shock defeat to Angelo Crowe (2-6), which turned out to be his only fight of the year, causing many boxing fans to believe he had hung up his gloves when he didn't return to the ring.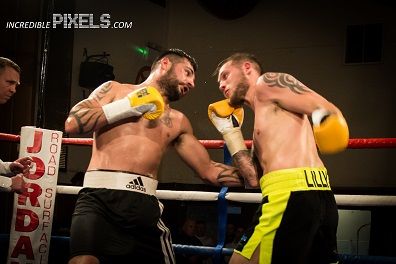 The long-awaited reappearance came in April 2016 at the York Hall against Mitch Mitchell (7-54-3), with the pair sharing the honours in a hard-fought draw.
The Essex boxer then got back to winning ways to secure his third win in his fifth pro bout against Croatian Toni Bilic (1-6) on December 3rd at the same East End venue.
Now, the wheels are well and truly in motion as Church next fights on March 11th, just three months after his previous outing.
He enthused, "After the last fight in December, I wanted to get back out again straight away and I knew I needed to be out as quick as I can.
"Although it was tough over Christmas not eating or drinking, it helps when you tick over and get straight back in for another one as there's no time to put on weight or lose your fitness.
"Instead of spending eight weeks of camp to take the weight off, it's already off when you start and you don't have to struggle in training or sparring when you carry the extra weight."
The former unlicensed star benefits from top sparring at a nearby army barracks in Colchester due to his trainer Mark Massow's connections as an ex-Paratrooper. He also frequents the Peacock Gym to spar with Frank Warren's undefeated prospect Anthony Yarde, as well as Romford's Robin Dupre.
"I'm performing a lot better in sparring," Church acknowledged. "It's actually surprising how much better you can be when you haven't got the extra weight to move and you're slipping shots and firing back so much easier."
A father of one, Darrel runs his own business and previously struggled to cope with the workload and the training together. Despite the inactivity on paper, Church was still training and preparing for fights but unexpected injuries and illnesses kept causing the light-heavyweight to withdraw from scheduled bouts.
The solution eventually came in the form of his sponsors MB Surfacing financially backing the fighter to be able train around the clock.
"My sponsors been a great help by backing me full-time and paying for my license and kit. It's been nice to experience full-time training camps to live the life and actually feel like a pro.
"Before, I was getting towards fight week trying to lose those last few pounds and shift tickets and just kept running myself into the ground with it.
"I won't be doing that any more as my time would just be over before I know it. I want to push on and by the end of the year I want to fight for titles. Even if I've got to go in as the opponent, I don't care, I've just got to go for it. Hopefully, I won't have to but I don't mind doing it if the opportunity is presented to me."
Church concluded, "Some of these big ticket sellers are making good money from boxing but, for me, it's all about pushing myself and seeing how far my talent can take me."
---
'Knuckle 2 Knuckle'
Topping the bill is the Southern Area light-heavyweight title clash between Jordan Joseph (6-0-1) and Chris Hobbs (5-1-1) – an evenly-matched bout, each fighter with just a single loss in seven fights.
Two Fight Cup semi-finals take place on the show with Ossie Jervier (3-2) and hard-hitting Jose Lopes (7-0) in the first; and current champion Ryan Crawford (2-2-1) against Portsmouth's Danny Couzens (8-10-2) in the other.
Derby's Arfan Iqbal (11-0); Aylesbury's Adi Burden (2-0); Essex's Adrian Martin (3-0); Mitcham's Jumanne Canero; and Peterborough's Sam Barron (4-0) all look to continue their respective unbeaten runs.
---
For tickets to the show contact Team Church on 07938 878 962
Follow Darrel 'The Baptist' Church on Twitter @Darrel_Church89
Team Church would like to thank sponsors MB Surfacing - Essex Ink - Tiptree Jam - David Islip Photography and Agent Tim Rickson