Former heavyweight boxer Danny Watts has tragically died at the age of 45
'Big' Danny Watts, a 6ft 7in scaffolder, former soldier, amateur boxing champion and ex-professional boxer from Peckham sadly passed away at just 45-years-old. A sudden heart attack is believed to be the cause of death.
The former amateur boxer at Lynn ABC - a two-time ABA champion during 1994-1996 - won 10 of his 12 professional bouts in a five-year career that begun in 1997 and ended in 2002.
The pinnacle of his short career came in March 2000 when he challenged for the vacant Southern Area heavyweight title, but lost to Mark Potter in the sixth-round at the York Hall, who went on to challenge for British and Commonwealth honours at the end of that year.
Respected trainer Adam Booth led the tributes on Twitter with: "Rest Peacefully Big Danny. I will always treasure the times we spent together. You were and always will be an original! Love ya Fataaaay!"
Steve Bunce added: "Danny Watts was a funny man. And he could fight a bit. He beat a Chechen to win an ABA title. He was a soldier. He was Haye's "right hand man". He crashed one of Haye's fancy cars. I thought he was going to clump Eddie Hearn once. He made people laugh. See ya later Danny Boy."
Heavyweight hero David Price shared: "Gutted to see my big mate Danny Watts has passed away. Will always remember those days with him in Cyprus with all the Hayemaker team when I first turned pro. He was larger than life. Hilarious to be around. RIP mate x"
Speaking to The Telegraph in 2010, when part of David Haye's team, 'Big' Danny Watts said: "David might ask me for an orange that tastes like an apple and looks like a pear, and you can't ask, 'How am I going to do that?' You just get it done,'"
His responsibilities included making sure that Haye was on time for training and acted as his bodyguard when out and about, as well as providing regular sparring in the ring. He described what being on the end of a Hayemaker felt like: "It hurts! It's the speed and the power. You think you're doing all right, then all of a sudden, bang! Where did that come from?"
The likeable Londoner with his 200cm-plus frame provided Haye with a realistic experience in sparring when he was preparing to face Nikolay Valuev for his WBA World heavyweight title in 2010.
Watts once described himself as "too nice" to make it as a professional boxer. "There's a certain spitefulness you've got to have," he said.
Former Haye trainer, David Coldwell, also commented: "One of the funniest characters I've worked with has sadly passed. Big Danny Watts fun personality and wicked sense of humour gave the team at Hayemaker so many laughs during the training camps. Rest in peace big man. It was an absolute pleasure to have worked aongside you."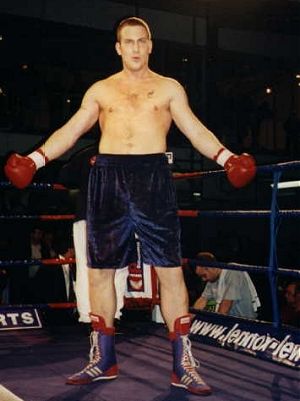 It's further bad news to shock the boxing community following former European super-middleweight champion Dean Francis brave battle with cancer coming to an end last week, aged just 44, as well as the passing of legendary trainer Brendan Ingle who suffered from a brain haemorrhage aged 77.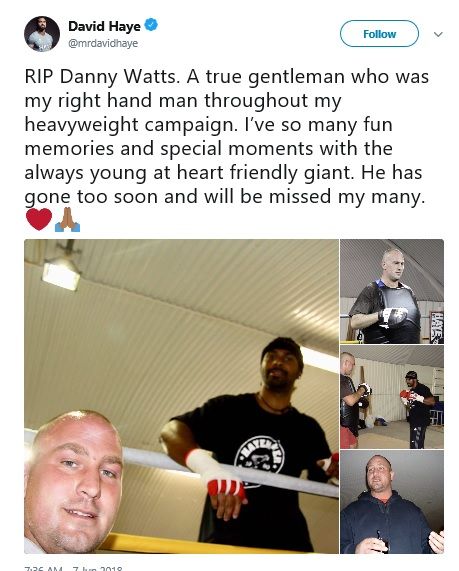 Danny's death was unexpected and tragically leaves behind two daughters.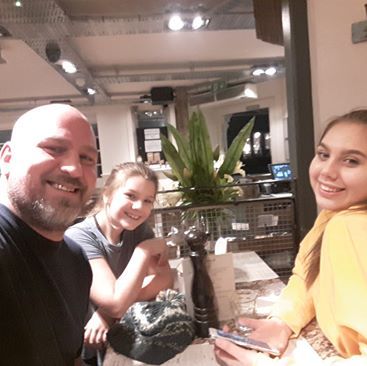 Danny Watts beats Audley Harrison in the amateurs: