The boxer facing Carl Frampton at Windsor Park, Luke Jackson, tells Danny Flexen about everything he has already overcome in a hard life
HOWEVER you assess the opponent for Carl Frampton in his August 18 headline fight at Belfast's Windsor Park, unbeaten Australian Luke Jackson has, in a sense, already won. Whether he scores the upset and takes Frampton's WBO Interim title, falls short or even if, God forbid, he were to get destroyed in a round, Jackson has already overcome so much on the road to the biggest fight of his boxing career – albeit not the hardest battle overall – that simply reaching this point must be considered a resounding triumph.
A parental split, a childhood spent in and out of care and coloured heavily by drug use, not to mention a long battle with mental health issues, illustrate the significant adversity Jackson has fought and, to a large extent, subdued. Obsessive Compulsive Disorder (OCD), which Jackson valiantly faces on a daily basis, is perennially misunderstood and/or misconstrued as a nagging need to clean. OCD actually feels like the brain attacking itself, forcing unnatural behaviours that, to the outsider, make little sense and, far worse, instilling thoughts that can be as disturbing as they are inexorable. To have exerted some level of control over his symptoms and proceeded to the very highest level of the sport – as a Commonwealth Games bronze medallist (2006) and Olympian (2012) and now challenging a former two-weight champion as a pro – is a credit to both Jackson and to boxing itself.
"I had a lot of mental health issues, and they are one reason I missed out on the Beijing Olympics in 2008, but I didn't know till afterwards," Jackson tells me over the phone from the house he shares with his two dogs in Hobart, Tasmania. His parents split when he was around eight. "It turned out I'd got OCD, which can be life-crippling. A lot of people don't understand, there were days when I couldn't even leave the f***in house man, but without it I wouldn't be the person I am or where I'm at; I was obsessed with reaching the Olympic Games but I worked my a*** off to make it happen.
"OCD patterns change over time. It was touching stuff as a kid, then I felt like I could never catch my breath – which was hard in training – then I couldn't sleep. Some days I'd be driving and I'd close my eyes from one light pole to the next, then it turned into negative thoughts, suicide and stuff. It's sorted now, I talk to a psychiatrist regularly, I take medication, but this is why I respect Tyson Fury so much. The first words I said to him at the Belfast presser were, 'I'm a massive fan of you coz of the awareness you give to mental illness.' Living with it can be so hard. To be where I'm at now is incredible, I'm probably not even supposed to be here but I am.
"Boxing keeps me alive, it gives me purpose, without it I get a little bit lost. Everything you're supposed to learn from your mother and father I learnt from boxing – to eat right, go to bed early, be respectful or you'll get humbled."
While Jackson has every confidence he will unseat Frampton, no stranger to wider causes himself, and wake him from the Windsor Park dream the Ulsterman has long held, one does get the sense he is elated simply to have reached this stage. His mum's drug problems and compulsive behaviours influenced his own duels with both sinister adversaries and he would be "Thrown around from house to house" as a kid. It wasn't until Luke began living with his father again aged around 11, and later found boxing at 18, that things began to turn around for him.
"My dad saved my life," declares Jackson with the utmost sincerity and gratitude. His mother now has little involvement in her son's life, while Luke's father remains a crucial part. "Without him I wouldn't be in the position I am in now. I was up to no good, a mate I used to hang around with a lot got killed outside his nan's house where we used to spend time. I was on and off in care, not for long, but I remember it vividly. You just wanna go home to your parents and you f***in can't. My dad was very hard on me, very strict. I was still doing drugs at the time, he kicked me out few times and said if I didn't pull my head out my a*** I'd be gone for good. I also worked for him for a bit when I dropped out of high school in Grade 8 [aged 14]; he just gave me structure, man.
"Boxing, pretty quickly took off for me. I always wanted to do some sort of combat sport and I met a guy that was boxing and went with him to the gym. Within about six fights I was Australian champ, got a scholarship to the AIS, the Australian Institute of Sport, and I was going to the Commonwealth Games in Melbourne. I moved to Canberra. Everything was funded, I wasn't making money but my rent and everything was paid for. It was hard coz I missed my dad a lot. But, now, I've got my own house, my own car; I've done alright for myself considering where I came from."
After amassing a highly impressive 113-32 slate as an amateur, Jackson turned pro at the late age of 28 in 2013, but has been busy since, with 16 fights in less than five years, picking up WBA and WBO fringe belts along the way. Undoubtedly his flawless ledger and high world ranking helped nail down the fight with Frampton when the 126lb world champions proved unavailable. But boxing has had a far more important impact on Luke's life. It has not only been the discipline of the Noble Art that helped Jackson turn the tide against OCD, but a gruelling struggle with the condition during a pivotal contest finally persuaded the fighter to seek some assistance.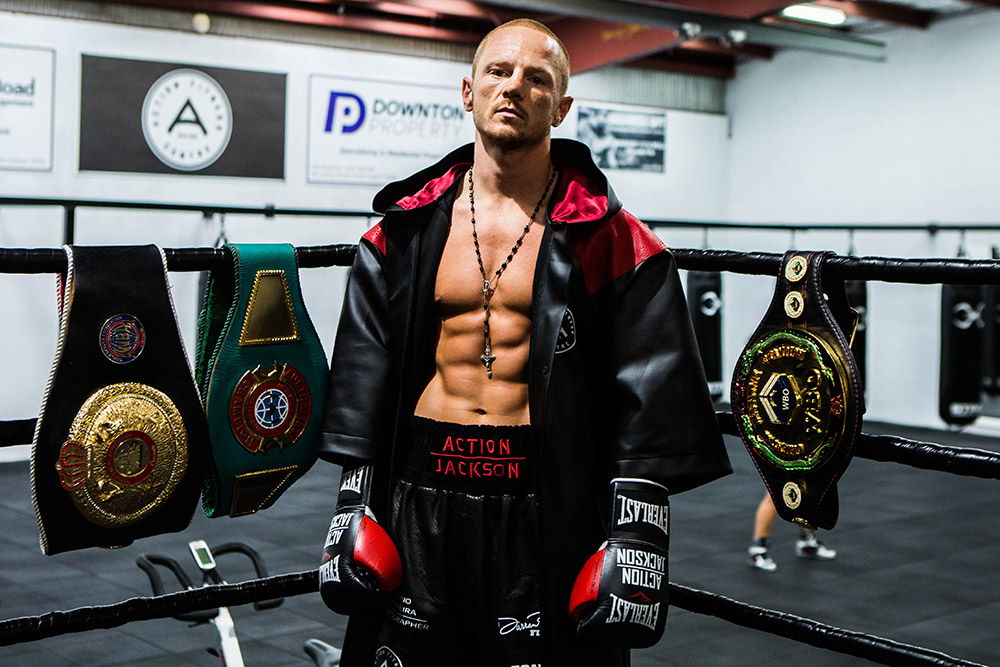 Ferreira Photo
"In March 2016, I fought John Mark Apolinario, it was a step up in my career at that stage," he recalls, momentarily lost in time. "Going in, I was in a really bad head space, I don't even remember the fight, just being in the dressing room beforehand, thinking, 'I need to get out of this.' I couldn't breathe, the whole time I was just thinking about getting through it. I won the fight convincingly, I boxed really well, but I don't remember. After that, I tried to get my s*** sorted so probably since then it's been pretty much under control.
"It was just accepting help, realising I can't do it by myself. A lot of people think asking for help makes you weak and I was probably worried about that too – my dad is pretty old-school and I was worried he would think I was weaker than other people, but the more I talk about it the stronger I get, and I get to help other people. My Psychiatrist, Dr Michael Davey, he's helped me a lot. It was funny coz at the start I was lying to my psychiatrist. When you have a lot of issues… I tried to pretend it wasn't happening to make you feel good, but I thought, 'If he's gonna help me, why am I lying to him? I just didn't trust him. Growing up I didn't have many people around me I could trust. Because I spent so much time alone as a kid, I find it hard to talk to people now."
But Jackson did ultimately solicit professional help which has made a huge difference. So much so that he goes into the lion's den of Windsor Park (Frank Warren promotes, BT Sport and BoxNation televise) not just ready to take on a partisan crowd hostile to his ambitions, but actually relishing the occasion.
"Someone said the other day, 'How are you gonna handle the pressure of the fight?' laughs the 33-year-old, who is trained by Billy Hussain, managed by Mike Altamura and promoted by Adam Wilcock. "I said it's not a problem for me, coz when you've had the f***ing life I've had, what can he do to me? He's gonna beat me up? I've been beat up, man, the crowd yelling's not gonna bother me. I'm not fazed, although I do respect Frampton, he's a hell of a fighter, man. But I could fight him in Hobart or Mexico city, I'd still be up against it, you know what I mean? It doesn't need to be in Ireland to be a hard fight. I have travelled to over 60 countries, fought all around the world, fought at the highest level, you name it I've done it as an amateur boxer. 20,000 Irish won't bother me. Of course, I spoke to Tyson about it and he said he went to Germany and won, 'If I can do it, you can do it', and he's right. I'm excited for this big event, it's just another dream in my crazy life."
Ferreira Photo
Jackson may in fact spend the final fortnight of his eight-week camp – following the bulk of preparations in Sydney and a week, ostensibly to break up the long journey, in Dubai – in the Fury gym, alongside Hussain, with hosts Tyson and Ben Davison. He is willing to learn from his peers right up until fight week but Hussain, a longstanding confidant, is the real asset, and their relationship fills him with confidence.
"Unbelievable, he's a mentor to me, he helps me out a lot, just with life," Jackson enthuses. "I'm pretty bad at trying to talk things out. He's more than a trainer, we'll be friends after boxing, he's a very spiritual guy, he makes it easy. If I've ever got an issue in life I ring him and he'll give me some good advice.
"I just need to stay disciplined, switched on, listen to Billy and just fight a very disciplined fight. Keep my hands up, be smart, use my jab, don't try and load up. I'm a world class fighter, and I'm looking forward to testing myself against Carl. No doubt he'll ask some questions of me but isn't this is what I do it for? It's sink or swim and I'll be trying to swim. I'm not coming over to take part, I'm coming to ruin the party, to win the fight. I know he's looking past me to the Josh Warrington fight, but I don't look past him; I'm looking forward to boxing his head off for 12 rounds."
Having already relegated his demons to the background, Jackson cannot be entirely discounted.