Frank Warren announced recently that his top middleweight prospect Tommy Langford (18-0) will fight Georgian-born Avtandil Khurtsidze for the interim WBO World title, live on BT Sport.
Despite being ranked number 1 in the WBO rankings, Khurtsidze is somewhat of an unknown commodity here in the UK.
Therefore, BBN done some digging to find out a few facts and figures about the talented Georgian heading to Leicester on April 22nd to face our very own Tommy Langford for the interim WBO World middleweight title.
---
1. Avtandil Khurtsidze was born May 2nd 1979 in Kutaisi, Georgia.
2. A decent amateur, he boxed for the Georgian national boxing team under renowned trainer Eldar Gabrichidze, winning many national championships.
3. Former manager Jimmy Williams thought very highly of his fighter when he saw him carrying a refrigerator on his back up a flight of stairs when he first arrived in America.
4. The Georgian has fought 18 times in the Ukraine, 14 times in the States, once in France and Belarus, and just twice in his native country; April 22nd will be his first time fighting in the UK.
5. 'Tazman' has won five titles during his 15-year professional career: the EBA middleweight title (now defunct); WBA Inter-Continental middleweight title; IBO World middleweight title; WBC Silver middleweight title; WBO International middleweight title.
6. He is ranked number 1 in the WBO, currently placed 7th with the WBC and IBF, 11th in the IBO, and number 8 in The Ring Magazine ratings.
7. He has 21 knockouts from his 32 wins, averaging a 58% KO ratio
8. Heavy-handed, he has five first-round KO's on his ledger and over half of his stoppages have come in the first half of the fights
9. He has many nicknames, BoxRec lists his alias as 'Tazman' but in the Ukraine he is known as 'The Tornado' for his relentless punching and fighting style; in Georgia, he was bestowed with the title of Chakucha, which translates to 'big hammer' after he crushed a much bigger guy in a street fight with one punch. He is also referred to as a 'Mini Mike Tyson'.
10. Khurtsidze was mandatory to Billy Joe Saunders' WBO World title but accepted a step-aside fee to allow Saunders to chase a bigger fight. The interim WBO World title shot was offered as part of the deal.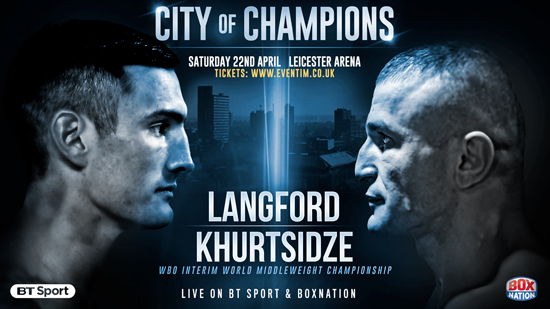 Bonus Fact: Aside from boxing, he lists horse-riding as a hobby!
---
This article is proudly sponsored by TX ODDS