All the details you need to watch the Ultimate Boxxer 2 tournament
The second instalment of the Ultimate Boxxer series features the light-heavyweights.

Backed by Anthony Crolla, Ricky Hatton and Paulie Malignaggi, the eight-man, one-night knockout tournament is now upon us and BBN have listed every last bit of info you need to not miss a single punch:
Date
The bout takes place on Friday, November 2
Venue
It will be hosted at the The Indigo at The O2, in North Greenwich, London
Rounds scheduled
Three x three-minute rounds in quarter-finals, semi's and a final, all at the light-heavyweight limit
Titles
The newest prize in boxing - The Golden Robe - is at stake, personally bestowed by former two-weight world champion Ricky Hatton, as well as a share of £50k prize money
Ringwalks
The eight contestants are expected to make their ringwalks any time after coverage begins at 8:15pm (GMT)
TV Coverage
In addition to SPORTbible's coverage from 8:15pm, Ultimate Boxxer 2 will also be broadcast LIVE in the UK on terrestrial free-to-air TV on the Freeview channel 5Spike at 10pm (Freeview 31, Sky 150, Sky (5Spike +1) 250, TalkTalk 31, Freesat 141, BT TV 31, Virgin Media 154).
Live Stream
You can watch online here at My5 and on SPORTbible
Undercard Highlights
Love Island's Idris Virgo (2-0) appears on the undercard against Callum Ide (0-22-2) as he takes part in his first appearance in the ring since his stint on TV's most popular reality TV show.
Related Articles
Everything you need to know about Ultimate Boxxer 2 right here: ULTIMATE BOXXER
Running Order
Quarter-final 1
Joel McIntyre vs Darrel Church
Quarter-final 2
Sam Horsfall vs Dec Spelman
Quarter-final 3
Shakan Pitters vs Sam Smith
Quarter-final 4
Jordan Joseph vs Georgii Bacon
Semi-final 1
Joel McIntyre / Darrel Church vs Sam Horsfall / Dec Spelman
Semi-final 2
Shakan Pitters / Sam Smith vs Jordan Joseph / John McCallum
FINAL
Semi-finalist winner 1 vs Semi-finalist winner 2
Idris Virgo vs Callum Ide
Four three-minute rounds super-middleweight contest
Youssef Khoumari vs Ibrar Riyaz
Four three-minute rounds lightweight contest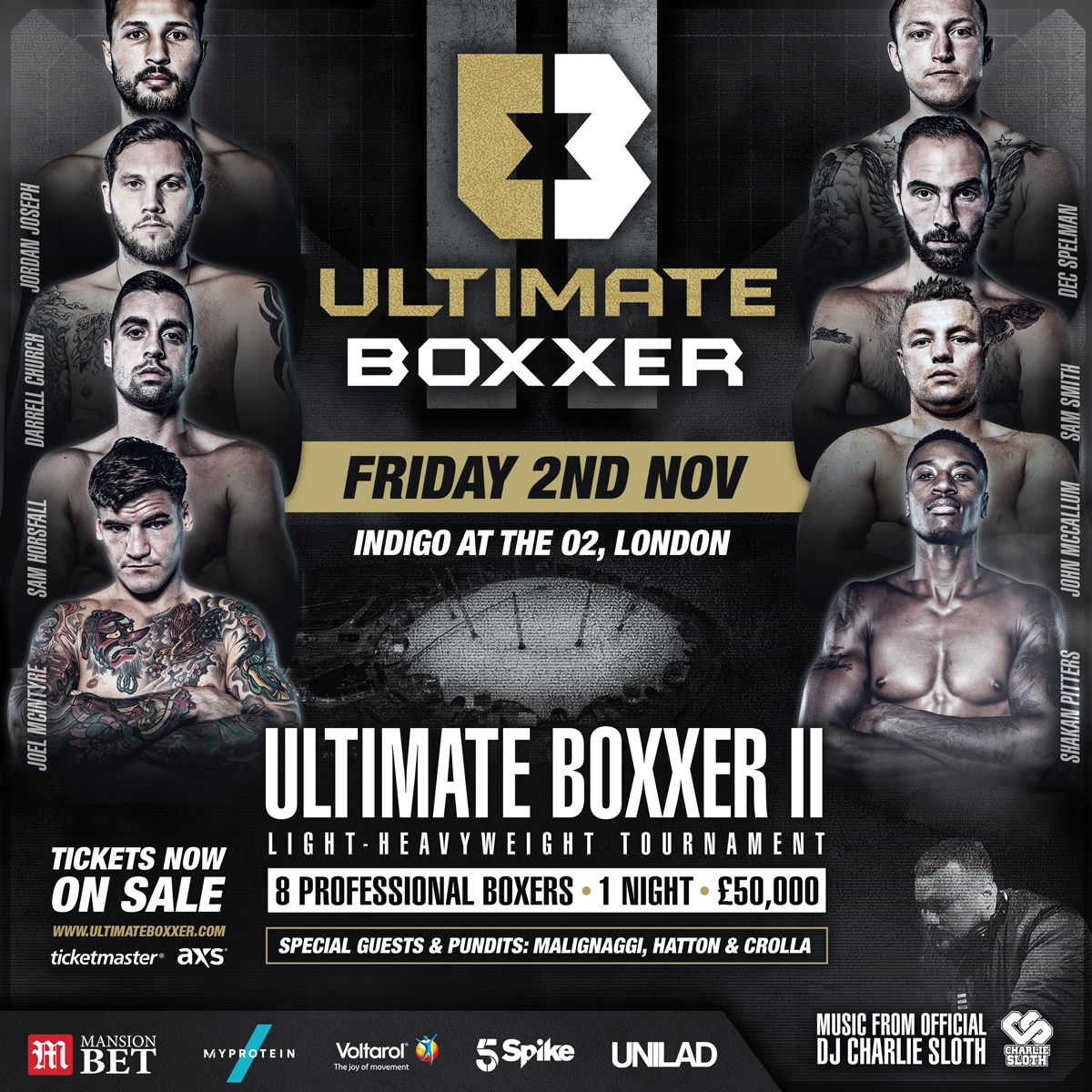 Follow Ultimate Boxxer on Twitter: @UltimateBoxxer
Follow Ultimate Boxxer on Instagram: @UltimateBoxxer
Follow Ultimate Boxxer on Facebook: Ultimate Boxer Official Facebook
Follow Ultimate Boxxer on YouTube: Ultimate Boxxer Official YouTube Channel
Ultimate Boxxer partners with: Mansion Bet, UniLad, Spike, MyProtein, Ticketmaster, AXS, Voltarol, Indigo at The O2