Shared opponent Dan Blackwell provides his unique insight into this weekend's British middleweight title fight between champion Tommy Langford and challenger Jack Arnfield
One of only five opponents to share the ring with both British middleweight champion Tommy Langford (18-1) and WBA International titlist Jack Arnfield (24-2) has spoken to BBN about his experiences in the ring with both men who clash this weekend on the Groves v Eubank Jr undercard in Manchester.
Birmingham's Langford, 28, tackles Blackpool's Arnfield on February 17 at the Manchester Arena in the champion's maiden title defence of the Lonsdale belt he won over a year ago with a mixed decision win over the slippery Sam Sheedy back in November 2016.
28-year-old Arnfield was installed as the mandatory challenger by the BBBofC in June last year, three months after triumphing over Brian Rose at the Manchester Arena, and the pair finally meet, after delayed contract agreements, this weekend on the huge World Boxing Super Series semi-final showdown between world champions George Groves and Chris Eubank Jr.
Dan Blackwell recounted his experiences in detail and proffered his own unique insight into who wins the intriguing 50-50 middleweight championship battle between the champion and no.1 challenger.
---
Tommy Langford (7-0) v Dan Blackwell (5-28)
14th March 2014
Holte Suite, Villa Park, Birmingham
Result: Tommy Langford PTS 60-55
"My brother, Nicky, went to spar Ryan "Tank" Aston at the Hall Green boxing gym in Birmingham and I went along and ended up sparring with Tommy Langford.
I remember thinking that he's an up and coming middleweight, so I'll probably end up fighting him one day.
Our fight was not long after that and he came out all guns blazing, thinking he was gonna' get me out of there. I'd only ever been stopped once back then and that was to Liam Williams about a year before our fight.
In the third or fourth round he emptied his tank a bit and slowed down; he probably realized he weren't gonna' knock me out. It was his last fight before he signed with Frank Warren so I think he was trying too hard to impress.
I didn't think he had massive power, but he has got some power; he had a good tank, he threw a lot of punches, smothered his work at times.
I would imagine it was the fifth round that we shared on points. I remember him tiring and I caught him with a decent shot. I felt like I hurt him, but I just think he was knackered by then. I think he regretted going all out early on and I just caught him flush with an overhand right.
I didn't throw many shots all fight, just sat on the ropes and threw some back every now and then to let the ref know I was alright.
Tommy won our fight on points and afterwards he came up to me and said, "You've changed since our sparring session!"
He's matured a lot more since then and has now got the British title my brother had shortly before him."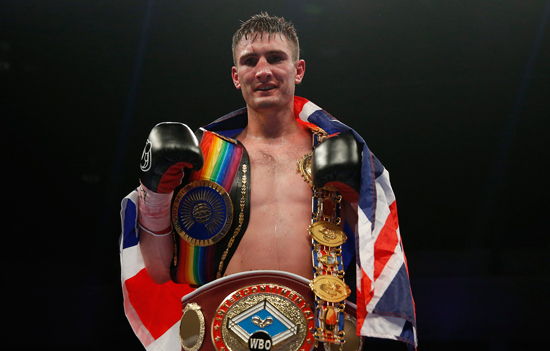 ---
Jack Arnfield (21-2) v Dan Blackwell (7-60)
19th November 2016
Victoria Warehouse, Trafford Road, Manchester
Result: Jack Arnfield PTS 60-55
"I fought Jack Arnfield not that long ago and my brother, Nicky, worked my corner.
My brother fought him for the British a year before and beat him via unanimous decision to retain his title.
I got the call for the Jack Arnfield fight and thought, "Why does he want to fight me?"
He was alright, I thought he was quite easy to hit. He must have looked at my record and thought I wouldn't give him any trouble and didn't expect me to be how I was.
My brother told me in the corner between rounds to put it on him and see what he does, but I just stuck to my role.
My brother told me before the fight to watch out for the punches on the top of the head and he does do that, he throws shots that catches you on top of the head and you feel it.
He was quite snappy with his shots, I think he's similar to Tommy Langford but Tommy is a bit more powerful and raw with his shots.
Jack Arnfield has not got as many KO's on his record so I think he knows when he fights that he has to take it to points."
---
Verdict
"I think that Tommy Langford will probably lose the first few rounds just getting jabbed away. I found that Tommy didn't box me but rather fight me, but I'd imagine he'd change his style for Arnfield.
I think Tommy Langford will probably win on points, because I don't think he'll stop him. My bro fought him and put him down in the third round. He hit him with a lot more big shots but still he stayed in there right 'til the end.
My bro had a muscle tear in his chest during that fight, he was complaining of a ripped muscle before their fight, but he went in there still and said to me afterwards that it was lucky he didn't get hit there because it could have put him down.
For everyone asking, my brother is ok and back home now. He loves his boxing and watches it and follows it all the time but can't take part anymore."