BBN were ringside for the JE Promotions' Young Guns event on May 12
JE Promotions' served up a six-fight sizzler on Saturday May 12 at Mote Park in Maidstone featuring a mix of young prospects, exciting debutants, and an English and Commonwealth champion in the exhilarating headliner.
English super-bantamweight champion Josh Kennedy moved up to 11-0 in a six-round thriller with former Commonwealth titlist Bobby Jenkinson (11-5-1).
The bill-topper saw scores of 59-57 to Folkestone's Kennedy, in what was his first professional contest in his home county of Kent. It was always going to be an explosive contest between the aggressive featherweights but the result did not really do the away corner justice, who threw everything at the home fighter.
From Lincoln, 26-year-old Bobby 'Dazzler' has a track record of upsetting the home favourites and he tried his utmost to cause trouble against Kennedy. It was in September 2015 when he stunned Frank Warren prospect Lewis Pettit in the 11th round to lift the vacant Commonwealth super-bantamweight title, despite entering the fight as the underdog.
Kennedy started the fight working behind a stiff, sharp, strong jab and dominated the opener although he allowed 'Jenko' to come back with a bit of his own success in the last segment, which provided a glimpse of what was to come.
Round-two was much the same with Kennedy controlling things behind a crisp jab, something he had been working on with his new team at the Peacock Gym in canning Town.
In the middle rounds, Bobby 'Dazzler' began to get more success with his impressive work rate and dragged 'Handsome' into some ugly battles when backing him up on the ropes.
The end rounds were filled with 50-50 exchanges and became an exhilarating contest to watch. The fight finished in fair fashion with each fighter throwing everything they had at each other, despite both looking ragged. The final 30 seconds was a scintillating spectacle as Kennedy, with his back to the ropes, and Jenkinson stood and traded with each other, swapping leather non-stop until the final bell sounded.
Kennedy's arm was lifted as the scores of 59-57 were read aloud, which angered the away corner who immediately called for a rematch with the English super-bantamweight title on the line next time.
Post-fight, the winner said he wanted a shot at Ashley Lane's (12-8-2) Commonwealth super-bantamweight title next and hinted at signing with a big promoter.
---
Margates's Paul Brown (2-0), 27, kicked off the show with a very comfortable points win over Dinnington's Darren Snow (5-24-1), also signed to JE Promotions.
Trained by Mario Michael at the Pej Gym, Brown really let his hands go at the end of second round as there was very little resistance from his opponent. He varied his shots well, unleashing good head shots, working to the body, as well as powerful uppercuts going in.
A former Southern Counties ABA champion, Brown was satisfied with his second shutout points win with scores of 40-36.
---
Maidstone's Chris Matthews bounced back from February's defeat to move up to 9-1 with a 40-37 points result against a very ambitious opponent in Michael Horabin (0-2).
The 21-year-old traveling fighter from Cheshire was full of determination in the lion's den against the local lad. Trained by former Central Area lightweight champion Kieran Farrell, Horabin was unloading big shots which put Matthews on alert, but he was sharp and savvy enough to avoid any danger but recognised he was in with a live wire.
In the second round, Matthews missed with a right hook but rolled it back into a left hook full of momentum that rocked his opponent, known as 'Lil' Smokes', who took it bravely and even came back to have a lively third-round. Matthews likes to box on the backfoot which doesn't always appeal to the judges scoring at ringside, but he did enough to claim his ninth win in his 10th professional contest.
---
ABA champion Jack Budge (2-0) doubled his win tally in his first appearance under the JE Promotions banner against Luke Fash (2-38-2), winning all four rounds.
The 23-year-old featherweight, who originally signed with Sanigar Promotions when working as an apprentice jockey in Lambourn, was incredibly busy throughout the 12-minutes, flicking out his jab persistently to frustrate his opponent.
Now back home in High Halstow in Kent, Budge found his range in the second-round and was in full control, landing eye-catching lead left hooks.
In round three, he upped his work rate, throwing a high volume of shots cleverly designed to open up his opponent and whipped in a malicious body shot in the final round.
---
Welterweight Danny Barrett (1-0), 25 from Stoke in Kent, took all four rounds against 38-year-old Slovakian Rudolf Durica (1-20). Bizarrely, both fighters in the ring started their combat careers as kick-boxers.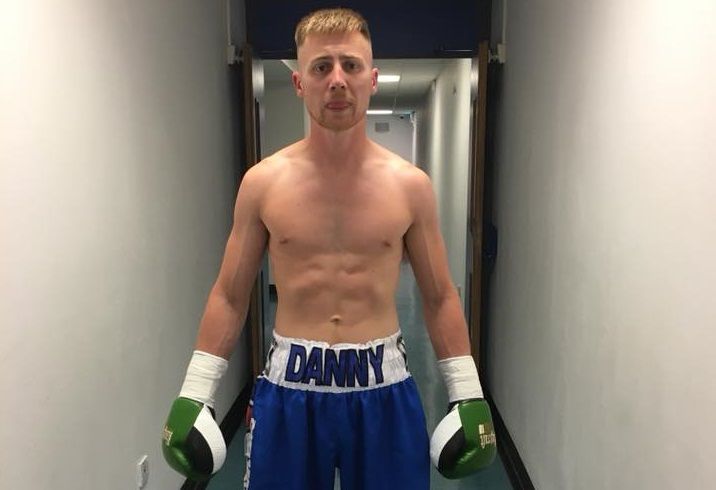 The southpaw, a former Haringey Box Cup champion, chose to stay close to his Central European opponent which paid off when he landed a stunning uppercut in the very first minute. Shortly after, Durica takes a tumble but it's not ruled as a knockdown.
It was a bit of a messy fight with Barrett eager to inflict punishment and Durica spoiling and holding a lot.
In the third round, Barrett landed a neat combo on Durica which he shook his head at. In the fourth and final round, Durica missed with a lead right and Barrett punished him for the mistake.
Referee Jeff Hinds scored the contest at 40-36.
---
Standout boxer of the night was Lenny Fuller (1-0), who lived up to his moniker "The Main Man" with a perfect debut, scoring a knockdown and winning all four rounds against Hyde's Dale Arrowsmith (1-15-1).
Debutant Fuller, roared on by huge numbers in the crowd, looked as calm as if it was his fifth fight in the paid ranks. The 23-year-old traveler from Chart Sutton took the centre of ring and boxed behind quick, sharp jabs.
Fuller, an unlicensed champion, chose to stand between rounds, leaving the stool redundant by the side of the ring.
In the second segment, an overhand right decked Arrowsmith in a neutral corner heavily, but he rose to his feet and opted to stay clear for the remainder of the round.
In the following round, Arrowsmith continued to keep on the move for but Fuller stuck to him and landed in parts but not enough to prompt an early finish.
In the fourth, Fuller landed few good body shots but had a moving target to pin down, so it wasn't easy. Jeff Hinds scored the contest 40-35 to Fuller.
---
The event was a sell-out and the crowd were treated to a glimpse of the young prospects and debutants leading the way forward for JE Promotions' next generation of champions, topped off with a thriller of a headlining fight to end proceedings perfectly.
---
For tickets to the next show, visit https://www.facebook.com/JEsportsnetwork/ or call 07883 943994
JE Promotions would like to thank Kent Trade Frames - Campbell Nutrition - Swerve City - Basement159 - RoofDec - 1ClickPrint - Invicta Gym and PR Manager Tim Rickson