Danny Flexen talks to Gloucester's first English champion, Akeem Ennis Brown, aka Riiddy
There is a compelling argument that a boxing ring is defined not by its shape – after all the theatre of combat has not been circular for quite some time – but the struggle within it. The young boy, poised and mature beyond his tender years, has scant opportunity to ponder this as he gazes beyond the desultory daisy chain of mountain bikes that delineate the urban arena in which he will once again compete. The opponent, approaching slowly, deliberately, passing ageing facades toward the baying crowd of mostly teenagers and young men, is clearly older – no surprise there – but his complacent sneer is quickly supplanted by apprehension as he watches the kid shadow-box with almost-casual fluidity, despite the second-hand, decaying gloves adorning his educated fists. In the older boy's mind, his supposed prey has morphed into a child prodigy and the fight is already lost.
Creative license aside, this is an accurate depiction of the unique apprenticeship enjoyed by boxing's youngest reigning English champion (he outstrips fellow 22-year-old Ted Cheeseman by a month) and the first from his city, Akeem Ennis Brown of Gloucester. I can think of few other Akeems in sports or popular culture. There was of course Kid Akeem (Anifowoshe), the Nigerian super-flyweight who died tragically young, and, rather more obscurely, WWF 1980s behemoth Akeem (The African Dream), born George Gray in South Carolina and in reality about as African as your pasty-faced author. Let's not forget Eddie Murphy's rebellious Zamundan prince in the superb Coming to America. Perhaps dazzled by these decorated forebears, Ennis Brown instead goes by his longtime nickname, Riiddy, though can pinpoint neither the moniker's source nor its etymology.
Despite a 10-0 (1) record and the aforementioned national belt at 140lbs, Riiddy has received meagre in-depth coverage to date, this despite an intriguingly unconventional path to the sport. Which brings us neatly back to those regular neighbourhood throwdowns.
"My brother, Shugz, is four years older than me and of my eight siblings he's the one I lived with and was closest to," Riiddy explains. Gloucester born and raised, his even tone betrays a subtle Caribbean lilt (forgive me) that illustrates his Jamaican heritage. "He was more of a mixed martial artist, have you ever seen them old Chinese masters? He's not much older than me but he's a wise guy, always been mature, a guru type of guy. My brother was so mature he did take up a father role for both of us after my parents split. He's my best friend.
"He was training Muay Thai as his main thing but I wasn't a very good kicker. We made our own ring out of bikes and any little things. Shugz had to find sparring partners, so he was getting kids from the street, putting on little tournaments. As I got older he'd get his friends who were older than me, telling them 'Don't take it easy on him', and I was schooling them, so then they would take it serious and I was still schooling them, so he would get me even better competition. He'd have little bets on me with his mates. By the time I walked into a gym at 14 I never went back to that. It was all part of my development."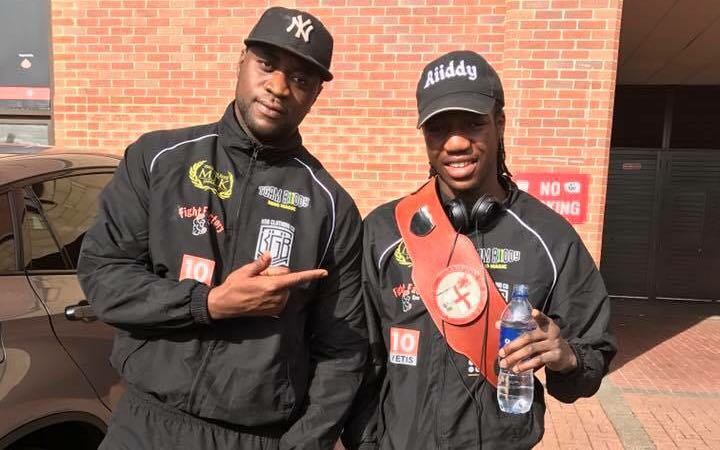 Shugz [above left, with Riiddy] sadly suffered severe injuries in a car crash which brought his own competitive career to a premature end. He remains part of Riiddy's training team and makes for an engaging talking head in a curious YouTube documentary on his brother. I encourage you all to watch it, if for no other reasons than the banging soundtrack and impressive (given the budget) production values. Strangely, though, the 30-minute video features little insight from its subject. It is left instead to trainer Jon Pitman and Ennis Brown's friends and extended family to provide the background, leaving this viewer frustrated but adding to the nominal star's air of mystery. Indeed, it is hard to fathom how a 31-bout amateur career that lacked a major championship and ended with a knockback from the GB squad led to a flourishing professional journey.
"I had 25 wins, six losses," he notes regarding an unpaid tenure that failed to set many tongues wagging. "I won small tournaments, box cups, got to a novice final, a Haringey [Box Cup] final. The aim was to gain as much knowledge as possible, learn my trade, get on to GB and go to major tournaments, to put that on your CV and make major money when you turn pro. When I didn't make the cut there wasn't much point staying on.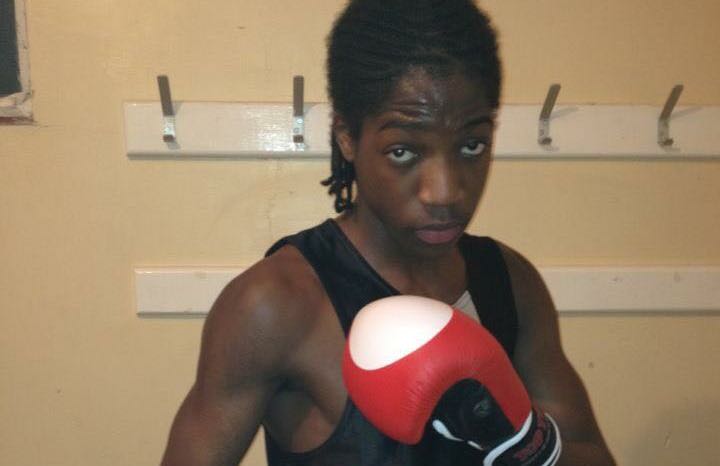 "I'm not blowing my own trumpet, for a basic boxer I'd say they should stay amateur as long as possible, but if you are good enough to go two years learning your trade as a pro and keep an undefeated record, go ahead and do it. I got my man strength and by then I was pushing on to fight for titles. I'm not trying to rush, I'm still learning.
"I remember watching an interview with David Haye years ago, where he said, 'No fighter should worry about turning pro until they've had international amateur experience,' but I thought I'd get that from sparring, so I've travelled all over and sparred world champions. Recently I went to David Haye's gym and sparred Jorge Linares [below right], then after, I spoke to Haye about the documentary, and he was like, 'Look at you here, sparring Linares, so you're still getting it [that seasoning].'"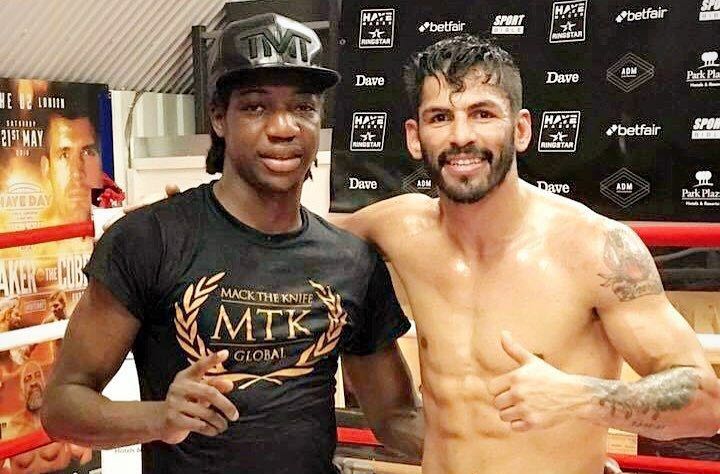 The explosive Venezuelan, a three-weight ruler, is one of several world champions to have helped Ennis Brown along the way. Regular visits to Tony Borg's Cardiff gym have seen Riiddy work with IBF feather king Lee Selby among others, while trips to Matchroom HQ in Essex offer myriad possibilities, with Ricky Burns, Ohara Davies and Conor Benn just three of the fighters to have swapped leather with our intrepid explorer. It's all a long way from the Fight Factory facility in his home city – quite literally – but this wanderlust has proved far more valuable than the petrol money.
"What really changed the script is sparring with all these top guys; you have to be willing to travel," insists Ennis Brown who turned pro at just 19 buoyed by unwavering self-belief and the faith placed in him by Pitman. "My gym to the Matchroom gym is a three-hour drive, but my coach believes in me enough to make a six-hour round trip twice a week, then go to Wales the week after. Some guys pay big money for fighters to come to them but we travel and I believe it pays off. The guys I sparred are on a higher level to the ones I'm fighting so I should be able to deal with those guys.
"My coach has got a lot of connections, Tony Borg and him have got a good friendship. They brought me up to spar Mitch Buckland, that was the first time I ever travelled around and got decent-level sparring. I was 17, and I think Tony thought, 'He's a little kid, we'll show him the ropes,' but where I was more competitive than that, he called me back and I've since helped Lee Selby and Craig Evans with their camps. I've sparred Burns, Martin J Ward, Benn, Ohara, Sam Eggington, Linares. The list goes on.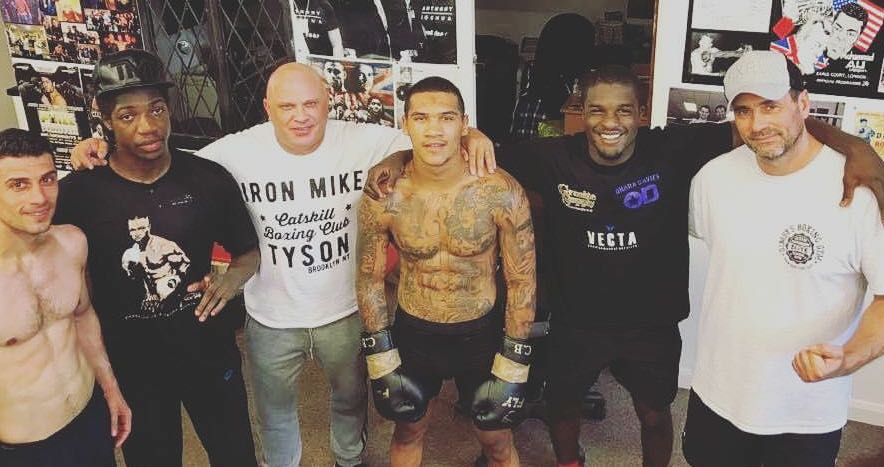 [L-R: Riiddy's gym-mate Omran Akbari; Riiddy; Pitman; Benn; Davies; Matchroom Gym head Tony Sims]
"Linares is great. All boxers at this level have got talent, things that make us unique, but certain things he did, like how he switched the power on, especially as he was lighter than me, impressed me. The discussions afterwards are good too, with Linares, his trainer, Ismael Salas, with Haye. I like to take feedback, and they all said great things; obviously I don't wanna say the stuff they said I could work on."
He laughs, warmly, sincerely, and, at the risk of sounding like the condescending middle-aged man I am, I find Riiddy remarkably well adjusted and self-assured for 22. His parents (mum a hairdresser, father a shop owner) separated when he was just four but both have remained hugely influential in his life. He confesses to some "standard ratty teenage" misdemeanours and the obligatory quota of school playground brawls, but this is no troubled youth rescued by boxing from the unforgiving street. Riiddy knew what he wanted from a young age and strived to achieve it, albeit by non-traditional means. This included making a concerted effort to cultivate a large fanbase that is still growing. Ennis Brown personally sold 120 tickets to fans who travelled a groan-inducing 260 miles to Sunderland in July, and were rewarded by their man taking a well-deserved decision to unseat local English titlist Glenn Foot. This followed an eliminator victory over then-unbeaten Londoner Freddie Kiwitt in Bethnal Green, a shorter but still lengthy trip for the 150 Riiddy supporters who watched the contest live. One could be forgiven for believing such a big ticket-seller could and should bring the marquee contests to his base, yet the super-lightweight is operating in a vacuum. Gloucester is a rugby-obsessed city and its best boxer has been forced to take scalps and prizes on the road. This makes engaging a loyal following all the more important.
"We've become a little family, a team sort of fanbase," Riiddy enthuses. "People travel far, get their Team Riiddy t-shirts on, bang their drums; it's fun. Then, when I go back to Gloucester, all the city comes out.
"Having a good smile, having a good heart and being a people person helps, as does being good and winning. When I started I was walking around, putting up posters and all that, but in Gloucester everybody would know me now; posters would be old news to people now! Before I even walked into boxing I'd say I was quite known just through being me, a popular guy. So boxing has made me even more known, and it's not the biggest of cities. In London, Manchester, there are a hundred boxers, but down here you can count the pros on your hands. Now, I wanna be known in the whole of Britain then worldwide."
Admirable ambitions but given his youth, results to date and gym form, far from misplaced. A rangy, evasive southpaw who delivers his punches as sharply as they are selected, Ennis Brown's style has interesting origins.
"Weird and awkward, everybody calls it, but I'd say it's a mixture of stuff that works," Riiddy tells me, apparently not offended in the slightest by the more pejorative descriptions. "When we were young we only really used to watch Rocky. Him versus Apollo [Creed], that was real for us, we didn't know about real boxing, so our boxing had to be pitch perfect, like it was choreographed."
Armed with this philosophy, Ennis Brown intends on "title hunting" in 2018. "I'll have a nice tune-up fight, knock the rust off, then I'd like to know what is going to happen with the Commonwealth, what Josh Taylor is doing," Riiddy remarks of the current holder. "I don't mind fighting him but he's world level now and he's not gonna waste time going back. I wouldn't mind knowing what's going on with the British. All these Silver and InterContinental belts up for grabs, but I want the British, European, world. Everyone that gets in the ring, their main aim has to be a world title. From the sparring I've had with guys at world level, I'm doing good and I know I can only get better.
"I'm a family man. I got a son, a one-year-old, Kardelle, and a lovely lady friend, Cozzy J, who cooks me nice food and keeps me in line. Having my son just gave me something to aim for in a way. It's not only about getting for myself, but for my family. Before, I wanted to be big and famous, to splash money on my friends, but now I want my kids to have good stuff, my brother, my mum, nephews, nieces, I want them all to have a good life."
Generous, thoughtful and charismatic, it's easy to see why Ennis Brown is proving popular at the box office. That pulling power, allied to his undoubted talent, should abridge this article's reign as the only long read on Riiddy (Long Riidd?). Earlier I questioned the wisdom of a profile piece on a young prospect focusing on others' opinions of him, but perhaps producers Switchup TV were right all along. Because, in a case of life imitating art, soon everyone will be talking about Riiddy.