Manchester's Anthony Crolla (31-6-3) will face Coatbridge's Ricky Burns (41-6-1) in a tantalising lightweight contest at the Manchester Arena on October 7.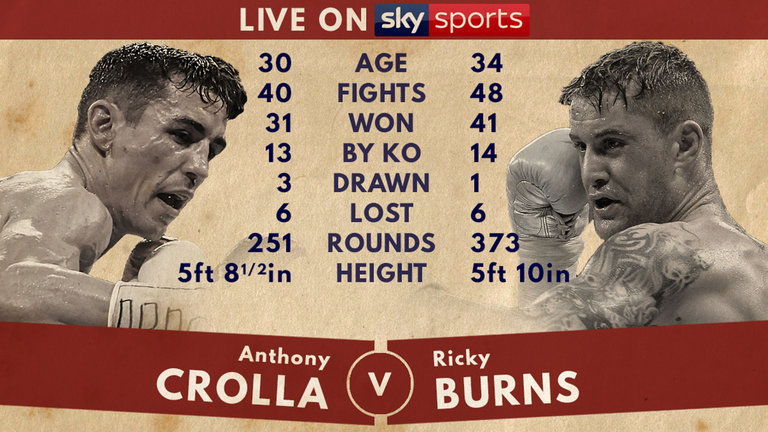 Both former world champions are coming into the fight off the back of defeats, each conceding their world titles in the process.
"Million Dollar" lost his WBA lightweight title to Jorge Linares in September 2016 was beaten a second time by the Venezuelan in their March rematch.
"Rickster's" last outing saw the Triple World Champion lose his WBA super-lightweight belt to Julius Indongo last April.
It's a make-or-break fight with the winner likely to go on to a world title challenge and the fallen seriously considering retirement.
The victor will be able to realistically push for the top whereas the loser will have a long road back, probably too long to be brutally honest.
Both share the same number of losses and a similar knockout count, so it makes for a real pick'em fight.
BBN looked to their panel of experts to see what their picks are:
---
Tommy Langford
British middleweight champion
"This fight is a great fight and I can't see it failing to entertain.

Both fighters are strong, solid, come-forward fighters so they are going to collide and, when they do, there will be fireworks.

The freshness lies with Crolla and the fight being at lightweight could hurt Burns a lot, bringing him down to that weight again this late in his career.

If Burns can rewind the clock and be as effective as we've known him down at lightweight in the past then I'd favour him, however, I feel he won't have enough left in the tank and Crolla, despite having the two tough fights with Linares, is the fresher and will prevail.
I like both fighters and wish them both the best of luck."
---
Ricky Hatton
Two-weight world champion
"Another genuine 50/50 fight!
I'm going for Crolla as I've always thought that Ant has more in the locker and got more ability than Ricky.
Having said that Ricky has won three world titles and he knows how to drag it out in a tough fight.
It's about who wants it the most. I'm going for crolla on points."
---
Mickey Ellison
Super-middleweight prospect
"I think it's going to be a 50/50 fight, but I'd like to say Crolla to win on points or maybe a late stoppage, all depends on how much Burns has left later on.
I think Crolla will want it more and have the better engine."
---
Miles Shinkwin
Former Southern Area light-heavyweight champion
"I go for Crolla, probably on points but possibly late stoppage depending on how much Burns has left.
Burns has made a career out of getting the most out of himself and think the hard nights have taken their toll.
Smart money – Crolla points in a cracker."
---
Joe Mullender
English middleweight champion
"I think the reason it is as big a fight as it is, is because it's so tight to call. You don't know which way it will go.
Both fighters, you can't help but like, but I think its outcome depends on if Burns is strong at the weight again or if it kills him to make it.
Whoever wins, both fighters have had a brilliant career!"
---
Niall Doran
Founder of Boxing News & Views
"Cracking fight and match of styles between arguably two of the nicest guys in boxing.
Don't let that fool you, though. These guys have shown the saying 'nice guys finish last' to be complete porkies in the past, time and time again.
Accomplished former world champions, when they get in there they can throw leather with venom as much as anyone.
I can't help but feel Burns could pull off the underdog win here but only just, on points possibly. If he gets that ramrod jab going and gets his distance on point I think his slightly greater reach might prove to be tricky for Crolla.
Then again, Crolla will have passionate hometown support behind him so it really is a 'pick um'. I just think Ricky Burns has one big performance left in him."
---
Joe Neale
Boxing Agent/PR
"I think Crolla just has that little bit more in the tank. I expect him to win a 7-5 type fight."
---
Tim Rickson
TR Sports Agency
"Burns has been the flag-bearer for Scottish boxing for many years and his name is forever inscribed in the history books as a Triple World Champion.
Sadly, I have considered him to be past his best for a few years now, after 48 bouts and 16 years as a paid puncher, the Scot's skills are visibly declining, now aged 34 with many miles on the clock – he has been in close to 400 professional rounds – Burns is resolutely in his twilight years.
Here's hoping that this fight will provide both combatants with a healthy payday to ease the vanquished into a comfortable retirement, and fingers crossed for the winner to get a further crack at a world crown.
It's the last roll of the dice for each, but I'd fancy Crolla to edge Burns on points in an absolute cracker!"
---
Steve Wood
VIP Promotions
"I go for a Crolla win on points.
I feel he is the slightly fresher fighter and, with Burns coming down a weight, it works better for Anthony."
---
Carl Greaves
Carl Greaves Promotions
"I think this is a must win fight for both if they want to stay at world level.
Burns has a good jab and is very experienced but has had a lot of hard fights. He's coming back down to his natural weight - lightweight - which will suit him but holds a lot and doesn't like to fight inside. If Crolla can set a high tempo and get his body shots off he could outwork burns.
My pick is Crolla by close points decision."
---
Mark Tibbs
Boxing Trainer
"Can't pick a winner because it's a real 50/50 fight.
If I had to, I'd go Burns."
---
Frank Greaves
Boxing Trainer
"Crolla, the least shop-worn of the two, probably makes Burns work at a pace that, at this stage of his career, is just a little too much for him and runs out a 116-112 type points win.
Competitive and entertaining, as styles will match up well."
---
George Lacey
Journalist
"This a real pick-em fight in my opinion - I can't see anything other than this going the distance, due to both fighters' styles and proven heart during gruelling careers to date.
Anthony Crolla didn't have the tools to really hurt Jorge Linares on both nights but the Venezuelan has been so elusive in that division and I think Crolla will only have learned from the 24-rounds against such a talented fighter in WBA world lightweight champ Linares.
On the flip side, three-weight world champion Burns has seen and done it all in boxing after 48 professional bouts. The Scot will give everything and stand with Crolla for 12 rounds. The loss to Julius Indongo will have hurt and this is a huge chance for Ricky to get back into contention for a world title shot.
Burns has never been stopped during a contest and though I can't see a knockout in this one, I think Anthony's experience from a whirlwind few years at elite level, will stand him in good stead to win a points decision at his beloved Manchester Arena."
---