Joe's Jab – Issue 37 talks about the new seasons, new signings and new collaborations for JE Promotions
Joe 'The Moroccan Machine' Elfidh – a two-weight Central Area title contender who shared the ring with English, British, Commonwealth and World champions – is now an emerging promoter with regular shows in Kent and the East Midlands with an ever-expanding roster of talented fighters.
The head honcho of JE Promotions very kindly takes time out every week to write a column exclusive to BBN:
---
New season kicks off with a bang!
This week I wanted to talk about the new season. It's only just kicked off but already there's so much happening already, it's all go!
I've got my middleweights Lenny Fuller (1-0) and Grant Dennis (10-1) both out on September 21 on a MTK show in Brentwood.
Lenny, 23 from Maidstone, is another four-rounder, looking to up his win tally. He can't perform on my next show in Maidstone on October 6 because he is best man to his brother at his weeding on the very same day. He's keen to keep busy so he will be out again before the end of the year.
Grant, 34 from Chatham, is unlucky to be fighting in only his first fight this year. He's had lots of cancelled fights an injury set him back earlier this year also. He has kept himself fit and he will be explosive in his fight, so expect a knockout!
I've also got Danny Shannon (3-6-1) on the card in the away corner. He's up against unbeaten Danny Dignum (7-0) in a six-rounder at super-middleweight.
Dignum is a 26-year-old southpaw from Essex so will have lots of support on the night and has three KO's from seven wins so will be a dangerous opponent but Danny 'The Real Deal' Shannon got a win in his last fight at the end of July against unbeaten Michael Stephenson (1-0) from the away corner in Bedofrd so he'll be just as confident as the home fighter!
---
The Homecoming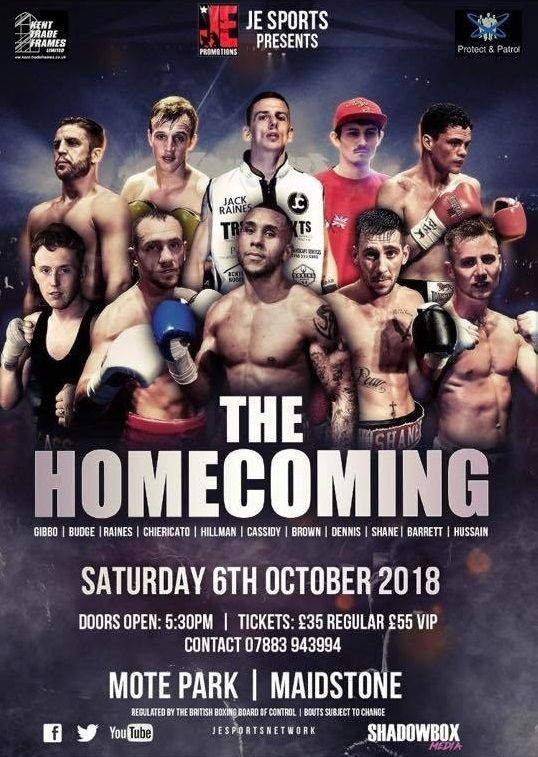 The first JE Promotions show of the season will be on October 6 at Mote Hall, Maidstone.
I've just added British Challenge belt champion Tom McGinley (5-1), 31 from Chelmsford, to the show to keep him busy ahead of his rearranged Southern Area super-bantamweight title fight with Duane Winters (10-1), which was due to take place on September 22 at the UWE Exhibition and Conference Centre in Filton, Bristol but they couldn't get an undercard together so rescheduled for December 8.
Also on the bumper bill is three-time Southern Area title contender Martin Hillman (10-6) who returns following his latest brave challenge last July when he lost by one single point against Bristol's Duane Winters for the vacant Southern Area super-bantamweight title from the away corner; British Challenge belt super-middleweight champion Charlie Shane (6-0), now training with Ray Askew, is back in action; as is debutant Aidan Cassidy, 23 from Sittingbourne, who will finally get to make his pro bow after the light-heavyweight was all set to make his inauguration into the pro ranks on July 7 but was left devastated at the last-minute when I had to cancel the show for the first and only time in my career as a promoter; Margates's Paul Brown (2-0) is back; so is selterweight Danny Barrett (1-0), 25 from Stoke in Kent; lightweight Zeki Hussein (0-1), 32 from Gillingham has his first fight under the JE Promotions banner; unbeaten Jack Raines (5-0) is going to get a good test as I have plans for him to become a Southern Area challenger next; and Luke Gibb (3-1) is back after his sole career defeat last February, he's been sparring with Olympic gold medallist and world title contender Luke Campbell to shake off the ringrust.
It's a packed show and has so many exciting prospects in action. I'm going to get another show in maidstone in before the end of the year so the guys can all get out again before the end of 2018.
---
Worksop's Got Talent
November 10 JE promotions are back in at the North Notts Arena in Worksop with an all-star cast.
Heavyweight Mark Bennett (2-0) will back in the ring following his devastating two-round destruction of Dorian Darch (12-6-1) last June.
Worksop's boxing hero Dylan Clegg (1-0), trained by Michael White at the Fighting Fit Gym, is looking to double his win tally after making a statement in his pro bow three months back when the 20-year-old finished Bulgarian Tsvetozar Iliev (6-24-1) in the fourth and final round with just 49 seconds left in the fight.
Super-lightweight prospect Sonny Price (4-0), 21-years-old from Swallownest, is back in action. The seven-time Yorkshire amateur champion hasn't put a foot wrong in his paid career, winning all 16 professional rounds so far.
---
Village People
I have just signed Luke Hague, a super-middleweight who comes from the very same village as me in Haworth and Bircotes.
It's an old, very small miners town in the Bassetlaw district of Nottinghamshire right on the border of Doncaster in South Yorkshire.
There's only around 8,000 people that live there but everyone knows each other, it's so close-knit. It was only founded in the 1920's, with the discovery of coal during the first world war and was established just to provide homes for the miners working there. It's home to one of the last deep-mine pits in the UK.
I was a sporting hero from the area, there's not many to be honest, but there was Tom Simpson who was a world champion cyclist whoe famously dies during the 1967 Tour de France.
It's a great place and everyone sticks together, so I expect Luke do really well with that backing. It's good for me to see another pro from the area where I grew up and I hope many more follow in his footsteps.
Luke has his own gym – LH Boxing Gym – but is trained by Josh Morgan, who is a good friend of mine and was a Central Area lightweight champion in 2016. We are all from the same village – boxer, trainer, manager – so it's a great partnership and I'm really excited about it.
---
Joint Ventures
JE Promotions are co-promoting a show with Scott Calow Boxing on October 20 at the Harvey Haddon sports Centre in Nottingham.
Unbeaten Ekow Essuman (7-0) headlines against former Midlands Area champ Andy Keates (13-7-1) for the vacant English welterweight title.
Two more undefeated prospects Omari Grant (6-0) and Jack Hutsby (1-01) are on the card as well as five debutants looking to impress as they start their pro careers.
---
Follow JE Promotions on Twitter: @JE_Promotions
For tickets to the next show, visit JE Promotions' FB Page or call 07883 943 994
Subscribe to JE Promotions' YouTube channel to see all fights in full: https://www.youtube.com/channel/UCSxqeCbY2l6qDTEFmcMCuVQ
JE Promotions would like to thank Kent Trade Frames - Campbell Nutrition - Swerve City - Basement159 - RoofDec - 1ClickPrint - Shiatsu Shane - Tierney Photography - Laking Painting & Decorating - Protect and Patrol - Invicta Gym and PR Manager Tim Rickson