Issue 35 of Joe's Jab reveals the next JE Promotions' events booked in and a series of Area title shots landed
Joe 'The Moroccan Machine' Elfidh – a two-weight Central Area title contender who shared the ring with English, British, Commonwealth and World champions – is now an emerging promoter with regular shows in Kent and the Midlands with an expanding roster of talented fighters.
As a promoter, he is single-handedly bringing championship boxing back to the Garden of England and his hometown of Worksop, and he very kindly takes time out every week to write an exclusive column to BBN:
---
Lads on tour – Budge, Fuller and Dennis all booked to fight away
Unbeaten featherweight Jack Budge (2-0) is back out again on August 18 at the Haringey Irish Centre in Tottenham, looking to make it a hat trick of wins. He wants to stay busy, so he'll have a four-rounder on that show followed by another on my show in Maidstone on October 6.
Middleweights Lenny Fuller and Grant Dennis are both out on the same show in Brentwood on September 21. It's an MTK event at the Brentwood Centre in Essex with loads of fresh talent on the bill.
Unfortunately, Lenny can't fight on my next show because he is best man at his brother's wedding on the same day, which is unfortunate, but he also wants to be as active as possible so I'll find another show for him to fight on before the end of the year. He's the best boxer to come out of Maidstone and got good support from fans and sponsors.
I allow my lads free reign to go anybody's show because I want them to keep busy and to push on in their careers. Some promoters can be too precious and want to protect their ticket sales but I want what's best for my fighters and if that means fighting on other promoters' events and putting money in their pocket then that's fine with me.
---
It comes in threes - Area championship challenges lined up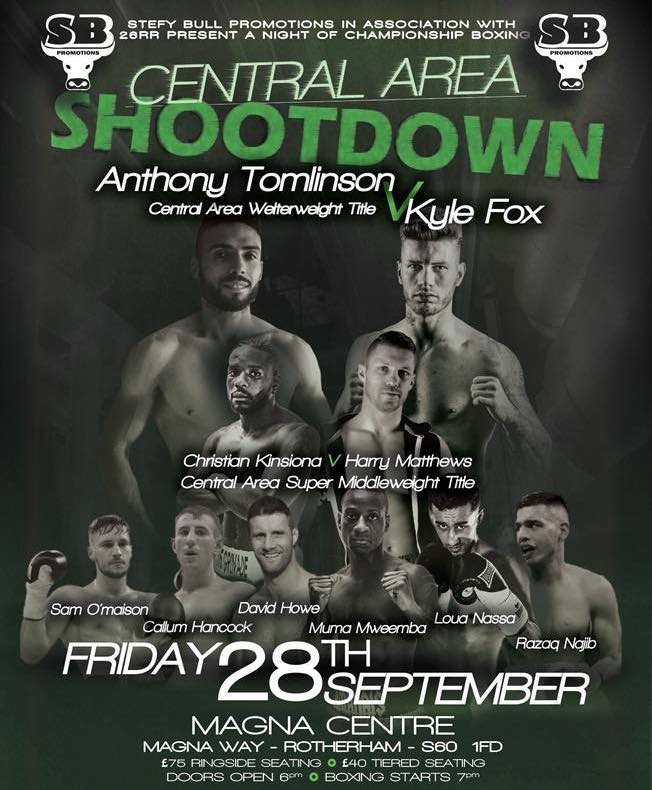 I am really pleased to say that I have landed Area title fights for three of my fighters.
Heavyweight Mark Bennett (2-0) has got the Central Area heavyweight title shot at the champion Kash Ali (12-0) from Birmingham.
It's a big step up for Mark but he's a handful and he wants to move forwards quickly. He proved in his last fight against Dorian Darch (12-7-1) that he can mix it with the higher echelons in the division.
Darch has shared the ring with the unified world champion Anthony Joshua, British champion Hughie Fury, English heavyweight champion Daniel Dubois and previously beaten English title contender Tom Little and Central Area title challenger David Howe.
Mark came along and blasted him out of the ring in just four-and-a-half minutes, just a few seconds less than AJ managed to do in their fight.
I would like to win the purse bids and stage the show in Mark's home town of Doncaster with the fight topping the bill. I'll always try to put money up for my fighters to get the home advantage whenever I can.
Unbeaten welterweight Kyle Fox (6-0) has also got a Central Area title fight booked against Anthony Tomlinson (7-0) on September 28 at the Magna Centre in Rotherham.
It's on a Stefy Bull Promotions event, which also features a Central Area super-middleweight contest between Sheffield's Christian Kinsiona (6-1-1) and English title contender Harry Matthews (15-29-2).
Fox is a former Yorkshire amateur champion who experienced over 40 fights in the unpaid code even representing his county in tournaments abroad in Europe. He asked for the fight straight after he landed the British Challenge belt in his last contest on my last North Notts Arena show on June 30 with a landslide points win over Islington's Jordan Grannum (3-27), and I lived up to my promise and secured the title shot straight away.
His opponent is unbeaten from Sheffield, with two wins coming by way of knockout, but has yet to go past six-rounds. Both these fighters debuted in March 2017 and are very evenly matched.
Fox is a very disciplined fighter that does everything well. He has fought at welterweight all through his pro career, but Tomlinson is coming up in weights.
Lastly, I have just secured a Southern Area super-bantamweight title shot for Tom McGinley (5-1) against the champion Duane Winters (10-1) on September 22 at the UWE Exhibition and Conference Centre in Filton, Bristol.
Tom won the British Challenge belt in his last fight against another fighter of mine, Martin Hillman, and will now head to the West Country to fight in the away corner.
Despite beating Hillman to land the title shot, Tom was getting married and wanted the fight in September, so I managed to secure the shot for Hillman first with Tom made the mandatory defence for the winner, which ended up being Winters when he beat Hillman by just one point.
I fancy Tom to win this fight and then I'd like to line Jack Raines up for the winner. He's looking good in training and it's about time he got some recognition. If Tom wins then it will be an easy fight for me to make and one that both fighters – and fans – will be up for.
Tom has a fantastic work ethic and got a great team behind him with Russ Smith at the Champions Gym in Colchester. It's easy to forget that Tom lost on his debut, but he didn't lose heart, he has come back to win every fight since and land the British Challenge belt in his fight with Hillman. I see him growing in confidence in every fight, to lose on his pro bow and come back to be where he is now, a champion fighting for the Southern Area is amazing.
---
The Homecoming and other events
JE Promotions will back at the North Notts Arena on November 10 and also have a co-promotion with Scott Calow Boxing on October 20 in Nottingham.
I was gutted to have to cancel my last event at Mote Hall due to injuries and cancellations, but I'm pleased to announce the next show – The Homecoming – will be on October 6 with loads of talent on the card.
Southern Area middleweight champion and English title contender Grant Dennis (10-1) tops the bill in what will be his first fight back at Mote Hall for a year. It was October 7 when he last appeared in front of his Maidstone fans when he beat Daryl Sharp (5-21) on points.
Three-time Southern Area title contender Martin Hillman (10-6) is back and as hungry as ever despite his heartbreak in his last fight. It's the first time ever that he has suffered back to back losses, so he will be determined to bounce back on the first weekend of October.
British Challenge belt super-middleweight champion Charlie Shane (6-0) was one of the fighters that picked up an injury and had to withdraw from the last show but now he's injury-free and chomping at the bit to have his first fight with his new team in the corner from the Kent Gloves gym.
Light-heavyweight debutant Aidan Cassidy, 23 from Sittingbourne, will finally get to make his pro bow. The Haringey Box Cup silver medallist and former Repton ABC amateur trains out of the Kent Gloves Boxing Gym under the tutelage of trainer Simon Gildea.
The Margate 'Bomber' Paul Brown (2-0) is back out and hoping to make it a hattrick of wins, as will Maidstone favourite Lenny Fuller (1-0), 23 from Chart Sutton, in what will also be his third fight.
Welterweight Danny Barrett (1-0), 25 from Stoke in Kent, a former Haringey Box Cup champion, will be looking to double his win tally; lightweight Zeki Hussein (0-1), 32 from Gillingham, restarts his career with me, having previously been signed to Left Jab Promotions in 2014.
It was unfortunate that we had to pull the plug on the last show but JE Promotions always have quality at the forefront of our priorities and we wouldn't have been able to provide that if we had gone ahead with a reduced number of fights available, so we aim to make this next show the best yet to reward the loyal fans.
---
Follow JE Promotions on Twitter: @JE_Promotions
For tickets to the next show, visit JE Promotions' FB Page or call 07883 943 994
Subscribe to JE Promotions' YouTube channel to see all fights in full: https://www.youtube.com/channel/UCSxqeCbY2l6qDTEFmcMCuVQ
JE Promotions would like to thank Kent Trade Frames - Campbell Nutrition - Swerve City - Basement159 - RoofDec - 1ClickPrint - Shiatsu Shane - Tierney Photography - Laking Painting & Decorating - Protect and Patrol - Invicta Gym and PR Manager Tim Rickson