JE Boxing is the only professional boxing platform in Kent, owned by Joe 'The Moroccan Machine' Elfidh – a two-weight Central Area title contender who shared the ring with English, British, Commonwealth and World champions.
As a promoter, he is single-handedly bringing big-time boxing back to the Garden of England and his hometown of Worksop.
Welcome to his weekly column – exclusive to BBN.
---
KMTV
The KMTV cameras will be at the Judgement Day show this weekend in Maidstone.
The channel officially launched on July 10th and is a unique partnership between KM Media Group and the University of Kent.
It broadcasts from a purpose-built studio at the university's Medway campus with programmes published online and televised on freeview channels 7 and Virgin 159.
They are really interested in publicising sports in Kent, so we share a common purpose there as JE Promotions have always been dedicated to bringing big-time boxing back to this county.
I've been invited in to their studio a few times now and it's helping to spread the word about our shows, which are really booming.
Luke Gibb and Charlie Shane were in their recently talking about their upcoming fights, and Grant Dennis has also been on before.
It's great to get their backing and I hope that we can work together to get the Kent shows televised live in the future.
There's the ongoing debate about whether the freeview shows kill ticket sales but if it attracts sponsors and attention then I think it's worth it. A high volume of views could monetise the channel, which should then filter down to the shows.
I'm all for it and really looking forward to watching the highlights of the show a few days later on freeview channels 7 and Virgin 159.
---
From Day One to Judgement Day
This Saturday at Mote Park is my fifth show at the venue and the biggest one yet.
They just get better and better every time. It's reflected in the ticket sales as they have been bigger and better than ever before.
I've worked hard to build these guys up from nothing and now many of them are unbeaten in close to double figures, looking towards Southern Area titles.
In my first show there in June 2016, Grant Dennis was just 5-0 and now he's 9-0 and a Southern Area middleweight champion; Louis Greene was only 3-0, now he's 8-0 and a Southern Area welterweight champion; Charlie Shane was just 1-0 and now he's 4-0 and fighting in the main event for the British Challenge belt.
It's really starting to take off. I planned to bring big-time boxing back to Kent and it's so far, so good.
Fighters I managed from day one, such as Grant Dennis and Dave Jones were fighting at York Hall but now they're doing their thing in Kent, close to home, building up their wins and fanbase.
These guys have come from nothing to winning titles and their names are getting out there more and more.
The phone calls and offers that come in now are getting big. We have been offered big fights for big money, but we're looking to bring the big fights and titles here to Kent.
We could drop everything to fight away for a big pay day, where we all profit, but that's not the grand plan. We have already brought the Southern Area title to Maidstone in our last show in May and we aim to bring it here again, and bigger titles like the English.
This show on Saturday, we have attracted the English super-bantamweight champion Josh Kennedy from Folkestone, fighting in Kent for the first time in his career.
---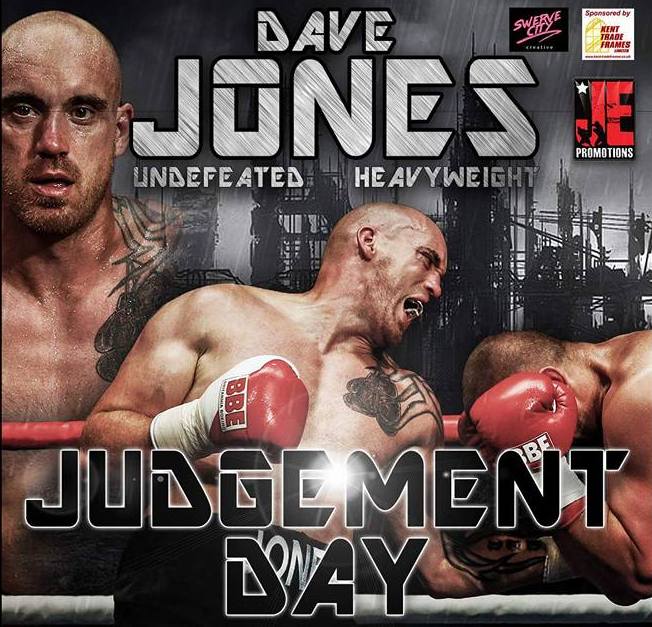 Dave Jones Ready to Step Up
Unbeaten heavyweight Dave Jones (8-0) takes a big step up in class this weekend.
So far, he hasn't yet fought a winning fighter – someone with more wins than losses on record – but he has beaten a Midlands Area champion in Paul Butlin already, who has shared the ring with world champions Anthony Joshua and Lucas Browne.
Dave is looking to fight for the Southern Area title very soon and instead of getting in another decent journeyman who will present a few problems and make it a hard night's work, we thought we'd get in a winning fighter that's also got the same ambitions to fight for an Area title.
Dorian Darch (12-5) will be coming to the fight to win. He is a very good standard boxer and has already beaten a Midlands and Southern Area champion in his career, as well as sharing the ring with world title contender Hughie Fury and world champion Anthony Joshua in back-to-back fights.
He will provide the 35-year-old from Queenborough with a stern test and the winner should be in line for a shot at the Southern Area or at least an eliminator contest next.
It's a winnable fight for Jones but he will have to bring his A-game on the night.
---
Judgement Day
It's Judgement Day this Saturday in Maidstone for eight fighters.
Unbeaten super-featherweight Charlie Shane (4-0), 26 from Chatham, headlines in a British Challenge belt contest against 58-fight veteran Lewis van Poetsch (6-51-1).
Dave Jones (8-0) steps up against Dorian Darch (12-5) in a six-rounder.

English super-bantamweight champion Josh Kennedy (9-0) fights in his home county for the first time in his three-year career.

It's the battle of the middleweight Area champions between Southern Area champion Grant Dennis (9-0) and Central Area champion Darryl Sharp (5-20).

Former Team GB boxer Luke Gibb (2-0) is stepping up to six-rounds in just his third pro bout against Fonz Alexander (5-63).
Also in action on the night is two-time Southern Area challenger, Martin Hillman (9-4), 26 from Sidcup, looking to get back to winning ways in his 14th pro contest.

Unbeaten super-featherweight Chris Matthews (7-0) is pitted against 23-year-old Londoner, Jules Phillips (1-8).
Completing the line-up is Chelmsford's 30-year-old featherweight Tom McGinley (3-1).
Next show is already planned for February 24th at Mote Park, Maidstone – put it in your diary!
---
For tickets to the next show, visit https://www.facebook.com/JEsportsnetwork/ or call 07883 943994
JE Promotions would like to thank Kent Trade Frames - Campbell Nutrition - Swerve City - Basement159 - RoofDec - 1ClickPrint - Online - Invicta Gym and PR Manager Tim Rickson