JE Boxing is the only professional boxing platform in Kent, owned by Joe 'The Moroccan Machine' Elfidh.
As a fighter, Joe was a two-weight Central Area title contender, defeated a future England champion, and shared the ring with British, Commonwealth and World champions.
As a promoter, he is single-handedly bringing big-time boxing back to The Garden of England and his hometown of Worksop.
Welcome to his weekly column – exclusive to BBN.
---
Martin Hillman
Martin Hillman is really working hard and moving up in levels now.
We are looking at getting a shot at the Southern Area bantamweight title, hopefully for May 27th at Mote Park, Maidstone.
He got another win under his belt in February in a six-rounder after his loss to Boy Jones Jr at York Hall last year for the Southern Area featherweight title.
Martin went in there that night at a disadvantage. We took a risk because he gave away a lot of weight, not making excuses because Boy Jones was good and kept his strength, but it was the first time Martin boxed in a 10-rounder as well.
He proved his fitness was good and although he got caught with a few big shots, he made the rounds competitive right up to the final bell.
He's so committed, very professional, improving all the time and lives the life, so he's definitely going to go somewhere.
He's a determined little bastard! He lost his first fight against Michael Stupart in March 2015 and came straight back less than three months later to avenge it.
He's strong-minded and dogged, and I've got no doubt he'll be a Southern Area champion in 2017.
---
High Stakes next weekend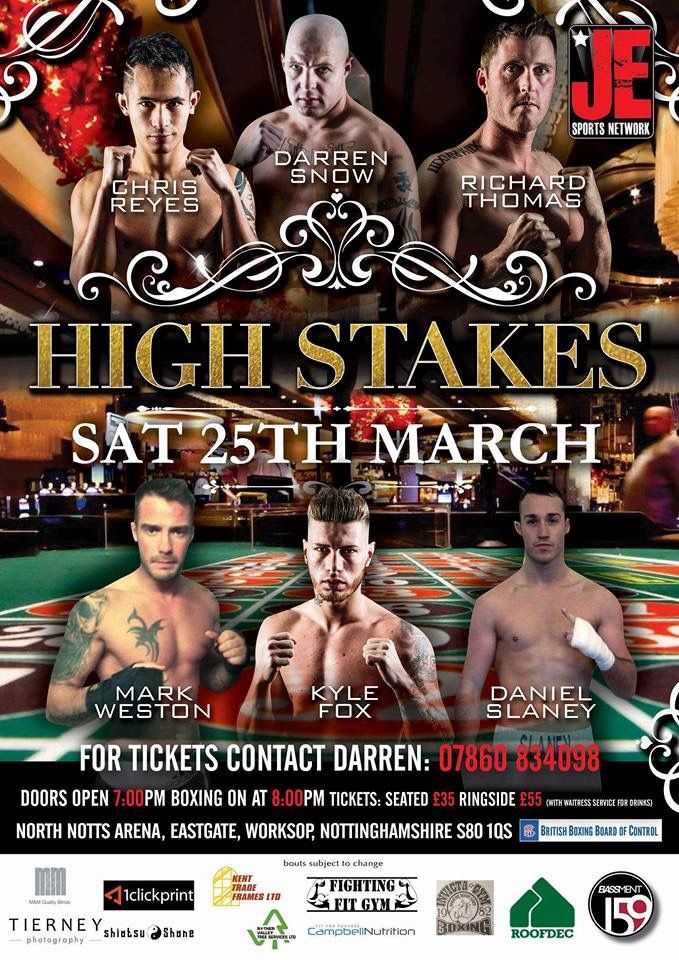 All the boys are ready for the Worksop show next weekend. They've all been matched up well to give the fans a good night of competitive boxing.
Darren Snow (4-11-1) v Andy Neylon (2-18-1)
Headliner Darren Snow, known as the 'Road Warrior', will be looking for his fifth career win in his 17th pro bout.
The 34-year-old cruiserweight from Dinnington goes in against 30-year-old light-heavyweight Andy Neylon from Hull. He's a very active fighter, he managed to cram in 14 fights last year!
Snowy, a former unlicensed champion, has never lost at home at the North Notts Arena.
Richard Thomas (4-1) v Richard Harrison (2-13-0)
Light-heavyweight Richard Thomas, 31-years-old from Doncaster, comes into his sixth paid contest off the back of four straight wins, but his opponent will also be confident having beaten Darren Snow on my Maidstone show in February just gone.
Although this looks like a routine outing for the six-footer, it's actually a must-win fight, and I'll explain why next.
Daniel Slaney (7-1-1) v Curtis Gargano (0-24-1)
Another light-heavyweight from Doncaster will be on display on the last weekend in March in the form of 31-year-old southpaw Daniel Slaney.
The Sheffield Wednesday fan is matched with Middleton's Gargano, who was defeated by the aforementioned Thomas last November.
However, Gargano almost snatched a draw on the night but referee Kevin Parker narrowly handed the victory to the local lad by one point scored closely at 39-38.
School teacher Slaney, signed to Stefy Bull, will make his debut appearance on my JE Promotions show against Gargano and, ideally, both he and Thomas will get a win each to set up a Doncaster derby between them both for the vacant Central Area title next.
Mark Weston (1-0) Matt Seawright (5-146-5)
Weston makes his second appearance in the pro ranks after a long layoff against veteran Seawright, who celebrated 10 years in the pro's earlier this month.
Weston, a welterweight from North Anston, debuted back in September 2014 at the Ice Sheffield with a successful win over Bheki Moyo 40-35 on points. I'm sure he is just as saddened as I am to hear of his passing just last week.
RIP Bheki Moyo 06/10/1974 - 06/03/2017
Kyle Fox (0-0) v Kieran Gray (8-60-2)
Yorkshire amateur boxing champion Kyle Fox had a successful amateur career and I believe that the 23–year-old welterweight from Doncaster's pedigree will be evident in his performance in his pro bow on the night.
He's up against the experienced 'Slammer' from Shropshire in a four-round super-middleweight bout.
Chris Reyes (0-0) v TBA
Ex-army boxing champion Reyes is a flyweight from Staffordshire, originally born in the Philippines, who I will fast-track to titles because he is that good! Watch out for this kid!
---
Mayhem in Maidstone on May 27th
I originally planned to host the next Maidstone show at the start of the month of May but it wasn't working out for a few boxers that were still healing with cuts from their last fights and a few other things going on for some others, so I listened to the lads and moved it back to May 27th instead.
Heavyweight Dave Jones (7-0) will be back in action after injury. He hasn#t fought all year so he is eager to get back out there and continue winning.
Luke Gibbo (1-0) is one of the few that has a cut waiting to heal properly but he is back in training already and desperate to push on after successfully coming through his debut with a shutout points win over the experienced Ibrar Riyaz (4-115-4) last month.
Here he is in action on his debut:
Martin Hillman (9-3) will get straight back in looking for a Southern Area title shot at his natural weight limit at bantamweight.
Unbeaten super-featherweight Chris Matthews (6-0) is ready to step up to six-rounders and start being tested now. He has done his apprenticeship and he's ready to show what level he's capable of.
Debutant Bill Newberry will be in action also.
It's a packed show so will be another sell-out, you can get tickets from here: 07883 943 994
---
Away days
I've got unbeaten southpaw Charlie Shane (3-0) from Chatham, Chelmsford's Tom McGinley (2-1) and undefeated middleweight Oli Edwards (5-0) from Sheerness all out on a Warrior Boxing Promotions show on April 8th at York Hall.
Get on touch with the boxers directly on Facebook if you want to buy tickets.
---
For tickets to the next show, visit https://www.facebook.com/JEsportsnetwork/ or call 07883 943994
JE Promotions would like to thank Kent Trade Frames - Campbell Nutrition - Invicta Gym - Fighting Fit Gym - Roofdec - 1ClickPrint and PR Manager Tim Rickson