JE Boxing is the only professional boxing platform in Kent, owned by Joe 'The Moroccan Machine' Elfidh.
As a fighter, Joe was a two-weight Central Area title contender, defeated a future England champion, and shared the ring with British, Commonwealth and World champions.
As a promoter, he is single-handedly bringing big-time boxing back to The Garden of England and his hometown of Worksop.
Welcome to his weekly column – exclusive to BBN.
---
New signings
There's been three new signings since last week, all good guys – Hassan Ahmed, Bart Ski, and Rod Smith.
I'll be working alongside Chris Smedley and Steve Barnes from Manor Boxing Club in Sheffield to bring super-flyweight Hassan Ahmed along. He's 24-years-old from Darnall and currently unbeaten in six fights. The 115-pounder is known as 'The Hurricane' and brings an army of fans to his fights.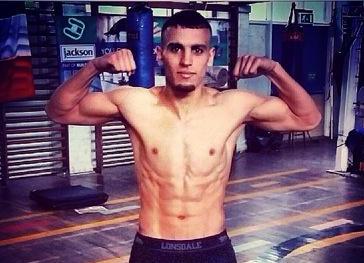 He has been inactive for almost three years due to contract issues with Dennis Hobson but I'm now looking to get him out as soon as, and get him in line for titles within three or four fights.
Three-time Polish national amateur champion Bart Ski has signed with JE Promotions as well. He represented his country and got a bronze medal in the European championships. I've watched him training and he looks very good.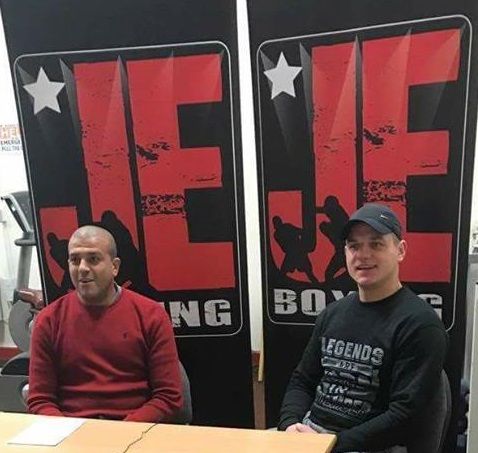 Rod Smith has committed to complete my trio of new talent. He's a six-foot middleweight from Yorkshire with seven wins and one loss. The solitary defeat was to Tom Doran, who came in half a stone heavier at the weigh-in.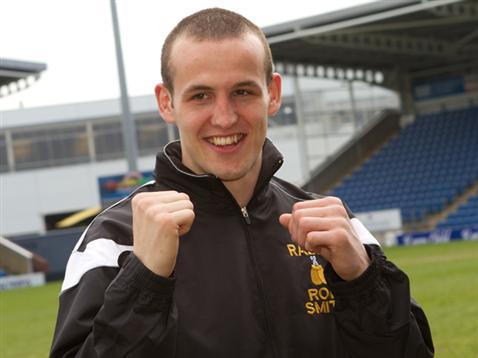 He's only 26 and been involved in two 10-rounders already – the defeat to Doran, and the other a win over ABA champion and two-time Commonwealth title challenger Liam Cameron.
I'll be working closely with all three boxers and their teams to bring them on at the right times.
---
Positive Links
I have been working closely with Victor Smith from Essex Fight Academy for years. We've had a good relationship for a long time and I always look to help him build his boys up. His fighter Ronnie Pullen will be on The New Era show in Maidstone on February 25th show.
I'm also working with other managers and promoters, too. There's some promoters and managers out there that just want things all for theirself, very selfish and it's like a competition sometimes.
I'm working with some great people in boxing and we all look to help each other out. Tommy Dove is great, I am happy to put boys on his shows and he very kindly offered to put fighters on my February 4th show in Sheerness to help rescue it after my headliner Dave Jones got injured.
I've also been speaking to Richard Poxon and Dennis Hobson, who both managed me when I first turned pro. I'm looking at putting some of my boys on their shows.
Even Scott Welch from Brighton, we worked well together in the show last year that saw Grant Dennis beat his boy Nicky Jenman for the Southern area middleweight title. That all ran smoothly and we all did what we agreed to do.
Greg Steene is another good one that works well with me, and also Kieran Farrell; we have got a good working relationship even though we punched each other's heads in for five rounds for the Central Area lightweight title in 2012!
Stefy Bull and I are talking about making a Central Area title fight between two of our fighters right now, so watch this space because all will be revealed shortly.
Fights are easy to make but certain promoters and managers make it hard. Just one phone call puts a fight on. It's so easy to do when you don't want to be selfish see others fail.
I'm pleased to have such a good network of trusted people around me and just hope that it continues to grow.
---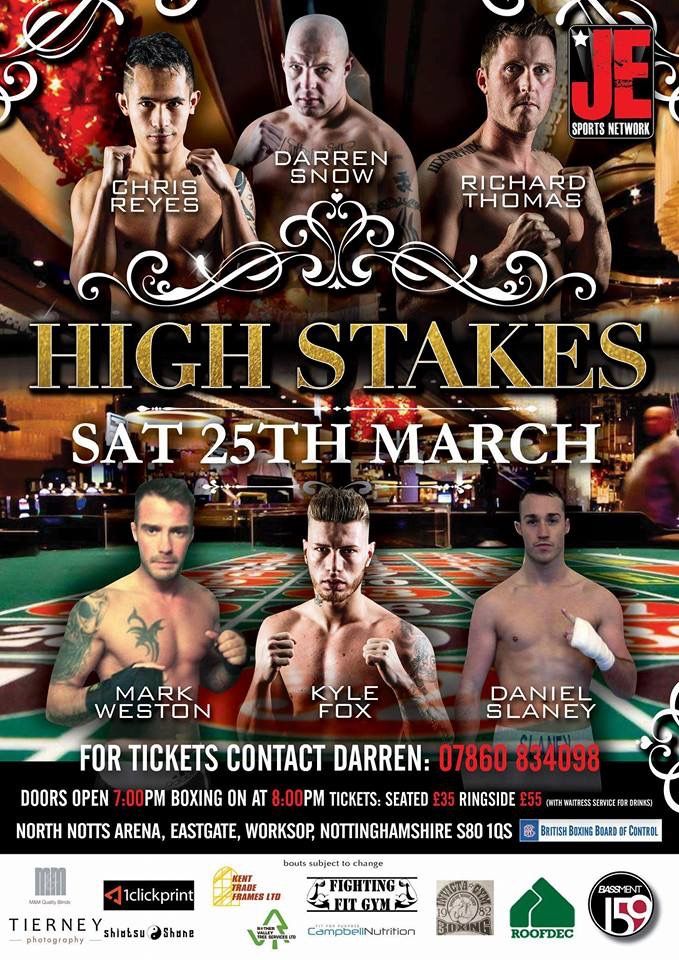 High Stakes
Tickets are out now for the next show at North Notts Arena in Worksop on March 25th.
High Stakes will feature Darren Snow, Richard Thomas, Daniel Slaney, and debutants Chris Reyes and Kyle Fox.
I've been spending this week matching the fighters now so will report back next week on the fights that have been made.
---
For tickets to the next show, visit https://www.facebook.com/JEsportsnetwork/ or call 07883 943994
JE Promotions would like to thank Kent Trade Frames - Campbell Nutrition - Invicta Gym - Fighting Fit Gym - Roofdec - 1ClickPrint and PR Manager Tim Rickson