Get to Know…Gary Corcoran
BBN aim 40 quick-fire questions at the Wembley "Hellraiser" to get to know eveything there is to know about the two-weight WBO titlist who recently challenged Australian Jeff Horn for his WBO World title in December.
---
Name: Gary Corcoran
Record: (18-2)
Weight: Welterweight
Height: 5ft 10½"
Born: St. Mary's Hospital, Paddington
Residence: Wembley, London
DOB: 12/11/1990
Nickname? "Hellraiser."
Favourite all-time boxer? "Roberto Duran."
Favourite current boxer? "Gennady Golovkin."
Favourite fight? "Gatti v Ward."
Boxing clubs? "Stowe ABC in Paddington as an amateur and I'm at Peacock Gym in Canning Town as a pro."
Amateur honours? "Won 38 Lost 12. Won the Haringey Box Cup twice at two different weights; I was a Junior ABA semi-finalist twice; London ABA semi-finalist; and a CYP's semi-finalist twice."
Biggest achievement in boxing? "Winning the WBO Inter-Continental belt twice at two different weights."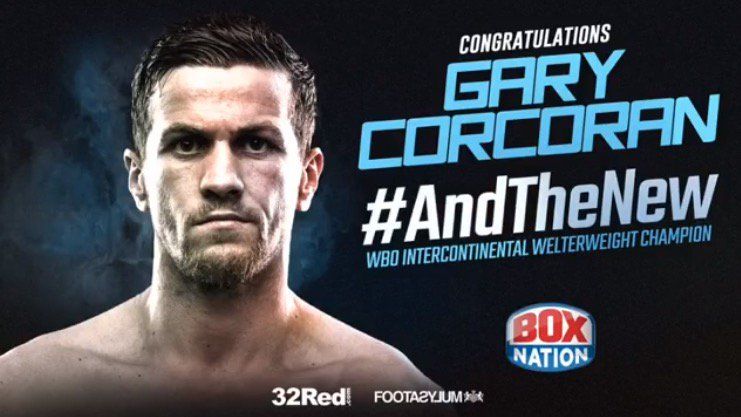 Toughest ever opponent? "Probably Liam Williams because he was bigger."
Goals in boxing? "To be a world champion."
Retirement age? "30-odd, and to get out healthy."
Team? "I'm trained by Peter Stanley and Frank Greaves, and managed by Frank Warren. My agent is Tim Rickson, and sponsors are Ringside and Content Removal."
Boxing style? "Come forward, aggressive, strong fighter."
Ring walk song? "Stereo Love - Edward Maya & Vika Jigulina."
Pre-fight rituals? "No, just relax and chill out, listen to my music and that's it."
Favourite brand of gloves? "Used to be Reyes until I broke my hand in a pair, so now I wear Ringside and they are a lot better."
Best venue? "York Hall."
Favourite football team? "Newcastle FC."
Other sports? "Just football. A bit of tennis is alright."
Favourite holiday destination? "I went to Marbella, that's quite good. Ibiza is probably the one."
Favourite TV programme? "Ray Donovan."
Favourite film? "Lord of the Rings."
What actor would play you in a film of your life? "Someone that's in good shape all the time like Ryan Gosling."
Favourite music? "R'n'B."
Favourite food? "Steak with sweet potato fries. Nice food but still healthy."
Favourite restaurant? "TGI Fridays."
Favourite brands? "Nike."
Favourite superhero? "Superman."
Phobias? "Scared of heights, don't like spiders, don't like snakes."
Motto? "Train hard, get your head down and keep pushing forward."
Next fight? "Looking at March next year."
What fight do you want to see happen this year? "Golovkin and Canelo rematch."
If you could fight anyone, past or present, who would it be? "That's a good one, I'd get in there with Roberto Duran."
What is the best division in boxing to watch? Between welterweight and middleweight, maybe even super-featherweight as well.
Tell us something that not many people know about you? "I'm a Newcastle FC fan!"
Twitter? @GaryCorcoran21
---