George Groves v Chris Eubank EXCLUSIVE: We speak to their only 2 common opponents
As the huge George Groves v Chris Eubank Jr showdown moves ever closer, we track down two Lithuanians with remarkable similarities

Occasionally boxing throws up some intriguing coincidences. This weekend George Groves and Chris Eubank Jr will go to war in Manchester, with the former's WBA super-middleweight title, a place in the World Boxing Super Series final and significant personal pride all at stake. Myriad opinions and predictions have been canvassed, with the greatest value understandably attached to the views of those who have some experience with both men. Adam Booth has coached the pair, at various times, Andy Lee trained with them and the likes of Carl Froch and James DeGale have exchanged punches with the two, albeit, as it pertains to Junior, only in sparring.

However, this weekend's decorated combatants share just two common opponents as pros and these two men both hail from the same port city of Klaipeda, in Lithuania. Not only that, but they fought their higher profile conquerors at exactly the same stage of their careers – each of the Manchester main-eventers defeated Kirils Psonko in their professional debut and they vanquished his countryman – and former foe – Tadas Jonkus in what was their sixth contest. Spotting this eerie coincidence, I felt absurdly compelled to track them down and get their take on the highly anticipated showdown.
---
Kiril Psonko

Tyson Fury and George Groves both predict winner of Dubois vs Gorman
Chris Eubank Jr wants to unify super-middleweight division
Chris Eubank Jr defeats James DeGale
> Record now: 17-41-2 (10)
Record before Groves: 1-2 (1)
Result v Groves: L PTS 6, Nov 2008
Record before Eubank Jr: 8-15-1 (6)
Result v Eubank Jr: L TKO 4, Nov 2011
The tenacious "Pitbull" would begin his own career losing inside the distance to his friend, Jonkus, but since falling to Groves and Eubank Jr, has taken Cello Renda 10 rounds and survived an eight-rounder with Frank Buglioni, now British light-heavyweight king. Interestingly, Psonko has also fought another WBSS semi-finalist, Callum Smith, and was finished in the opener in 2013. Regarding Saturday, he favours the man who was able to stop him over the one he extended.
"There are some advantages and disadvantages of both fighters," Psonko told me. "Firstly I would like to say that Groves has very good experience in his professional career and his opponents have been tougher than Eubank has had.
"Groves has suffered a few hard losses but I don't think that it's a disadvantage. Groves has a very, very strong and dangerous right hand... but he also receives a lot of punches, which is not very good for him.
"Eubank is getting more better and better, he is increasingly confident. I don't think that he has a more powerful punch than Groves, but Eubank is very strong now and in very good shape, very fast and always avoids punches.
"My opinion is that Eubank will win the fight... I like his style in boxing. But, personally, I am for Groves. Let the best man win."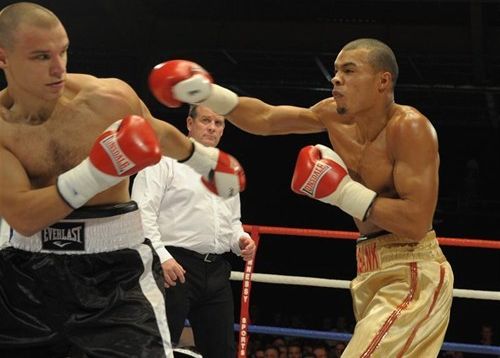 ---
Tadas Jonkus
Record now: 9-16-2 (6) – retired in 2014
Record before Groves: 4-4 (3)
Result v Groves: L TKO 4, Oct 2009
Record before Eubank Jr: 8-11-1 (5)
Result v Eubank Jr: L TKO 3, Sep 2012

Some location notes: Jonkus was halted by Eubank Jr in Frederikshavn, Denmark in what was Junior's first pro fight outside the UK. The impressive Arena Nord was somewhat different to the rather modest Seaburn Centre on Sunderland's windy coast, at which he fell to Groves. That day, most of the boxers – and yours truly, who was covering the Maloney (then Frank) show – were staying at the nearby Pullman Lodge, a set of apartments adjoining a restaurant designed to resemble a steam train; no, I'm not joking. I saw Groves and David Price later that night, outside our dorms, the latter's huge frame somehow constrained by the small domicile, but the former was a little disconcerted by the frequency with which he observed another resident. "I keep bumping into him," Groves said, of victim Jonkus. "It was alright the first time, I said 'hello', but how many times do you wanna see a fella you've just knocked out?" I only wish I knew.
Jonkus, now a successful kickboxing competitor (check out his Instagram), holds no grudges, however.

"I have fought both and I can tell you that the much stronger punches came from George, he hits very strongly," Jonkus recalls. "He is bigger too, but boxing is boxing and you never know what will happen.
"Eubank is a very good technical fighter, he throw many punches, he is very fast, but he doesn't have a strong punch like Groves, who is dangerous.
"I think George wins that fight if he boxes smart, with distance. I fought very strong, top guys in my boxing career, but Eubank didn't have such a strong punch as the others. Of course it was a very long time ago, but back then George was the stronger. I think George will win, and win before the final bell rings."

---
---